Many leading fund managers -- including guru John Griffin of Blue Ridge Capital; mega fund managers' Fidelity, Capital Group, BlackRock and T. Rowe Price; and tech sector-focused Brown Capital Management -- filed forms 13D and 13G with the SEC in the last week, indicating that they had amended their ownership in U.S. exchange-traded healthcare and technology sector companies. The 13-D/G reports are statements of significant ownership of more than 5% of the voting class of a company's securities, and they are also important due to their timeliness. While 13F filings are quarterly, and are required to be reported within 45 days after the end of the quarter, 13D/Gs are required to be filed within 10 days of the underlying transaction. Furthermore, 13D/Gs are often a precursor to a hostile takeover, company breakup or other "change of control" events, and will often include a letter to management explaining the reason for their taking a large stake in the company -- thereby giving more insight into the transaction.
Mega fund manager T. Rowe Price, with $542 billion in assets under management, filed SEC form SC 13G/A on May 10 indicating that it holds 13.43 million shares of ServiceNow Inc. (NYSE:NOW), adding 5.50 million shares to the 7.93 million shares that it reported holding at the end of the latest available Q4 2012 quarter. NOW has been a favorite with leading fund managers lately, and in the latest quarter for which collective or consensus picks data is available (Q4 2012), both legendary or guru and the world's largest or mega fund managers accumulated the stock. Specifically, guru fund managers added a net 0.27 million shares to their 0.09 million share prior quarter position in the stock, and mega fund managers added a whopping 21.61 million shares to their 7.79 million share prior quarter position in the stock.
NOW shares got a strong GuruRank of 4.3 and a perfect 5.0 MegaRank, based on leading fund manager activity in Q4 2012. Perhaps validating the confidence of these leading fund managers in the stock, NOW shares have rallied up a strong 30%-plus in the three-month since consensus picks' data were available in mid- to late February, currently trading near all-time highs. Both GuruRank and MegaRank are based on proprietary and relative ranking systems that numerically represent on a scale of one to five the attractiveness of the stock to guru and mega fund managers, respectively, based on their holdings, change in holdings, percent of outstanding shares, and number of leading funds in the stock, as compared to the rest of the 5,200+ stocks in our database.
San Diego, Calif.-based ServiceNow develops cloud-based enterprise IT automation software and services for workflow automation, data consolidation and business process administration. In its latest March quarter that it issued at the end of April, the company beat analyst revenue and earnings estimates, reporting a loss of one cent vs. analyst estimates of a three-cent loss, and revenues at $85.9 million above the $82.1 million estimate. The stock gapped up and rose as much as over 15% at the open the following day, and currently trades near $40, well above the $37.62 close on the day prior to the earnings report. At current prices, its shares trade at an astronomical 200 times even forward FY 2012 earnings estimates of 20 cents per share, and at 8-9x FY 2014 analyst revenue projections of $577 million.
However, despite such lofty valuations, the Street continues to be enthusiastic about the stock, with nine of the fourteen analysts that cover it rating it at buy/strong buy and the remaining five rate it at hold, with a mean price target in the $43 range. Enthusiasm is based on the growing adoption of its cloud-based IT service desk platform by enterprise customers, including taking share away from its competitors, a strong customer renewal rate in the high 90% range, and the potential for it to cross-sell outside its core $5 billion IT service management market into the larger $8 billion market for custom applications. We believe that NOW is destined to be a long-term winner, but the risk to the downside is high at current prices, so we would wait for a pull-back near the 50-day moving average in the mid- to high $30s before adding it to our portfolio.
Click to enlarge image.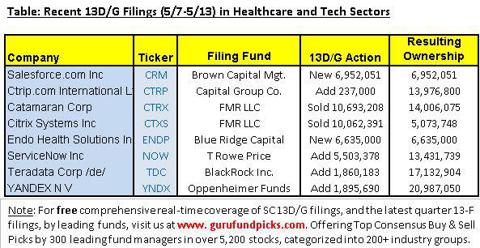 Besides NOW, the following are additional institutional 13-D/G filings in the last week in the basic materials and energy sectors (see table above):
Sources: Fundamental data in this article were based on SEC filings, Zacks Investment Research, Thomson Reuters, and Briefing.com. The information and data is believed to be accurate, but no guarantees or representations are made.
Disclosure: I have no positions in any stocks mentioned, and no plans to initiate any positions within the next 72 hours.
Business relationship disclosure: Business Relationship Disclosure: The article has been written by the Hedge and Mutual Fund Analyst at GuruFundPicks.com. GuruFundPicks.com is not receiving compensation for it (other than from Seeking Alpha). GuruFundPicks.com has no business relationship with any company whose stock is mentioned in this article.
Disclaimer: Material presented here is for informational purposes only. Nothing in this article should be taken as a solicitation to purchase or sell securities. Before buying or selling any stock you should do your own research and reach your own conclusion. Furthermore, these are our "opinions" and we may be wrong. We may have positions in securities mentioned in this article. You should take this into consideration before acting on any advice given in this article. If this makes you uncomfortable, then do not listen to our thoughts and opinions. The contents of this article do not take into consideration your individual investment objectives so consult with your own financial adviser before making an investment decision. Investing includes certain risks including loss of principal.