Back in January, I wrote an article about Cisco's (NASDAQ:CSCO) price correction, how it was long overdue, and why I expected it to continue. Now, four and a half months later, the stock's momentum has slowed down, as Cisco's share price has risen by just 4% during that time frame. However, rather than anticipating a pullback, investors should be aware that the stock still has plenty of room to run. In fact, I'm willing to go on a limb by stating that at its current price of $21.27, CSCO is more attractively priced than at the start of the year.
(click to enlarge)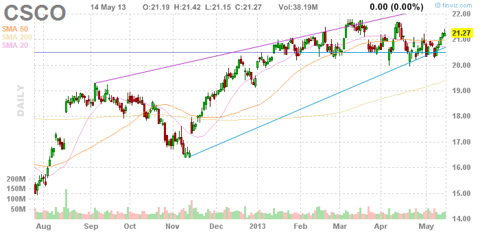 CSCO price chart from FinViz
Investors might be asking themselves, "How is the stock more attractively priced if its share price increased by 4%? Doesn't that make it more expensive? Shouldn't I wait for a pullback to the $17-19 range?" The answer to the first two questions is "No, not necessarily." My response to the third question is "I personally wouldn't wait for it to pullback by that much (which would be a 9-19% drop in price) before buying my shares. My philosophy is to make the purchase when I view the stock as a good buy. Buying at the very bottom and selling at the very top is an impossible game to play. However, if you feel the stock will pull back somewhat, then I recommend dollar-cost averaging your shares."
What's the reasoning behind my answers? My first argument stems from the abnormal relationship between the growth in Cisco's earnings and share price, and I believe this relationship has made CSCO a much more attractive stock. I will cover this point for the remainder of the article. The remainder of my arguments will be covered in a second installment of this article (Part 2), which will cover a fundamental analysis of the company's financial statements (and will include Q3's results), in addition to an analysis of its dividends, share repurchase plan, and other miscellaneous items.
Going back to my first argument for Cisco being attractive at its current price...
Net income and EPS growth have outpaced growth in the share price, both in the long-term and the short-term.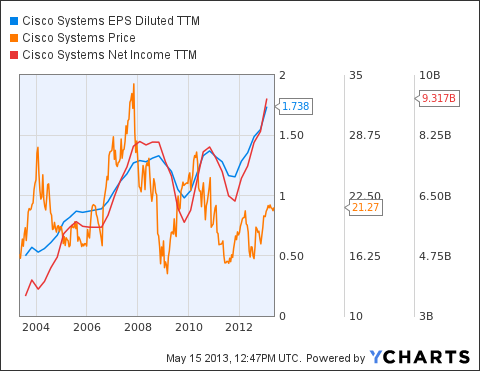 CSCO EPS Diluted TTM data by YCharts
The chart above represents Cisco's price, EPS, and net income over the last 10 years. Notice how EPS and net income (the blue and red lines) are at a 10-year high--obviously a very bullish sign. However, Cisco's price (the orange line) is almost in the bottom third of its 10-year trading range. One of the more significant anomalies on the chart is Cisco's price performance (relative to earnings performance) since the start of 2012. During that period, Cisco's earnings grew quite rapidly. Its share price, however, initially experienced a large and unprecedented drop. Although subsequent earnings increases have led to a healthy recovery in its share price, Cisco's price run-up has been modest when compared to earnings growth.
This concept is even more evident as we compare the actual growth rates over longer periods of time. Take a look at the chart below, which does just that.

The chart represents a comparison of the growth rates in Cisco's price, net income, and EPS over 4 specified periods of time. The most recent closing price at the time this article was written was $21.27, so I have used that price to calculate the growth in share price. The purpose of using the four-and-a-half month period is to relate the analysis to the scenario I described at the start of the article. Note that there has been one quarterly earnings release during this particular period, so it can be viewed as a "1-quarter" growth rate comparison.
Looking at the chart, the growth rate in Cisco's share price has lagged the growth of its earnings (both net income and EPS) in every time period that I listed. Although the differences in the 1-year growth rates aren't so stark, the remainder of the time frames prove otherwise. The most appalling of these differences is that of the 10-year period. What's particularly appalling about these differences, which are indeed quite large, is the starting price that was used to calculate the percentage growth in share price. The starting price was taken from May 15, 2003, which is less than a year after Cisco's price had bottomed following the dot-com bubble's burst.*
*Note: Cisco's price bottomed at $8.12 on October 8, 2002. The date represents the end of a long and rapid decline, following its peak price of $82.00 on March 27, 2000. Cisco's market value dropped by 90% during that time frame (source: Investing Daily).
Nevertheless, over the last 10 years, Cisco's net income and EPS have grown by 150% and 314%, respectively, only to be accompanied by a 29.5% growth in its share price. And as I pointed out earlier, its price has never caught up to the spectacular growth in its earnings that followed, nor has it kept up with earnings growth during shorter time periods.
What this has led to is a deflated P/E.
The P/E ratio indicates the amount an investor pays for each dollar of earnings generated by the company. The chart below represents CSCO's P/E ratio over the last 10 years.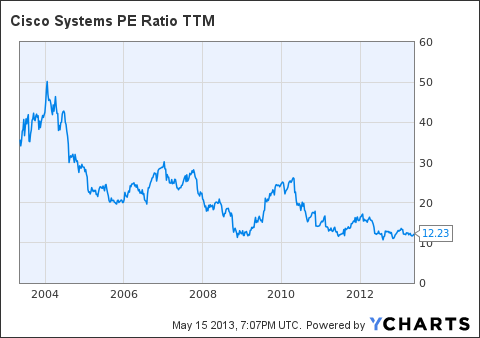 CSCO PE Ratio TTM data by YCharts
As you can see, Cisco's current P/E ratio is near the very bottom of its long-term range. This is a direct result of the scenario that I described in the preceding paragraphs. As Cisco's EPS has grown at a faster rate than its share price, its P/E has decreased considerably. Those investors who buy CSCO today will have paid less for each dollar of earnings than what the vast majority of investors have paid during the last 10 years.
Conclusion
Cisco's impressive earnings growth, coupled with a share price that's acted irrationally the past few years, has led to an advantageous situation for potential investors. In Cisco, not only do you have the opportunity to buy a company that's consistently grown its earnings at a substantial rate, but it can also be bought at a P/E that's near its 10-year low point. However, this simple concept doesn't make it an automatic "buy" by any means. In the second installment of this article, I will unveil the remainder of my analysis, which has led me to believe that Cisco is a buy.
Disclosure: I am long CSCO. I wrote this article myself, and it expresses my own opinions. I am not receiving compensation for it (other than from Seeking Alpha). I have no business relationship with any company whose stock is mentioned in this article.