This year equity markets hit the ground running and as we approach June equity markets show no signs of slowing down. Economic growth still remains subdued globally and continuing data from China has not shown much support. This has not detracted from equity gains, especially from developed markets as large-cap, high-yielding equities are being snapped up by investors relishing the opportunity to put their capital to work.
We previously discussed the support equity markets have from inflows, in passive and active equity investments. As pension funds start to rotate into equities it may provide continued support going forward. Is this so called 'wall of money' prompting the start of a bull run?
I have recently read a few people writing about an equity market bubble forming as quantitative easing has inflated equity prices, superseding economic and earnings growth. Looking at this in more detail reveals this is not the case and that the equity bull market may have only just begun.
The last major equity market bubble was back in the late 1990s. Entering into the new millennium the S&P 500 (NYSEARCA:SPY) reached the previous market peak (nominal terms) at 1,553.11 in March 2000, during the height of the tech boom. The S&P 500 reached record valuations with the price-to-earnings ratio peaking at 31.4. This is way off what we are seeing today, and as of May 10, 2013, price to earnings for the S&P 500 was 18.96. I am not a big believer of price-to-earnings ratios as growth and yield are not factored in (amongst other things), however it is a useful metric to keep an eye on and helpful to indicate whether a company is relatively cheap or expensive. A comparable equity bubble based on the same price-to-earnings peak seen in 1990 (31.4) would equate to the S&P 500 reaching 2705.60, 63% away. The notion of an equity market bubble would imply valuations are reaching expensive levels and it is evident there is still plenty of room to go.
This is not isolated just to the U.S., global developed equity markets still offer plenty of upside before we approach an equity bubble. European stocks continue to trade on a relatively cheap basis with P/E more around 11-13. So for those looking just at value ratios, there is a lot of room for price appreciation. The following chart identifies the forward P/E ratios, along with price to cash flow and price to book for developed markets, comparing this with the historic 10-year average.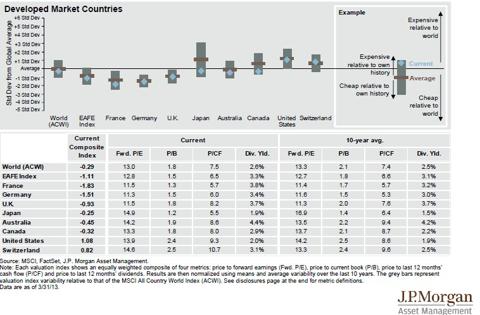 Source: JP Morgan Asset Management
Furthermore factoring inflation, the chart below shows the S&P 500 nominal performance against inflation adjusted terms and it is evident (from 1983) on an inflation adjusted basis that the market is way off its peak.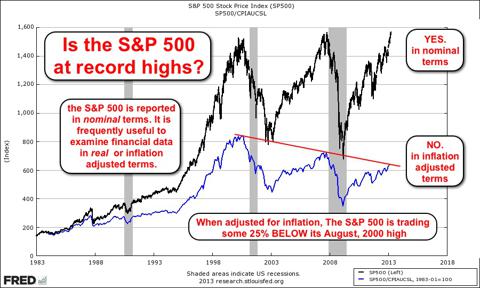 Many large-cap names are continuing to grow revenues, especially consumer brands such as Hershey (NYSE:HSY). The expanding demand from emerging markets and the maturing consumer offers a significant avenue for growth. Even at current prices there is plenty of upside to be had.
Sentiment has definitely changed towards equity markets, and volatility has fallen dramatically. Some bearish investors will be looking for a market pullback or a correction, however many were waiting for the same thing in 1995 and five years later the market had doubled. While I am not saying this is anywhere near the same situation, we could see a significant amount of upside from global equity markets from these record high levels.
Disclosure: I have no positions in any stocks mentioned, and no plans to initiate any positions within the next 72 hours. I wrote this article myself, and it expresses my own opinions. I am not receiving compensation for it (other than from Seeking Alpha). I have no business relationship with any company whose stock is mentioned in this article.