Exposure to country risk for selected gold mining companies is being analyzed in an ongoing series of articles. The present article will document our results for the South-African mining company Harmony Gold (NYSE:HMY).
Harmony Gold has numerous underground and surface operations in South Africa and a joint venture (Hidden Valley) with Newcrest (OTCPK:NCMGF) in Papua New Guinea. Harmony Gold's market capitalization at the time of writing is listed as $1.8B and a forward P/E is given as 4.79 on Yahoo.com. Harmony Gold produced 1.27M ounces of gold including a contribution from the Evander shaft that has been divested during 2012. The table below lists production, reserves and resources for Harmony Gold as provided in the 2012 annual report.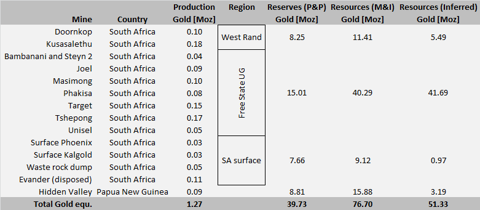 Click to enlarge
The term "country risk" typically includes factors such as political risk, exchange rate risk, economic risk, sovereign risk, transfer risk, socio-economic risk and others. Depending on the source, various contributing factors of country risk are weighted differently. We collated country risk ratings for selected countries from eight different sources and averaged these ratings into compounded country risk ratings. Our compounded country risk ratings range from 0 to 100 with low numbers indicating low risk and high numbers indicating high risk. The most recent results from this work can be found in this article. Readers interested in the specific definitions are encouraged to follow the links to our sources given in this article. The table above was consolidated showing summations for each country of exposure in percentages of gold-equivalent ounces. Country risk ratings are also shown in the central column of the table below. The right side of the table shows the weighted risk contributions for each of the two countries separately for production, reserves and resources with summarized scores in the bottom line. The individual ratings can be interpreted as ratings going from present risk (production) into the future (inferred resource).

Click to enlarge
Observations
When taking into account production data Harmony Gold's country risk rating computes to 37.99 indicating moderate exposure. This rating is driven by output from South African mines which accounted for 93% of production in 2012.
The computed country risk ratings increase to 41.01 when considering reserves due to higher contributions from the Hidden Valley mine in Papua New Guinea. A very similar value of 40.72 eventuates when using measured and indicated resources. Our rating drops to 37.84 when basing calculations on inferred resources.
At present South African operations are driving country risk exposure for Harmony Gold. Going into the future we would expect attributable output from Papua New Guinea to increase proportionally leading to a higher production-related risk rating. We would assume that risk ratings for South Africa are bound to rise in the not-too-distant future due to ongoing labour problems in the mining sector which would also affect Harmony Gold.
Disclosure: I have no positions in any stocks mentioned, and no plans to initiate any positions within the next 72 hours. I wrote this article myself, and it expresses my own opinions. I am not receiving compensation for it (other than from Seeking Alpha). I have no business relationship with any company whose stock is mentioned in this article.