On Monday, we looked at the toy industry with Mattel (NASDAQ:MAT). Following up on this series, we will check out another important player in the industry: Hasbro (NASDAQ:HAS). While Mattel is part of my Best Dividend Stocks for 2013, Hasbro was part of my selection for 2012. The company has been up by 32.34% this year and was up by another 12.57% for 2012. After a gain of almost 50% in 17 months is there any more room for profit, or have you missed the train?
Hasbro Business Description
Hasbro is a worldwide leader in children and family entertainment. It is mostly known for its numerous toy brands such as Playskool, Tonka, Milton Bradley, and Parker Brothers. They are the second-largest toy company behind Mattel and have several trademarked franchises such as Transformers, "Star Wars," and Marvel action heroes. Since it can't stop making Marvel heroes movies and the "Star Wars" license was recently purchased by Disney (NYSE:DIS) for additional movies, we can expect Hasbro to head back to its peak at the end of 2011.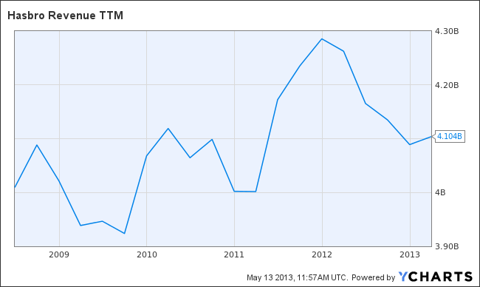 Its business strategy is based on a continuous flow of new partnerships to make innovative toys in the industry. Back in the 1980s, Hasbro had made some strategic moves through the acquisition of Milton Bradley (who knows Monopoly?) and the creation of Transformers. At the end of the 1990s and beginning of the 2000s, Hasbro had acquired the licenses for "Star Wars" and Marvel toys. We can deduce that most of its sales growth will be attributed to the movies for which they have the license for complementary products.
Hasbro was quite aware that it was a bit risky to gamble its revenues based on Hollywood and its mood swings. This is why, starting back in 2008, it focused on creating or innovating within its own brand. Some of its flagship owned brands such as My Little Pony and Magic: The Gathering were pushed to another level to make sure that Hasbro could have great years even if the movie industry stinks.
As of 2012, Hasbro had the following market shares:
U.S. 12.7%
Western Europe 8.3%
Mexico & Brazil 11.5%
Its most recent investor presentation shows 10-year net annual revenue growth of 4% annualized return. But if you look closely at the graph, you'll notice revenue stagnation since 2008.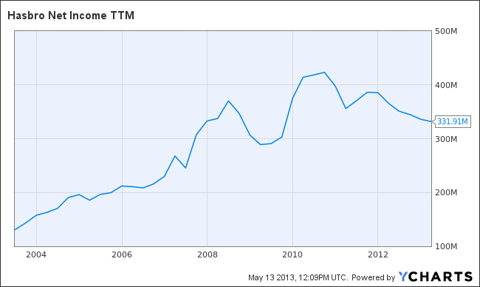 HAS Dividend Growth Graph
One look at the dividend payout for the past five years and you will fall in love with the stock: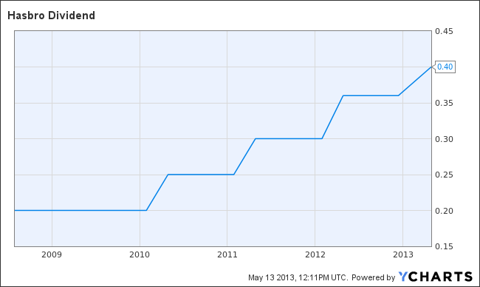 But a second look at the payout ratio raises a red flag: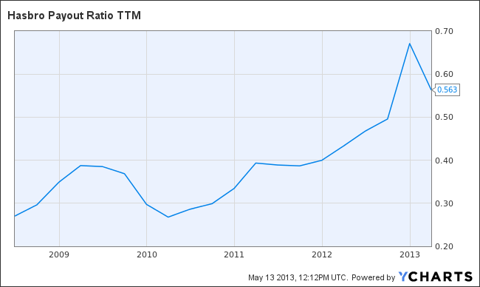 Due to a difficult year (even Hasbro management admits it), the payout ratio has gone up compared to its previous year. 2013 seems brighter since it already dropped from its peak of 2012.
A look at its EPS also tells me the same story: Sales and profits have a hard time growing in this tough economic period.
The Company Ratios and Financial Info:
| Ticker | HAS U.S. Equity |
| --- | --- |
| Name | Hasbro Inc. |
| Dividend Metrics | |
| Current Dividend Yield | 3.4 |
| 5 year Dividend Growth | 16.83 |
| 1 year Dividend Growth | 17.46 |
| Company Metrics | |
| Sales Growth (1 year) | -4.59 |
| Sales Growth (5 year) | -0.95 |
| EPS growth (5 year) | 7.24 |
| P/E ratio | 16.81 |
| P/E Next Year | 14.79 |
| Margins growth | 0.07 |
| Payout ratio | 55.62 |
| Return on Equity | 23.22 |
| Debt to Capital Ratio | 0.26 |
While the dividend metrics look great for now (high dividend growth, relatively high dividend yield, and payout ratio back under 60%), sales stagnation worries me.
HAS Stock Technical Analysis

HAS is currently trading on a strong uptrend. It might be a good time to acquire this stock. Click here to get a free stock analysis report on HAS.
Hasbro Upcoming Opportunities and Dangers
Hasbro has a strong position in the U.S. with 52% of its sales coming from its main market. It also did a strong incursion in emerging markets with over 10% of revenues coming from the fastest growing countries of the world. Nonetheless, this doesn't seem like enough to keep Hasbro growing.
The company has aggressively given back a lot of money to its investors through share repurchases and the major dividend growth policy. Based on the classic financial theory, a company is paying dividends when it doesn't see growth opportunities. I think Hasbro should perhaps slow down on the dividend growth and focus on creating more innovative toys. In my opinion, this company is still a bit too linked to the movie industry. I guess the upcoming Heroes movies and the next "Star Wars" trilogy are both great news for both Hasbro and its investors.
The reason why I picked HAS for 2012 was based on its record year in 2011. While the stock did well, the sales and earnings dropped throughout the following years. However, the first quarter of 2013 is showing growth in revenues, profits, and EPS. This is probably why the stock has gone up, doped by the overall bull market feeling.
Final Thoughts on Hasbro
If I was a Hasbro stock owner, I would probably hold on the stock and watch the next quarters carefully. If 2012 was simply a bad year in the economic cycle and 2013 shows growth, I would be quite optimistic with regard to the future of the company. However, if sales still stagnate, I think it will be time to cash out the money and run.
What do you think? Are you a Hasbro fan?