One of the better plays in the energy sector at this time appears to be Devon Energy (NYSE:DVN), which several days ago, dropped to levels not seen since a brief moment in 2011. Other than that, it hasn't traded that low since 2009. It has made a nice move since the latter part of April, but when measured against a 5-year performance, it is still relatively cheap. If measured against a six-month chart, it looks more volatile and unpredictable. The reason why is because it, in fact, has been.
Devon 5-Year Chart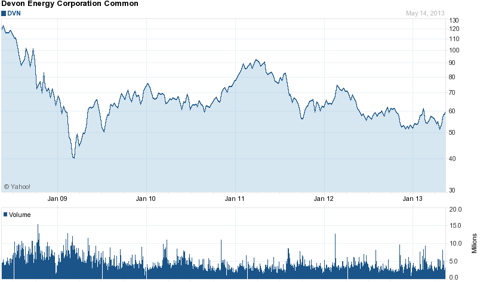 Devon 6-Month Chart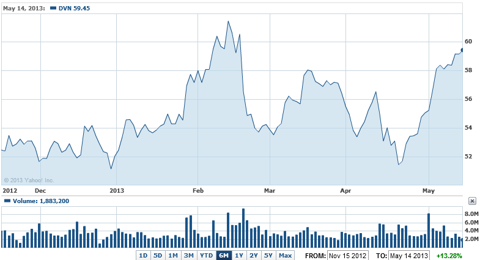 What is compelling about Devon is it's a big enough company - with a market cap of $24.86 billion - to weather temporary glitches in the market, which could significantly derail some of its smaller competitors. When compared against its peers, it continues to be an undervalued company, although if it continues to move up as it has been over the last several weeks, that could change fairly quickly.
Devon has a forward P/E of 11.68, with a Price/Book of 1.22. These are definitely bargain territory. To give an idea how this ranks against competitors, EOG Resources, Inc. (NYSE:EOG), which has a market cap of $36.65 billion, has a forward P/E of 16.92, and a Price/Book of 2.70.
Recent Quarterly Report
The numbers of Devon's recent quarterly report weren't that great, as it posted a $1.3 billion loss. But that was because the company took a $1.9 billion non-cash asset impairment charge, mostly because of falling oil and natural gas liquids prices. Stripping out the charge and other items, the company earned $270 million or $0.66 a share. Analysts had been looking for 55 cents a share.
Some Important Quarterly Results
• Total production exceeds company guidance
• Permian Basin drives 23 percent year-over-year growth in U.S. oil production
• Positive well results in emerging oil plays
• Pre-tax cash costs per unit of production decline 4 percent sequentially
• Financial strength and liquidity remain in excellent condition
The boost in U.S. oil production is especially important, as it points to successfully implementing a new strategy of boosting oil output.
An area of risk continues to be natural gas liquids and crude oil prices. Crude prices in the latest quarter dropped 14 percent, while natural gas liquids prices fell 20 percent. Oversupply was the major issue there.
Rebalancing Oil and Natural Gas
The jump in oil production for the latest quarter was 14 percent, which should increase as the company has no intention of drilling any of its dry acreage in 2013. The goal is to continue to produce an oil production growth rate somewhere in the mid-teens.
Devon said this in a press release:
Our continued focus on oil production growth is successfully transitioning Devon's production mix to a higher oil weighting, as evidenced by our first-quarter results. Oil and liquids production, our highest margin products, now account for 41 percent of our total production.
As of the beginning of 2013, production of natural gas has dropped from 64 percent to 59 percent of overall energy production at the company.
The combination of lower natural gas production and higher oil production should be a catalyst for Devon Energy for the rest of the year and into 2014. The price of oil will continue to be a factor there.
Mississippi Lime Formation
There is a lot of potential from the Mississippi Lime formation, which at this time, Devon says, the new wells are producing from 600 to over 1,000 barrels of oil a day. The energy company brought 24 new wells online in the formation during the first quarter of 2013.
Even though there is a lot of potential, the company says it still considers it an exploration play until proven otherwise. Management likes what they see so far, but can't confirm its long-term viability. It's definitely something to closely watch as new wells are brought online.
One of the major challenges at the Mississippi Lime formation is the large amount of water content mixed in with the oil and gas. Nonetheless, it is considered a low-cost area because oil and gas can be reached at shallow depths. Its biggest producers for now will remain the Permian Basin, the Barnett Shale, and the Cana-Woodford Shale.
Some good news for the company is the recent announcement of test results at the Cline Shale, located within the Permian Basin. The wells in the formation point to about 3.6 million barrels of recoverable oil. Permian as an entity has over 30 billion recoverable barrels, and possibly much more.
Master Limited Partnerships
In a move to unlock share value, Devon said it is evaluating where it could place its midstream assets within a master limited partnership. That's what caused the recent spike in share price when it surged from $52 per share to about $58 per share. An MLP offers tax advantages to shareholders.
Devon's CEO John Richels, said on a conference call that a decision will be made by the end of the current quarter.
Devon Entry Point
All of this means those interested in Devon have to make a decision on an entry point after the recent boost in the share price of the company. Current share price levels are close to resistance at $59.49, making it hard to feel comfortable to buy in at that price point. The stock range as defined by its calculated support is at $50.81.
It's likely the share price will ease up after the response to the master limited partnership idea, which would produce a better place to enter. If it does break the $59.49 resistance level, it would be an opportunity to get in at a range higher than it's trading in now.
Analysts Ratings on Devon
Overall analysts are neutral or bullish on Devon, with thirteen analysts rating the company as a "Hold," and twelve analysts having a "Buy" on Devon.
Recently, FBR Capital Markets reiterated an "Outperform" rating on Devon, with a price target of $77.00. On the other side of the spectrum, Macquarie maintains a "Neutral" rating on the company, with a price target of $61.00.
At this time there is a "Hold" consensus on the firm with a consensus price target of $68.29.
Conclusion
While the Mississippi Lime formation offers some new potential going forward, the success of Devon Energy will be in relationship to the successful rebalancing of its oil and natural gas production. According to CEO John Richels, he sees that successfully being implemented, relying primarily on the Permian as the key catalyst. He said U.S. oil production in 2013 should climb by almost 40 percent.
After divesting of overseas and offshore assets, the focus on production on its U.S. assets is a move that should reward shareholders in the future. It also helps to shield the company from energy price risk. I like what Devon Energy is doing, and its low P/E and price make it among the more attractive plays in the sector. Its size also makes it a much safer choice than some smaller competitors, which are positioned even better, but offer a lot more downside in this volatile energy price environment.
Disclosure: I have no positions in any stocks mentioned, and no plans to initiate any positions within the next 72 hours. I wrote this article myself, and it expresses my own opinions. I am not receiving compensation for it (other than from Seeking Alpha). I have no business relationship with any company whose stock is mentioned in this article.