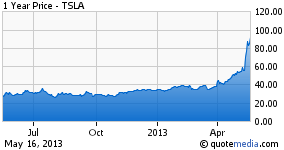 Tesla Motors (NASDAQ:TSLA) is on a roll. The stock is screaming, and $150 a share is already in investors' sights. A new offering of stock and convertible debt could bring almost a billion dollars of new capital into the company. After paying off the DOE loan this is enough to get Model X into production, build some more stores, service centers and SuperChargers. If you are an optimist, with Model X on line, more stores and more SuperChargers Tesla might be able to build, sell, deliver and service 50,000 cars a year. For this, Tesla shareholders will give up roughly 2.5% of their ownership, even with effective anti-dilution measures with respect to the convertible debt.
At the present valuation, Tesla can do a lot better for its shareholders, at least on paper. Tesla can buy Fiat (FIATY.PK). I'm not kidding, so please hear me out. As I write, Tesla's market cap is $10.6B and Fiat's market cap is $6.6B. In a theoretical merged Tesla-Fiat, Spa., Tesla shareholders would own 62% with today's Fiat owners having 38%. Fiat and Chrysler, of which Fiat controls roughly 60%, make and sell 4,000,000+ cars a year. With the addition of Tesla's advanced EV technology, 5,000,000 cars would be well within the capability of the merged company. A merger with Fiat would bring Tesla's current shareholders roughly 100 times the manufacturing / sales / support capacity for just 35% more dilution than the proposed offering. Would a Tesla-Fiat merger be a better deal? Well that depends.
The merger would bring things Tesla doesn't have to help them reach scale quickly. Fiat has manufacturing capacity; seasoned auto industry management; established presence in Europe, the Americas, Asia, including China - all things Tesla needs. Shareholders will end up paying for these things via reduced profits or more dilution if Tesla goes it alone. In a world about to disruptively convert from ICE to electric cars, this merger would be a great deal for Fiat, Chrysler and Tesla. But it would only work if Fiat, Chrysler, their management, employees, suppliers, dealers and Governments buy into disruptive electrification of cars and really want to get onboard.
Making this merger work would be like psychiatrists trying to change a light bulb. As you know, it only takes one psychiatrist if the bulb really wants to change. Elon and JB would have their work cut out for them even if all the Fiat players want to change. And this is where the things start to depend... That's because in addition to manufacturing capacity, worldwide distribution and reach, a Fiat merger would also be bringing unions, ICE component suppliers, dealers and political entanglements.
And this points out what may be both the big problem for a Tesla-Fiat merger and on a larger scale, the overriding problem for Tesla as they seek to disrupt the automobile industry. Not everybody involved really wants to change. There is more to disrupting the ICE car business than selling stock, raising money and building out Tesla's Fremont factory. At the end of the day, Tesla's biggest problem will be getting union workers, parts suppliers, car dealers, auto company CEOs and customers to want to change. As Tesla shares soar and the shorts are squeezed, Tesla longs should think about how many psychiatrists it takes to change a light bulb and why Tesla is looking at another offering and not (so far as I know) trying to buy Fiat.
Disclosure: I am short TSLA. I wrote this article myself, and it expresses my own opinions. I am not receiving compensation for it (other than from Seeking Alpha). I have no business relationship with any company whose stock is mentioned in this article. My short interest in Tesla consists of PUTS, I do not have a direct short position in the shares.