To say that Gap (NYSE:GPS) has had a good year in 2013 would be an understatement. In the year-to-date, the stock is up 24.4% -- 11% more than both the S&P 500 and the Dow Jones U.S. Apparel Retailer Index, both of which are up over 13% in the year-to-date.
Pulling back further, Gap has performed better than either Index over the past six months, as can be seen from the chart below, although by just half that margin.
GAP v. S&P500 and Dow Jones US Apparel Retailers Index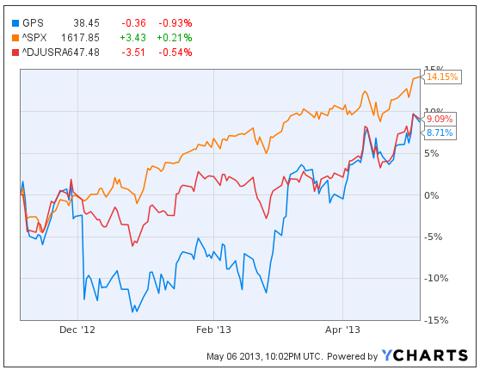 Source: YCharts
The performance of Gap during this period is all the more impressive considering the soft environment for retail sales. As the chart below shows, retail sales have been very weak over the past six months, growing by just 1%.
US Retail Sales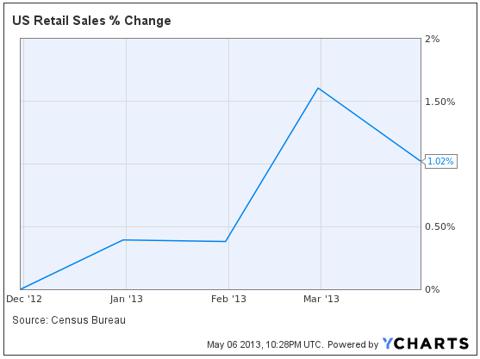 Source: YCharts
Moreover, Gap has actually beaten earnings estimates by an average of a penny per share in three of the past four quarters.
In short, Gap has been a standout stock, besting both its peer group and the broad market as a whole. Its strength has been driven by a focus on expanding its operations beyond American shores, particularly in Asia and Latin America, with CEO Glenn Murphy citing the potential for double-digit growth in these markets as it opens more company-operated branches of its Gap, Banana Republic and Old Navy brands.
In that sense, Gap is doing exactly what it needs to do in a period of tepid growth in its main market: expand revenues organically by branching out beyond local markets into faster-growing markets where American style and culture are popular.
Gap is set to report its fiscal quarter ending April 2013 in approximately two weeks and the question that investors have for it is whether it can sustain its strong performance going forward. In our view, this is highly likely.
Earnings Have Strong Potential
When it reports on May 22nd, Gap is expected to reveal that it earned 56 cents in its April quarter, an increase of 19% from the same period a year earlier. Those earnings will be driven by sales growth of 5.2% -- again, an impressive growth rate considering the overall weak retail environment.
Its performance is likely to have been driven by sustained growth in emerging markets: Gap has seen strong sales of its flagship brand in China and is now planning to open Old Navy and Banana Republic shops there as well as in places such as Delhi and Sao Paolo.
Interestingly, Gap's fortunes have not come solely from its emerging markets operations: Gap actually grew its U.S. market share by 20bps in the past 12 months, and it anticipates upping its slice of the market from 3.9% to 4.5% in the next few years.
Expanding its retail presence is only part of the story. With American consumers feeling the pinch from higher tax bills, they are likely to continue drifting to Gap's various online stores to fill their apparel needs, using the internet's favorable 'no tax' arbitrage to their advantage - likely at the expense of Gap's competitors as Gap itself has not seen much same-store attrition. Moreover, Gap is leveraging its e-commerce front to boost sales from its Intermix brand, which could put added pressure on its smaller peers.
Going forward, Gap is expected to see earnings grow by 13% for all of its current fiscal year. However, sales growth is expected to falter a bit in the succeeding years, growing 11.4% the following year and by an average of 10.5% over the next five years. That compares less favorably with its industry peer group, which is expecting 15% sales growth this year, 21% growth the following year and an average rate of 12.2% over the next five years.
Again, the typical caveats apply: tepid expectations for retail stocks led to lower estimates from analysts, particularly for a large retailers such as Gap. This is part of the reason that Gap has managed to surprise on the upside. Indeed, some analysts are slowly upping estimates, with 6 of the 25 analysts covering the stock upping their estimates in the past month. That said, fewer analysts (3 to be exact) have upped their estimates for next year. What this means is that Gap's forward growth rate expectations are on the low side, suggesting that it has the potential to surprise as its international expansion strategy comes to fruition.
Acceptable Fundamentals
Gap is currently trading at a price-earnings ratio of 16.5x its trailing earnings, compared with 19.1x for its peer group and 17.7x for the S&P 500. On a forward basis, the P/E disparity widens a little: Gap's forward P/E is 13x compared with 15.8x for its peer group and 16.4x for the S&P 500. Gap is cheaply valued on this basis, especially considering that Gap is likely to see bigger contributions from its emerging markets operations in future quarters.
Other measures also flatter Gap: its price-to-sales is only at 1.15x - marginally lower than its peer group's 1.18x and around 20% lower than the S&P 500's 1.42x. Meanwhile, its cash flow is only at 19.9x cash flow - a steep drop from the 32.4x cash flow multiple awarded to its peers.
Where Gap falters somewhat is with its cash levels. Both its quick and current ratios are a bit lower than its industry's average and the S&P 500. A contributor to this is Gap's slightly lower-than-average Gross profit margin of 42.5% (compared to 46.7% for its peers), suggesting that its sales mix favors lower-margin goods in favor of volume.
However, given its low levels of debt - Gap's total debt-to-equity ratio is less than half that of the S&P 500's at 0.43 - its relatively lower levels of cash are not worrisome. Indeed, Gap's interest coverage ratio is high at 22.4x - 39% more than its peer group's and nearly triple that of the S&P 500 - implying that Gap is unlikely to encounter liquidity issues.
In fact, moving down the line, one can see where Gap really shines: its current net income margin of 7% is far better than the essentially non-existent margins of its peer group (0.08%) and the S&P 500 (0.1%). That has allowed Gap to pay a dividend that is better than its peers' (1.5% compared to 1.3%).
Conclusion
Gap is currently less than 2% away from its 52-week high and while this might be a reason for caution, it is only so if one does not expect Gap to set new highs, which we do. In our estimation, given the balance of its fundamentals and forward prospects, Gap is likely to exceed its consensus price target of $40.25 by as much as 10%, implying an upside of 15% from current levels.
Investors would do well to load up on Gap shares during any pullbacks.
Disclosure: I have no positions in any stocks mentioned, but may initiate a long position in GPS over the next 72 hours.
Business relationship disclosure: Black Coral Research, Inc. is a team of writers who provide unique perspective to help inspire investors. This article was written Jonathan Lara, one of our Senior Analysts. We did not receive compensation for this article (other than from Seeking Alpha), and we have no business relationship with any company whose stock is mentioned in this article.
Additional disclosure: Black Coral Research, Inc. is not a registered investment advisor or broker/dealer. Readers are advised that the material contained herein should be used solely for informational purposes. Investing involves risk, including the loss of principal. Readers are solely responsible for their own investment decisions.