As recently as a few trading sessions ago, one could've said that McDonald's (NYSE:MCD) stock was having a very good year: its return was better than that of both the Dow Jones Industrial Average and the S&P 500. That is no longer the case as McDonald's performance has dipped to levels that food industry observers have predicted for much of the year: the fast-food giant is struggling in key markets such as the United States, the Eurozone, Japan and even emerging markets.
Chart 1: McDonald's Year-To-Date V. Indices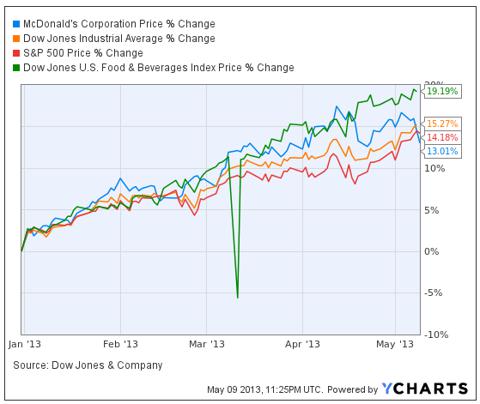 Source: YCharts
As Chart 1 above shows, McDonald's year-to-date performance has lagged behind that of the Dow Jones U.S. Food & Beverages Index by a notable margin of over 6%. Meanwhile, competitors such as Chipotle Mexican Grill (NYSE:CMG) and Wendy's (NYSE:WEN) are both providing investors with returns that are 10% better, as the chart below shows:
Chart 2. McDonald's Year-To-Date V. Competitors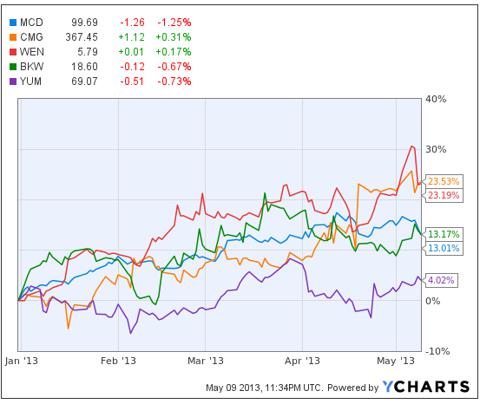 Source: YCharts
That being said, McDonald's is doing just about as well as direct competitors such as Burger King (BKW) and is performing far better than Yum Brands (NYSE:YUM), which operates popular fast-food chains such as KFC, Pizza Hut and Taco Bell.
As Chart 2 illustrates, McDonald's is a middle-of-the-pack performer which is also indicative of the company's broader performance: of the 30 stocks comprising the Dow Jones Industrial Average, McDonald's gain in 2013 is ranked 20th.
The question for investors is whether McDonald's middling performance will continue or if there is an opportunity to add McDonald's to their portfolios in anticipation of better performance ahead. We are inclined to favor the former view.
Tepid Earnings Potential…
McDonald's first quarter earnings came in a penny shy of the consensus and represents the third time in its past four reporting periods that the company has disappointed earnings expectations. The forward outlook doesn't look too bright, either. McDonald's April same-store sales have disappointed, falling 0.6% after rising by 4.4% in the same quarter a year earlier. Part of this is due to currency adjustments: a stronger dollar removed 2.5 percentage points from its growth figure but even taking its pre-currency figure of 1.9% growth into account means that McDonald's pace is less than half of what it was a year earlier.
Weakness is the Eurozone, where consumers are still reeling from recessions or significant slowdowns in major markets have been compounded by continued softness in the Japanese market. Meanwhile, with an incipient bird flu epidemic in China, sales in this key emerging market are likely to falter with consumers avoiding McDonald's popular chicken-based products (N.B. in some markets, McDonald's chicken products are more popular than its burgers).
Surprisingly, McDonald's is actually expected to see revenues grow by 3% in the second quarter and post earnings 6.8% higher than their level in the same period last year. Given the inauspicious start to the second quarter, we believe expectations could again be disappointed, particularly since weakness in the Eurozone will likely kill any positive momentum it gains in the United States through the introduction of more value-oriented menu options and new Premium Wraps offerings.
For the year, McDonald's is anticipated to grow its earnings by 6.5% - a pace that is 38% slower than it recorded in the previous five years. In 2014, McDonald's EPS growth is expected to improve to 9.5% - still slower than previous years' and possibly representing its "new normal:" over the next five years, McDonald's earnings are expected to expand by an average of just 8.7%. This pace of growth is slower than both its industry's 14.6% and the S&P 500's 9.3% over the same period. It is also quite a bit more sluggish than the 12.9% growth rate forecasted for Wendy's in the same time frame.
In short, McDonald's is transitioning from a period of relatively solid growth to a period of slower growth. To the extent that the market is concerned with discounting future earnings prospects, this is not a good sign for the fast-food giant.
… But Solid Fundamentals
As a blue chip, McDonald's still has a solid set of fundamentals. For instance, its current price-to-earnings ratio of 18.5x earnings means that it is not overvalued relative to its peer group, which is trading at nearly 23x earnings. At the same time, McDonald's asset base remains robust, which is why it is only trading at 8x its tangible book value compared to around 15x for its peer group.
McDonald's also has high levels of cash: both its quick and current ratios, at 1.0 and 1.4, respectively, are higher than its industry's 0.7 and 1.1, and are more in-line with that of the S&P 500. That means that McDonald's is able to comfortably service its debts, which are already at levels lower than its industry's and that of the typical S&P 500 company. Indeed, McDonald's debt-service ratio of 14 is far better than the ratio of 10 its industry carries and is nearly double the 7.5 ratio of the average S&P 500 company.
Meanwhile, McDonald's pays a healthy dividend, with a yield of 3.1% that is higher than both its industry's 2.5% and the S&P 500's 2.1%.
Beyond these, McDonald's has demonstrated that it is more adept than its peers at extracting profits: its gross margins of 44.5% is over 10% better than its peer group's 38.4%. It also has a better handle on its operating costs: McDonald's EBITDA margin of 35.6% is nearly 13 percentage points better than its competitors'. Consequently, it is not surprising that McDonald's net income margin over the past five years has been at nearly 16% - far higher than the 9% average of its industry and over 2.5 times better than the average S&P 500 company's.
Conclusion
On balance, we believe that mediocre earnings prospects counterbalanced by solid fundamentals have placed McDonald's right where it belongs: in the middle. We believe that the $106.67 consensus price target for the stock, representing a 7% upside, is fair considering that the stock is likely to perform at a slightly lagged pace to the market overall.
We would therefore only recommend McDonald's to investors who prefer dividend-paying stocks or are otherwise conservative in their stock selection; investors seeking sizeable gains would do well to look somewhere other than the golden arches.
Disclosure: I have no positions in any stocks mentioned, and no plans to initiate any positions within the next 72 hours.
Business relationship disclosure: Black Coral Research, Inc. is a team of writers who provide unique perspective to help inspire investors. This article was written Jonathan Lara, one of our Senior Analysts. We did not receive compensation for this article (other than from Seeking Alpha), and we have no business relationship with any company whose stock is mentioned in this article.
Additional disclosure: Black Coral Research, Inc. is not a registered investment advisor or broker/dealer. Readers are advised that the material contained herein should be used solely for informational purposes. Investing involves risk, including the loss of principal. Readers are solely responsible for their own investment decisions.