There's no doubt that we now live in the post-personal computer era. Gone are the days when consumer computing technology was dominated by desktop computers. Today, anyone armed with a smartphone or tablet - and soon, wearable computers - has the capacity to create the sort of rich media that once necessitated a much larger, not to mention more expensive, device. Moreover, such devices finally deliver on a promise made by PCs in the 80s - the ability to connect with other users in a timely, effortless and seamless fashion.
It is therefore not surprising that PC sales were surpassed by smartphone sales in 2011 while tablets are expected to achieve the same distinction some time in 2013.
One of the less highlighted - but equally important - developments over the past decade has been the miniaturization of storage: devices no larger than a nail now have the capacity to carry all the information contained in encyclopedias, all the music in someone's collection or personal photo archive. Absent this development, the ability of device makers such as Apple (NASDAQ:AAPL) or Microsoft (NASDAQ:MSFT) to deliver the kind of attractively slim, portable device that has enabled the post-PC era to take off would have been severely limited - and perhaps we would still be living in the PC era.
Which is why it's not surprising that the makers of such devices have seen their stocks rocket in the year thus far: Western Digital (NYSE:WDC), and its competitors Seagate (NASDAQ:STX) and SanDisk (SNDK) have each seen their stocks rise by over 30%, as the chart below illustrates. Such returns are more than double that of the S&P 500 in the same time frame.
Chart: Western Digital vs. Peers & The S&P 500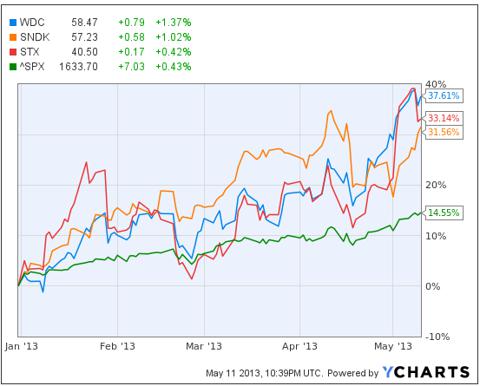 Source: YCharts
As we mentioned in our earlier article on Seagate, there has been a subtle shift in the post-PC era: smartphones and tablets, not being quite like PCs, are actually shipping with less on-device storage these days. Cloud services take advantage of fast mobile broadband to stream media to portable devices, mitigating users' need to carry their digital libraries with them. At the same time, the popularity and ubiquity of such services allows device makers to continue to shift devices without being hampered by the design and cost considerations related to providing ample portable storage. It also makes such devices easier to pitch to carriers: a greater reliance on mobile data means more revenue per subscriber, particularly since carriers have shifted away from unlimited data plans.
Rather than signaling the end of the party for storage makers, this only shifts the demand for storage away from consumers to the many enterprises providing cloud services: in short, the punchbowl is still there, there are just different sippers.
In our view, Western Digital, which has been taking advantage of the new paradigm, has the upper hand and investors would do well to have this stock in their portfolios. Here's why:
Better Earnings Prospects
Western Digital has beaten expectations by an average of 18% in each of the past four quarters. The same cannot be said for Seagate, its closest competitor, which missed estimates in two of its past four quarters. At the same time, while both Seagate and Western Digital are coming from periods of fast earnings growth (both having averaged over 25% EPS growth over the past five years), Western Digital is actually expected to continue growing its earnings - albeit at a far slower rate - whereas Seagate is expected to see its earnings contract over the next five years.
This is already evident in their most recent quarters: Western Digital grew its revenues by 24%, whereas Seagate's contracted by nearly the same magnitude. More importantly, Western Digital's revenue is expected to surpass Seagate's by nearly $1 billion in their fiscal years ending June 2013 - and that gap is forecast to persist the following year when both companies are anticipated to see overall revenue contraction.
Regardless, both companies' earnings growth rates will trail that of their industry peer group over the next five years, but that should be unsurprising given their industry-leading positions and the contraction of storage shipments due to longer PC refresh cycles (ironically aided and abetted by smartphones and tablets) and the ongoing realignment of the storage market. Still, Western Digital looks likely to end up on top: it is expected to have as much as 45% market share in 2013, 2 percentage points greater than Seagate's.
Moreover, Western Digital has stepped up its capital spending in the past five years; it can reasonably anticipate a payoff for these investments down the line, even if it has to pay for these investments with up-front depreciation costs.
Solid Valuation And Fundamentals
Western Digital is currently trading at 7.3x trailing earnings - less than half the 18.2x earnings of its industry peers. That's to be expected given the anticipated slowdown in its earnings momentum but it is a bit higher than Seagate's 6.4x earnings. We argue that a bit of a premium is warranted considering Western Digital's industry-leading position and also because, on a forward basis, Western Digital gets cheaper. Based on their five-year forward EPS growth projections, everything else being equal, Western Digital will be trading at just 6.5x whereas Seagate will be at 7.8x - a complete reversal of the current paradigm.
It would also give Western Digital a 23% valuation discount to its Industry's five-year forward earnings ratio of 8.4x. In short, the industry leader is cheap even on a forward earnings basis.
Other valuation metrics also provide the same conclusion. For instance, on a price-to-sales basis, Western Digital is trading at less than a year's revenues - 0.84x - compared to its industry's 1.6x. Seagate is actually priced a little bit higher at 0.94x revenues. Meanwhile, both Western Digital's price-to-book value and price-to-free cash flow multiples are at least 27% lower than its industry peers.
All this and Western Digital is actually relatively generous to its investors, paying a dividend yield of 1.7%, which is more than the 0.8% yield of its industry peer group, though quite a bit lower than the 3.8% yield of Seagate.
That being said, there's a good reason Western Digital isn't as generous to investors: it's been reinvesting its cash into its operations. As mentioned, Western Digital has increased its capital spending significantly: its five-year capital spending growth rate is at 38.5%, nearly triple its industry's level and far greater than Seagate's, which has not been increasing its capital spending during the same period.
What this means is that investors have more to look forward to from Western Digital: its investments are likely to begin paying off in the next five years, which suggests that there could be an upside against forward estimates. Indeed, Western Digital's management has shown that it can be very effective: in the past year, its net income margin has been at 12.2%, compared with break-even for the storage industry as a whole (as well as the S&P 500). More pertinently, over the past five years, Western Digital's return on investment has been a stellar 18.7%, which is more than double its industry's measure and 56% better than Seagate's.
Conclusion
There is no doubt that storage is a critical component of the Post-PC era and, given Western Digital's continued excellence in the field, it can likewise serve as a critical component of investors' portfolios. Currently, Western Digital rests above its one-year consensus price target of $57.79 but we believe that this is not cause for alarm and that, in the event of a summer swoon, investors would do well to purchase the stock on dips of 5 to 15% in anticipation of seeing the stock somewhere between $65 and $70 by year's end.
Disclosure: I have no positions in any stocks mentioned, but may initiate a long position in WDC over the next 72 hours.
Business relationship disclosure: Black Coral Research, Inc. is a team of writers who provide unique perspective to help inspire investors. This article was written by Jonathan Lara, one of our Senior Analysts. We did not receive compensation for this article (other than from Seeking Alpha), and we have no business relationship with any company whose stock is mentioned in this article.
Disclaimer: Black Coral Research, Inc. is not a registered investment advisor or broker/dealer. Readers are advised that the material contained herein should be used solely for informational purposes. Investing involves risk, including the loss of principal. Readers are solely responsible for their own investment decisions.