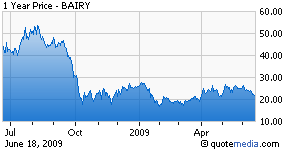 British Airways (OTC:BAIRY) continues to face considerable challenges. The recent company update confirmed a record-breaking £410m loss for the carrier in the tax year ending 31st March 2009. The accompanying management statement was depressing, ominous and bodes ill for the near-term prospects for all airlines exposed to the fragile global economy and weak consumer demand, especially for premium seats.
There are so many issues on BA management's to-do list it's difficult to know where to start. Capacity has to be withdrawn and some routes will have to be closed in addition to the Gatwick/JFK already announced. New sources of revenue have to be secured, presumably from building market share at the expense of rivals. Growth in capital expenditure (capex) and plans to update the fleet will have to be put on hold. But most urgent, costs have to be slashed. Employee costs, second only to fuel, amounted to 23.8% of all outgoings in 2008/09. Fuel represented 32.2% of costs. Cash slumped from £1,864m to £1,381m despite a positive operating cash-flow performance. For every pound added to the cash pile from operations, more than three were spent on repayments and capex. That scenario is not sustainable and a return to positive global GDP growth, by itself, will be insufficient to fix that ratio.

BA management is not pulling punches in their analysis, painful as it maybe for staff. The update identified "survival" as the primary short-term focus, with being more "competitive" next on the agenda. BA employees have already suffered with numbers down from 43,000 a year ago to 40,700 at year end. The recent invitation to forgo a month's wages, with the deduction spread over a few months, has sent the requisite signal to unions but the savings, a few million from the limited number of volunteers likely to take up the offer, will make no meaningful impact on the profit and loss statement.

Post global recession, two long-term strategic threats remain. The first is Ryanair (NASDAQ:RYAAY), the aggressive short haul low-cost airline and other European-focused cheap and cheerful budget airlines. The second threat is from the Gulf. Emirates, Qatar Airways and Etihad all continue to build market share and invest in new aircraft. I suspect, considering their proximity to oil producers, the Gulf based airlines have each secured a pretty good deal on the cost of fuel too, such is their political influence. In fact the Middle East airports are proving so popular as a transit stop for journeys between Europe, Asia and Africa, BA is forced to look west, to the over-served US market, in an effort to gain market share.
However, the airline is struggling to finalise its JV with American Airlines (AMR) due to lobbying by concerned competitors. The recent rise in the price of oil is the cherry on the bad news cake. Willie Walsh, BA's Chief Executive, refrained from complex balance sheet analysis in a recent press interview, preferring to sum up his forecast in more simple terms. "No green shoots".