In advance of the Second Annual Ophthalmology Innovation Summit, Dr. William Link, Managing Director of the $500M healthcare investment firm Versant Ventures, emphasized the factors underlying continued growth of the ophthalmology industry in an interview with the International Business Forum. His main point was that the high growth rate of the older population coupled with the fact that it has higher eye disease incidence has led to a very rapid increase of the ophthalmic patient base. This older population requires novel ophthalmic products and technologies, comprising surgical technologies, diagnostics applications, drugs and devices. As a result, ophthalmology industry insiders are increasingly focused on the innovation aspect to deal with this growing clientele. The global ophthalmology market has been on an upswing since 2010, though investors have to remember that regulatory clearance is still the main factor determining the ultimate fate of any specific innovation.
Alimera breakthrough with ILUVIEN follows through with the stock
One regulatory breakthrough that will hopefully be the first of many is Alimera Sciences' (NASDAQ:ALIM) ILUVIEN, a drug that is owned by pSivida (NASDAQ:PSDV) and marketed by the former. Alimera on May 7 announced that ILUVIEN, the first sustained release product for the treatment of chronic diabetic macular edema (DME), is now commercially available in Germany. Soon after, Dr. Albert J. Augustin treated the world's first patient with the ILUVIEN implant. The patient, a 67-year-old man, was diagnosed with diabetes more than 20 years ago.
These advances required an increase of R&D expenses in Q1 2013 for the company in preparation of the submission of the NDA for ILUVIEN to $2.0 million, compared to $1.6 million for the first quarter of 2012. To increase its working capital Alimera secured a $20M loan on May 8 from Silicon Valley Bank. These developments helped to more than double its stock price this year to almost $4.50 per share and increase its market capitalization to $141 million.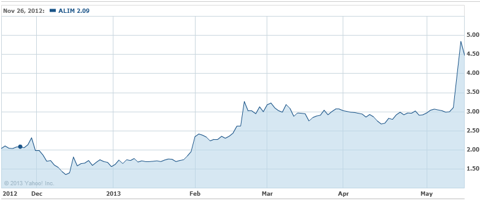 Iridex follows Alimera with its innovative ophthalmic hardware
Breakthroughs in ophthalmic hardware continue with Iridex Corporation (NASDAQ:IRIX), which has recently received two significant orders for its MicroPulse laser-based medical systems for the treatment of eye diseases. Behind MicroPulse is the simple idea that an intermittent laser burst allows eye tissue to cool between cycles, keeping the area from overheating and damaging the eye as sometimes happens with continuous wave laser treatments. The latest FDA approval for a MicroPulse based system came last December with the approval of the TxCell Scanning Laser Delivery System. Iridex now has 8 laser systems on the market and its accumulated deficit is now starting to shrink from over $21M in 2010 to just over $16M this past quarter. Investors have taken notice and IRIX has jumped from $3.30 to $6.30 in less than a year. For a company that seems to finally be making money , market capitalization is still phenomenally small at just over $50M. Operating expenses have also gone down, and were $3.8 million in the first quarter in comparison with $4.2 million in the prior year period. In Q2 2013 it expects to achieve revenues between $8.9 million and $9.2 million. If operating expenses continue on their downward path, Iridex could take another sizeable bite out of its accumulated deficit.

Will InSite Vision Follow these two successes?
We have seen how Alimera and Iridex have found success in innovative hardware approaches with investors following the trail; Alimera with the hardware approach to ocular drug delivery in ILUVIEN and Iridex in its MicroPulse laser hardware making important improvements to laser surgery. Both stocks have been on sharp uptrends for months. On the pure drug side of the innovation equation sits InSite Vision (OTCQB:INSV). InSite's approach is DuraSite, which is a sustained-release system designed to permit the gradual release of a drug into the eye over a period of hours, overcoming problems common with conventional opthalmic drug delivery. It is generally combined with a drug that is already FDA approved and then retested and remarketed, as is the case with AzaSite, which is azithromycin antibiotic combined with DuraSite. InSite, unlike the other two, has not yet been picked up by ophthalmology investors, judging by the fact that the stock has been languishing in a downtrend for two years now.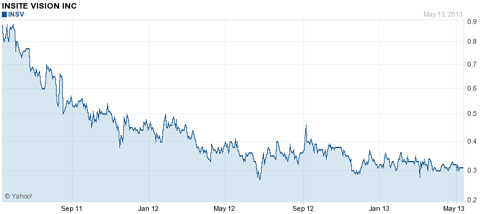 This downtrend comes in the midst of large strides the company has made in its sales and profitability. Notably, total revenues increased by 131% in Q1 2013 to $5.3M from $2.3M in Q1 2012. This rise was largely due to AzaSite minimum royalties from Merck (NYSE:MRK). Merck should pay to InSite quarterly through Q4 2013, the higher of the earned AzaSite royalty or one fourth of the $19 million minimum royalty which is $4,750,000. The Q1 2013 revenues included $500,000 of royalty from Besivance, which is marketed by Bausch and Lomb globally for the treatment of bacterial conjunctivitis, compared to $400,000 for the same quarter of 2012. In April 2013 the rights on the royalty from Besivance were sold for $15 million, which will show up on its next income statement.
InSite has been using the influx of cash largely to pay off outstanding debt which has shrunk an impressive 30% in two years, from $60M in 2010 to just over $40M as of last quarter. The $15M sale of Besivance royalty rights, never a significant money maker for the company, will bring that number down even further.
R&D expenses for Q1 2013 were $3.4 million, compared to $4 million for the same quarter of 2012 (see link below), expenses which have kept the company from being net positive last quarter, but this is largely due (page 14) to the conclusion of a double phase 3 study of AzaSite plus and DexaSite, DuraSite-enhanced drugs for the treatment of blepharitis. When these studies are completed, R&D expenses should drop significantly.
While Alimera and Iridex have already proven themselves as innovators in ophthalmology and much of the explosive upside move has already happened, the story with InSite is different. This is a company that is in the midst of proving itself, paying down its debt significantly but has not yet convinced investors that DuraSite will ultimately succeed. The AzaSite Plus and DexaSite phase III trials should give us the answer to that question. If the answer is yes, the upside for INSV could be much larger than what we've seen with ALIM and IRIX. It is the riskiest of the three, pending these trials, but the one with the highest return.
Disclosure: I have no positions in any stocks mentioned, and no plans to initiate any positions within the next 72 hours. I wrote this article myself, and it expresses my own opinions. I am not receiving compensation for it. I have no business relationship with any company whose stock is mentioned in this article.