Westport Innovations (NASDAQ:WPRT) is based in Vancouver, BC and makes heavy duty CNG and LNG engines. The company has dedicated itself to lead the international commercial engine industry in the shift from dirty and expensive oil-based engines to those running on cleaner and cheaper gaseous fuels. Its technologies allow diesel engines to operate on natural gas, propane, and hydrogen. Its engines meet or exceed EPA, California Air Resources Board (CARB), and EURO emissions standards.
In fiscal year 2009, Westport shipped 4,038 units compared to 2,720 in FY 2008. FY 2009 revenues grew to $121.8 million from $71.5 million in 2008, an increase of 70%. Westport indicated the increase is mainly attributed to increased sales of the Cummins Westport (CWI) ISL-G engine in North America as a result of increased demand for natural gas solutions in the transit and refuse markets.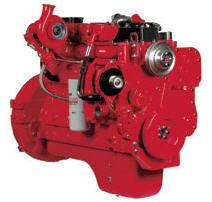 The CWI ISL-G Engine
In October of 2008, Cummins Westport Inc. (CWI), a joint venture between Cummins Inc (NYSE:CMI) and Westport Innovations Inc., announced the largest natural gas engine order to date from Delhi Transport for 3,125 natural gas buses powered by CWI's 230 horsepower B Gas Plus engines. These eco-friendly engines are fueled by CNG which provide energy security and lower operating costs than comparable gasoline or diesel engines. The engines will be manufactured by Cummins India Ltd.
Mack Trucks, Inc has announced natural gas powered trucks for refuse applications. The MACK TerraPro model uses a Cummins Westport ISL-G engine rated at 320 hp. This truck can use CNG or LNG and meets EPA 2010 emissions standards, reduces greenhouse gas emissions, and offers high performance and efficiency. The announcement came amid reports of abundant natural gas supply, storage, and reserves. The resulting low price of natural gas means trucks based on these ISL-G engines deliver a competitive cost advantage when compared to gasoline or diesel powered trucks.
Daimler Trucks North America (DAI) is the largest manufacture of heavy duty vehicles in North America. Daimler Trucks is now offering the Cummins Westport ISL-G Natural Gas engine in its Freightliner Business Class M2 tuck in six LNG and CNG tractor/truck configurations. According to Roe East, President of Cummins Westport, Freightliner Trucks expects to use CWI engines in over 90% of its truck applications in North America by the end of 2010.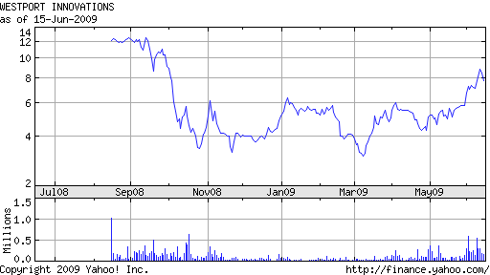 Click to enlarge
WPRT's FY 2009 Q4 results were disapointing and below estimates (click on chart to enlarge): loss/share of C$0.43 vs ext C$0.25. The company said the results were due to lower margins and higher expenses. Margins fell to 26% from 30% a year earlier.
However, the lower margins don't completely explain the much larger 2009 loss in the face of a 70% increase in revenues. There's something else going on here. Could it be that WPRT threw everything plus the kitchen sink into FY2009 results? If so, WPRT's solid business model, its booked orders, and its long-term strategic plan in the natural gas engine business could make it a solid investment as a hedge against high oil prices.
Its natural gas engines deliver economic and environmental advantages over engines running on diesel and gasoline. These competitive advantages should power earnings growth into the future - a future in which worldwide oil supply won't keep up with worldwide oil demand. In such an environment, cheaper and cleaner natural gas engines will increasingly become the "go to" solution for many truck (and car) markets.
Disclosure: The author does not own WPRT at the present time.