This article will focus on three stocks that are currently paying dividends of at least 6%. I ran a stock screener on Wednesday May 16, 2013 using the following criteria.
Small cap stock
Listed on the NYSE or Nasdaq or AMEX
Dividend yield of 6% or higher
4 consecutive quarters of non-negative earnings
Payout ratio of below the industry average
Earnings per share growth of 20% or higher forecasted for the next fiscal year
This stock screen is attempting to identify strong dividend payers in the small cap stock universe. Furthermore, it is looking to identify quality stocks that have positive earnings per share consistently, a sustainable payout ratio, and also have strong earnings growth forecasted for the future.
The stock screener produced four stocks. Of those four stocks, one of them was Resource Capital Corp. (NYSE:RSO). I recently wrote about Resource Capital Corp. in an article published on May 7th. Because of this, it will not be revisited here and the article will focus on the three new stocks that this screen found.
The stocks that were found here that we will discuss include Costamare Inc. (NYSE:CMRE), CYS Investments Inc. (NYSE:CYS), and Inergy Midstream LP (NRGM). The following is a one-year price chart for these stocks compared to the S&P 500.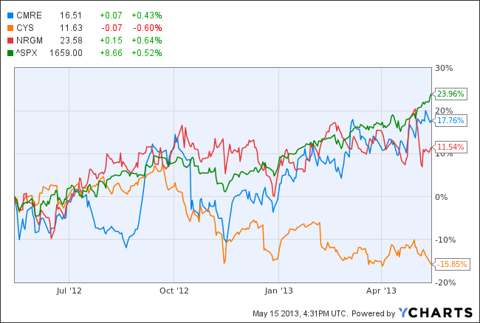 As the chart shows, the performance of these three stocks has lagged the S&P 500 over the past year. The question is, will they outperform in the next year? Let's take a further look at the companies to see if we can form an opinion on that.
Costamare is trading near its 52-week high of $16.93. It has been the best performing stock out of these three over the past year. It has a current dividend yield of 6.4%. In the past four quarters of earnings reports, it has beaten analyst estimates each time. Analysts expect its earnings for the next fiscal year to grow by over 33%. Its five-year growth rate per year is targeted to be 7.27% per year. On April 17, 2013, Global Hunter Securities initiated a buy rating on the stock. The company owns and charters containerships to liner companies. Based on its most recent annual cash flow statement, operating cash flow has been negative but its cash flow generation has been supported by the sale of stock.
CYS Investments is trading near its 52-week low of $11.45 per share. It has a current dividend yield of 10.7%. This stock is not well covered by analysts, as there currently is not an estimate on Yahoo! Finance for its upcoming earnings for next quarter or for the next fiscal year. When this occurs, reading the 10-Qs and 10-Ks along with analyzing its financial statements is a great way to research the company. The company has seen a large recent insider purchase, which is smiled upon in the investing world. Upon taking a look at its most recent 10-Q, its cash flow statement showed that the company's cash position was pretty much unchanged for the period. The company lost 10 cents per share in the quarter ending in March of 2013 based on its income statement. The dividends paid on the preferred stock were built into that, and based on its cash position being largely unchanged, the payouts look to be sustainable as of now. Going forward, growing earnings and maintaining its dividend are important for the company in order for it to see its share price increase.
Inergy Midstream LP is currently trading at $23.59 per share. It is a partnership so its shareholders receive distributions rather than dividends, and those are taxed with the shareholders receiving a K-1 at year-end. Its current distribution yield is 6.7%. Earnings are forecasted to grow by 57.4% next year and by 22.7% per year over the next five years. Based on this, Inergy looks to have the most potential out of the three stocks highlighted here for the best growth going forward. Its cash flow statements show that the company has the ability to sell stock and borrow money as needed. Growing earnings is necessary for the company to rise in price, and so is maintaining the ability to borrow money and tap the capital markets when that is sensible.
Despite the earnings miss that Inergy had for the quarter ending in March of 2013, it looks to be the best stock of this bunch in my opinion. Earnings per share estimates for this year have been revised downward to 61 cents per share, but earnings per share for next year are expected to be 96 cents per share even after downward revisions. In my opinion, this stock presents a great opportunity for high potential growth along with a high distribution yield. If I had to pick one stock to buy out of these, I would pick this one as it seems to have the most going for it.
Thank you for reading this article and please conduct your own research and due diligence before deciding whether or not to invest in any of these stocks.
Disclosure: I have no positions in any stocks mentioned, and no plans to initiate any positions within the next 72 hours. I wrote this article myself, and it expresses my own opinions. I am not receiving compensation for it (other than from Seeking Alpha). I have no business relationship with any company whose stock is mentioned in this article.