Apple (NASDAQ:AAPL) has been focusing its marketing energy on emerging markets, as the developed markets in the west reach saturation. India has become a key battleground for major smartphone makers like Nokia (NYSE:NOK), LG, BlackBerry (NASDAQ:BBRY) and Samsung (OTC:SSNGY). The reason for India's importance is the potential size and growth of the smartphone market. The smartphone market is very tiny compared with the overall mobile phone market with a share of less than 10%. However, smartphones are growing at a rapid pace clocking over 60% growth in 2012. This growth is set to continue with IDC forecasting annual growth of ~57% till 2016. Apple started to invest heavily in ramping up its distribution network in India in 2012 and it immediately paid off with Apple becoming the second-largest smartphone company during Q412. However, this made competitors like Samsung and BlackBerry retaliate with new marketing strategies. Samsung unleashed a marketing blitzkrieg while BBRY has introduced a new cheap data plan. This has resulted in Apple's smartphone market share halving in Q113. The Indian management has now decided to up the stakes by offering a whopping ~36% discount on iPhone 4. Apple is also offering a 20-25% discount on the iPhone 4S and iPhone 5 models. This is expected to lead resurgence in Apple's market share during the rest of 2013. I remain positive on Apple's stock given its low valuation, adverse sentiment and upcoming product launches later in the year.
Apple's initial marketing efforts were bearing fruit
Apple had started to focus on the Indian market in 2012 by beefing up its selling and distribution network in the country. The company not only appointed two large national distributors but also started giving discount and financing schemes. Carrier subsidies on expensive smartphones is absent in India and it is difficult for consumers to make big investments at one go. "EMI" schemes are a popular way for big consumer durable companies to sell big ticket items like LCD TVs, washing machines etc. Mobile device companies too have adopted the "FMCG" model of financing purchases in partnership with credit card companies and banks. Apple tied up with top banks to give a discount as well as an EMI financing scheme for iPads and iPhones. This led to a big surge in Apple shipments in 2012 and the company started to threaten Samsung's leadership in the smartphone market.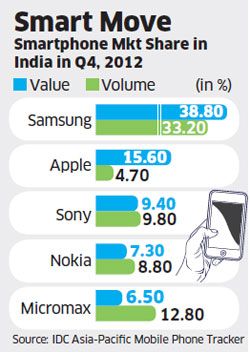 Competitors Retaliate
Samsung became very aggressive and unleashed a marketing blitzkrieg in India. The company filled the airwaves with its advertisements and started to offer a 15% discount on all its major products. Samsung also beefed up its presence in popular electronic retail chains like Mobile Store, eZone etc. Samsung has a very strong distribution network in India due to its electronics business. The key to becoming the No.1 player in India is distribution. In its heyday, Nokia had the best distribution in the country. Now Samsung has taken over that mantle of having the best marketing network in the country. Samsung has seen its market share in Q113 surge according to Canalys. Apple on the other hand has seen its market share half.
BlackBerry does not have the firepower like the big mobile companies and it is making a transition to BB 10. To stem the market share loss, BlackBerry recently introduced a new cheap data plan in Tier 2 cities and states in India. Yesterday BBRY indicated that it would soon launch a new cheaper BB 10 device to target emerging markets in India and China.
BlackBerry maker Research In Motion Ltd. on Tuesday unveiled a lower-cost BlackBerry that is designed to entice consumers in emerging markets as the company stepped up efforts to regain market share lost to the iPhoneand Android devices. CEO Thorsten Heins said Tuesday that the Q5 device will be available worldwide this summer. It is RIM's third smartphone to run the new BlackBerry 10 system. The Q5 will have a physical keyboard, something that sets RIM's devices apart from Apple's iPhone and most Android phones.
Apple ups the stake in alliance with American Express
a) 10% Cashback
Apple had started a "cashback" war with Samsung by offering Rs 7,000 discount on iPhone in exchange for an older smartphone. The company wanted to increase the affordability of its products, which was out of the reach of most India consumers. It is difficult to buy an iPhone 5 for ~$800 when the per capita income in the country is barely ~$2000. Apple has now increased the discount on its products by not only offering an exchange scheme but also giving a 10% "cashback" if the purchase is made through American Express (NYSE:AXP) credit cards. American Express in India has a much smaller markets hare compared to Visa (NYSE:V) or MasterCard (NYSE:MA). The new scheme will entice customers to go in for an American Express Card as a limited discount is allowed per card. This 10% cashback is not being offered on rival Visa or MasterCard, which should give American Express an edge.
b) Increase in Exchange Discount
Apple is also increasing the exchange discount to Rs 7,777 [U.S.$141.95] for students, which means that overall discount becomes Rs7,777 + Rs 1,872 = Rs 9,649 [U.S.$176.12] for an iPhone 4 priced at Rs 26,500 [U.S.$483.71]. Apple is making the same offer on the higher-end iPhone models as well. However, the exchange discount remains the same, which means that the discount percentage reduces for iPhone 4S and iPhone 5. The total discount for iPhone 5 will be ~Rs 11,650 while for iPhone 4S it will be ~Rs 10,650.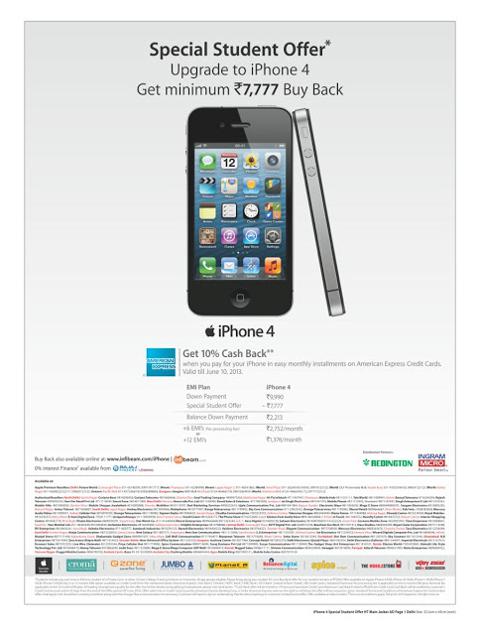 Click to enlarge
Valuation and Stock Performance
Apple's stock has climbed to the ~$460 level after falling below $400 in its recent quarterly results. The biggest share buyback in history and the increased dividend yield has brought some relief to Apple's stock. However Apple continues to suffer from lack of new product launches, even as rivals like Samsung continue to introduce new flagship products almost every quarter. Apple's stock is still quite cheap with a forward P/E of less than 10x. The stock is even cheaper when you exclude Apple's cash from its market valuation.
Summary
The Indian market has become one of the most important smartphone markets in the world due to its huge size and potential. Only ~16 million smartphones were sold in 2012 compared with India's population of ~1.2 billion. Even if half of the citizens bought a smartphone, then India will see exponential growth. BlackBerry has recognized India's importance by introducing a new lower-cost BB smartphone. Samsung has built a solid position in the Indian market and is keeping its foot pressed to the pedal in order to defend its No.1 position. Apple's aggression in matching Samsung's marketing prowess is a good sign. I remain positive on Apple stock due to its cheap valuation and new product launches during the next year.
Disclosure: I have no positions in any stocks mentioned, and no plans to initiate any positions within the next 72 hours. I wrote this article myself, and it expresses my own opinions. I am not receiving compensation for it (other than from Seeking Alpha). I have no business relationship with any company whose stock is mentioned in this article.