In what can only be described as a two-minute drill, Medical Marijuana Inc. (OTCPK:MJNA) delivered on its promise to get its Q1 OTC filing with audited Q1 results posted by 5/15, as the company had indicated in its 4/30 press release. I am going to give it a double-asterisk: One for the fact that it posted just a few minutes before midnight in California (where the company is based) and another for the fact that it posted incompletely, with the footnote 4 truncated and numbers 5-12 missing.
Like any report, investors will have different takeaways. The bottom-line from my perspective is that there were many negatives, but I also see some promise in improved transparency. The stock sold off after initially opening a bit higher, but it had run up over the past few days, perhaps due to TD Ameritrade apparently lifting its DTC Chill that prevented its customers previously from being able to buy the stock.
Because the filing is incomplete and because CannaVEST (CANV.OB) has delayed its 10-Q until May 20th, I will share a preliminary review of the quarter. For some background, the company had given its first-ever guidance in February, indicating that it would generate sales in 2013 of $47mm and operating cash flows of $32mm. In early April, it announced Q1 results of $8.45mm sales and net income of $4.52mm. The press release from today never mentioned sales or earnings, which was quite odd, though it did point to the OTC Market Disclosure. The filing indicated sales of $2.185mm and net income before extraordinary items of just $570K. With extraordinary items of $4.8mm, MJNA reported net income of $5.37mm.
Before I go on, it's worth elaborating on the extraordinary item, as it represents the second installment of the CannaVEST transaction regarding PhytoSPHERE. MJNA received 1mm shares of CANV as part of the $35mm transaction. This second installment was valued at $6 per share, due to a collar, and MJNA receives 80% (CannaBANK owns the other 20% of PhytoSPHERE). I have discussed this transaction several times (most recently here), and the company has now done a much better job in how it conveys its results by calling it "extraordinary". Unfortunately, this also shows how weak the underlying business was in Q1 compared to a year ago, when it reported sales of $1.78mm but net income of $1.2mm. So, while sales increased slightly, net income fell by more than 50%. On a per-share basis, the results were even less impressive.
Before I discuss some disclosures in the filing, it's worth noting that the press release made no mention of the forward guidance that it had shared in February, nor did the filing. The press release also backed off of providing any timing regarding the long-awaited two-year audit that could permit the company to uplist to OTCQB, while the 4/30 press release had said after Q2.
One of the most disturbing aspects of the filing is revelation that the share count soared. We had already known based on previous disclosure that it would increase from 808mm to at least 855mm due to the issuance of 47mm shares to fund R&D for its 50% subsidiary CanChew Biotechnology. Unfortunately, the dilution was more substantial, with the outstanding shares increasing to 936mm (out of 950mm shares authorized). When current management (and CannaBANK) took control in 2011, the share count was 246mm, so the dilution has been rather extreme. Based on the company's disclosure that it needs to raise capital to fund expansion, it seems likely that the share count will rise even more. On page 30, the company explains about 40mm of the increase (stock grants to Chairman Sides in 2011 and 2012 that were "ratified by Corporate resolutions" in January).
Another disclosure (page 30) that jumped out is that the company commenced a review by outside legal counsel earlier this year that is ongoing: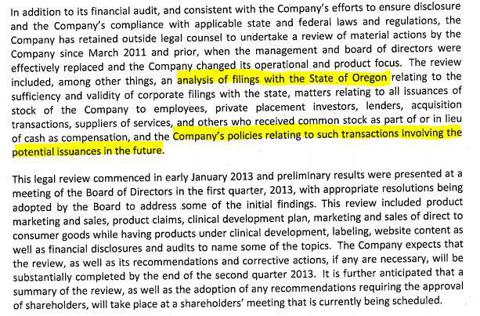 I think that this introduces some risk in the near term (and may explain why former interim CEO Ted Caligiuri left the Board and his executive position so abruptly and why Tripp Keber is no longer a Director) and perhaps explains why the audit has been delayed, but it also gives the management team a chance to clean up a bad situation and start fresh. In the long run, this will be beneficial.
I have purposefully not spent time discussing the financial statements in depth because the footnotes to them weren't included in the filing. I do have a few observations. First, the company generated very little cash overall or from operations. Second, the balance sheet shows a sharp rise in assets (and equity), but this is related primarily to CannaVEST stock, which is likely not worth the price used for the transaction (even though it is quoted at $13 a share). Third, I do commend the company for its better disclosure regarding the financials of its subsidiaries, but it's clear that Red Dice Holdings (owner of the Dixie brand, which is in the CBD business only right now through Dixie Botanicals, as it isn't receiving license fees from the THC products at Dixie Elixirs) isn't contributing. Further, it's actually a drain on cash, as the amount it is borrowing shot up from $846K to $1.9mm in Q1 (most likely related to CanChew Gum). It's not clear if the gum is actually yet shipping, but this could be a very important product for the company.
I had described the marijuana-related stocks as being in a bubble in February. The stocks have fallen significantly since then, but I believe that the valuations remain too high. For MJNA, at $0.17, the market cap is $159mm. While perhaps the company can grow into this valuation, it can't be justified with current financials (<$1mm operating cash flow in Q1). Bulls will suggest that it's a call option on THC legalization at the federal level, but this is not so clear, as a relaxed regulatory environment would likely lead to substantial competition.
While I have shared information that I think suggests continued pressure on the price of the stock, it's encouraging that the company is taking steps towards becoming more transparent. One of the most positive takeaways that I got from the press release was that there are 40K shareholders. If that is the case, the company has a terrific asset that it hopefully truly values. Perhaps it does, as the press release even hinted at a shareholder meeting. What a party that might be! With more transparency, better execution and a little luck on the federal regulatory front, MJNA could reward investors over the long term.
Disclosure: I have no positions in any stocks mentioned, and no plans to initiate any positions within the next 72 hours. I wrote this article myself, and it expresses my own opinions. I am not receiving compensation for it (other than from Seeking Alpha). I have no business relationship with any company whose stock is mentioned in this article.