In case you haven't heard, Google Now was recently approved for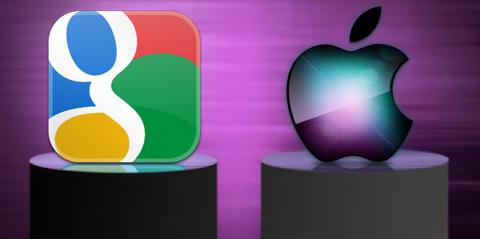 iOS! This is important for Google Inc. (NASDAQ:GOOG) investors to note because it will increase Google's profits and become the linchpin in Google's move to impose its own ecosystem over top of Apple Inc.'s (NASDAQ:AAPL). This is obviously a cause for concern for Apple shareholders, because it is a direct attack at the core of their business (No pun intended).
Google Now: One App to Rule Them All
Google Now is Google's predictive search/personal assistant that some have called Google's answer to Siri. While Siri wins for personality, it is older technology and clearly over-matched. Google Now is a next-generation personal assistant who learns about the user and then presents information based on its anticipation of needs/preferences. Now does this by collecting data from searches, purchases, emails, and frequented locations. A more in-depth discussion of Now's full potential and privacy implications can be found here.
The Goose That Lays Golden Eggs
Now is a great profit vehicle for Google. We often forget that Google's main source of revenue is advertising. Not only does Now provide Google with richer information about the user to aid in personalization of Google's other services, Now's basic function is to suggest. It is the perfect sales associate for Google, suggesting events, deals, restaurants, media, etc. from Google and its partners.
In the hackneyed debate of Google vs. Apple in mobile, the discussion usually includes the fact that Android has overwhelming market share, but is fractured and includes the lower end of the market. However, Apple's users are more engaged and more likely to spend money, etc. Google Now on iOS is an important development because it taps into Apple's high-end consumer. As mentioned previously, Now is a perfect sales assistant, and adoption should be a big positive for Google, not only increasing profitability, but collecting richer data from more-active users.
Trojan Horses and the Micro Ecosystem
However, Now on iOS is a very important tip of an iceberg that is waiting just below the surface. Recent developments have made it clear that Google is not just releasing some of the most popular free iOS apps, but attempting to set up its own ecosystem within iOS.
Last year, Google updated their Plus app so that links to the Internet would open in Chrome (if it is installed on the device). Then recently, they added the feature to their Gmail app. They have now gone even further by encouraging developers to have in-app links open in Chrome (more on this below). Google's apps, are being linked together with Now functioning like a hub or operating system, encouraging adoption of Google Maps, YouTube, Capture, Hangouts (Google's newly announced, unified messaging service), etc.
Also, from what we know, when Google Glass arrives, it will not be a cell phone unto itself but an accessory that can be tethered to Android or iOS devices. In the comments of my last article, it was brought up that Google Now and Google Glass truly reach their full potential when combined. Therefore, I think Glass will also encourage iPhone users to acquire Now, and as already mentioned, Now encourages adoption of Google's other services.
Traffic Acquisition Costs
One of the things that analysts are always watching in Google s earnings report is their traffic acquisition costs [TAC]. Part of these fees include money paid to Apple to keep Google as the default search function in Safari. Morgan Stanley estimates that Google paid over $700 million to Apple last year, with the number exceeding $1 billion next year. However, for iOS users to access Now, they have to download Google's search app and any search through the app or through Now is not believed to cost Google anything. I believe increased adoption of Now in iOS is an important part of the puzzle to help lower Google's TAC.
As previously mentioned, Google is trying to skirt Apple's default settings by encouraging developers to have in-app links open in Chrome. My guess is that Google may eventually offer to pay app developers based on the traffic created. While this is still considered a traffic acquisition cost, it makes them less reliant on Apple, which is a good thing. Also, this move can save Google money in the long run, because it would be to their benefit to negotiate with a little developer, than try and push Apple around.
While Google will always have to pay for traffic, the goal is for Now to be everywhere. It is currently available on iOS devices and newer Android devices. Also, due to some clues, it looks like they plan on bringing it to Chrome, which would give access on OS X, Windows or Blackberry devices. They are also rumored to be bringing it to Google's homepage (somewhat reminiscent of iGoogle).
Implications for Apple
During the most recent conference call Apple's CEO, Tim Cook, went out of his way to emphasize that the company is not a hardware company, but focused on software and services. As previously mentioned, Google Now is a direct attack on Apple and may cause increased adoption of Google's services. I am not suggesting that it would make people completely switch ecosystems, but Apple needs to respond before Now gains too big a foothold. For example, some users may never try an upgraded version of Apple Maps because they love Now's integration with Google Maps, etc.
Apple announced that it expects lower margins and profits in the next quarter. If Google Now is widely adopted on iOS and Google can continue to execute its strategy, Apple will receive less revenue from Google in the form of TACs. While this is a drop in the bucket compared to the magnitude of Apple's $43.6 billion in revenue last quarter, it may contribute to mounting worries about Apple's future margins and revenue.
Apple's Response
People often forget that Siri is still in beta. The reason that it was released in beta was so that Siri would learn and improve, and so Apple could learn about its users' needs and wants. Apple needs to launch an upgrade to Siri that will take the world by storm. Siri already beats Now on personality, but functionality needs a major upgrade.
I am pretty sure Apple has some big plans up their sleeve, and there are many, many things that Apple can do, however, I'd just like to mention a few features that I would like to see.
Apple and Google are very different companies, so I don't think Siri needs to be a sales assistant like Now per se; however, as we have seen in iTunes or the App Store, Apple already has recommendation agents (Genius) that suggests media based on previous purchases, etc.
One of the most important ways that I think Siri should be like Now is in its ability to scan your emails, etc., so you don't have to spend time entering information into your calendar. However, I do think features like that should be optional for the more privacy conscious users like myself.
Also, Nuance Communications, Inc. (NASDAQ:NUAN) worked with Apple to create Siri. Nuance has now released a newer personal assistant named Nina with upgraded speech recognition capabilities that include voice biometrics. This is essentially a security feature that allows the user's voice to become the pass code. The rumor is that the next iPhone(5s) will feature mobile payments and make use of thumbprint scanning technology to ensure security. I think a voice biometric feature would be an important step towards making people feel comfortable that their phone, which is becoming a mobile wallet, is more secure.
Investment Takeaway
In my last article, I noted that I was expecting to buy Google on a pullback from a missed earnings report. While Google actually beat guidance, a more careful analysis shows that it was due to favorable, one time, tax treatment. I continue to wait for more of a significant pullback before I will add to my position. Whether this opportunity comes from general market weakness or an earnings miss, doesn't matter to me. Even with delays to the XPhone, etc., I think Google is laying the groundwork for a profitable future.
I recently purchased shares of Apple before the last earnings report. I am comfortable being a shareholder because I receive a nice dividend, which was just increased 15%, and the $ 60 billion share buyback program has put a floor under the stock.
I still think Apple is a buy today. I don't believe that their profits will grow as fast as they have over the past couple of years, but the company still has a culture of releasing quality products and will continue to benefit from very loyal users. I do, however, believe that a Siri upgrade is what those loyal customers want; it is in Apple's best interest to keep them happy and prevent them from slowly migrating towards Google's services.
Disclosure: I am long AAPL, GOOG, NUAN. I wrote this article myself, and it expresses my own opinions. I am not receiving compensation for it (other than from Seeking Alpha). I have no business relationship with any company whose stock is mentioned in this article.