Market Recap
The market finally made a move to the downside today after a slate of weak economic data points. Housing starts, unemployment claims, continuing claims, and Philly Fed all missed expectations. That news derailed the market somewhat after such a strong run. Yet bad news continues to keep the Fed in play, so it's not all bad at the same time. Right now the market is technically extended, and we need to continue to have good news and QE in the market to keep it going.
Earnings from Cisco (NASDAQ:CSCO) were excellent and definitely helped curb the issues with the market today. While Wal-Mart (NYSE:WMT) missed expectations, the company was bullish on its upcoming quarter so far. Data points like the ones we had today are not enough to get market bearish, but if we get consistent negative data from nonfarm payrolls, ISM Index, GDP, etc., we could see some definite weakness. The Dow Jones decreased 42 points while the S&P 500 decreased eight points.
Stocks to Trade
Today we are looking at a bullish position in PepsiCo (NYSE:PEP), Qualcomm (NASDAQ:QCOM), a hedge in iShares Barclays 20+ Year Treasury Bond (NYSEARCA:TLT), and bearish position in Hess (NYSE:HES). We recently sent out a new report to our clients about PepsiCo with a Buy rating and $100 price target for the next 12 months. The company has a solid combination of different aspects we are looking for in a long-term play. The company has solid value, good catalysts, and growth prospects, and a great yield that is consistent from dividends.
PEP is currently valued with a 20.7 P/E and a future P/E of 17.0. Compared to the industry average, 18.9, PEP is slightly higher valued, though 20.7 is in general fair valued. We look for P/Es in the 20-25 range to indicate fair value and PEP falls into this category. For the full 2012 fiscal year, PEP reported a 5% increase in revenue YoY. Its EPS ended the year at $4.10, reporting a 7% increase in this area YoY. We have to decide how PEP will perform during 2013 and if the company will sustain or over perform the growth it saw in 2012.
Looking at PEP's key ratios like ROA, ROE, and ROIC in comparison with market competitors will give us a good idea of this company's performance against the others. PEP reports ROA at 8.4%, ROE at 28.7%, and ROIC at 11.2%. Anheuser-Busch InBev SA/NV (NYSE:BUD), one of PEP's competitors, reports ROA at 6.2%, ROE at 18.4%, and ROIC at 6.2%. Another market competitor, Coca-Cola (NYSE:KO), reported ROA at 10.9%, ROE at 28.0%, and ROIC at 13.9%. KO reports the strongest ROA and ROIC while PEP has the highest ROE. Even in ROA and ROIC, PEP has strong ratios.
The company has solid ROIC and ROE that are top-notch, but the company's future P/E only sits at 17. We look for value under 15 on future P/E, but with strong operating ratios and a great dividend, the slightly higher overvaluation is understandable. Price/sales is at 2.0, and we look for value at 2.5 or lower. One issue, therefore, is there is value when we look at price/sales but not when looking at valuations as compared to earnings. Meaning PEP needs to improve margins, and they understand that.
One major catalyst for the company is the restructuring it has embarked on over the past year or so. That can be seen by its 3%-4% revenue growth expectations for 2013 and 2014 while it should see 8%-10% growth in earnings. Another catalyst that can cause some cyclical demand for replacing soda fountains is the new Pepsi Tower. One of its newest and larger-scale projects is a touch-screen digital device that will offer up to 100 different flavor possibilities to its customers. PEP announced that it would begin testing this compact device designed to fit on a counter-top during the third week of May 2013. Though the testing has already happened overseas, PEP will begin a test run in a Denver, Colo., restaurant chain called Garbanzo Mediterranean Grills soon. This device is in response to KO's similar Freestyle fountain machine that was introduced in 2009 and offers customers up to 125 different flavored drinks. The success of such a machine could not only bring PEP increased revenues, this digital device could provide the company with data on the most popular types of beverages in certain areas and certain times of the day.
Finally, PEP is a great dividend stock with over 40 years of dividend increases and a yield that sits just under 3% currently. We believe that PEP is a great addition to your portfolio with potential to $100 in the next 12 months.
Buy Point: Over $80
Targets: $90, $100
Another promising name right now is Qualcomm. QCOM is a stock that should be bought on any dips, and it looks to have stabilized nicely after its recent earnings drop, which was well overdone after the company raised its revenue guidance but not earnings guidance. Market makers started to speculate that the reason was because of rising competition in China, but the thing for QCOM is that we believe it has a couple of things working for it even if competition does rise. The company has a new suite of phone chips/products that will allow phone builders to build one phone for all networks. Right now, Apple (NASDAQ:AAPL) and Samsung have to build multiple phones with products that correspond with different networks. If the company could build just one phone instead of five, it would. We believe this suite of products will be very beneficial for QCOM. We wrote about this development before here.
The company could easily revolutionize the mobile phone from the standpoint of chips, as it unveiled a family of chips that will help with fragmentation that faces current phone builders as they attempt to build phones for different countries and different carriers. The family of chips, which QCOM is calling the RF360 Front End Solution, will allow phone builders to build a global phone for 4G LTE.
Further, QCOM is at the forefront of the mobile and tablet industry, which is a growing industry. The pie is getting larger not smaller. That is why the company is expected to see 30%+ revenue growth this year and 10%+ next year. Both rates are very attractive. With such growth, one would expect a high valuation. Not with QCOM. Current future P/E sits at 13. We see great value under 15 as a benchmark, so shares are cheap as well. While there is obvious risk of rising competition, we are not sold. The company boosted its revenue guidance, and we believe is more cautious about earnings rather than actually seeing margin compression. Even some slight margin compression is priced into shares at these levels.
A great way to start a position is in the June 22 62.50/60 bull put spread. With this position, you can start a position if QCOM declines but make money even if QCOM declines, but not past 62.50. On major dip, you can convert the option to stock.
Trade: QCOM, 62.50/60 Bull Put Spread
Entry: 0.30 or higher.
Max Gain: 15%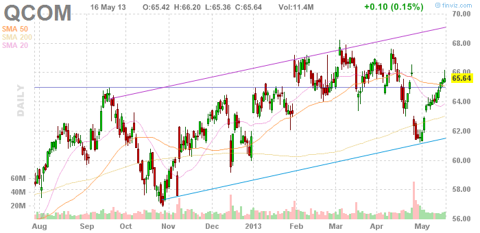 With the market making all-time highs, most are not thinking about hedging. Yet, if the market does turn and correct, it could be swift. It is a good idea to always keep some light hedges in your portfolio. One place we are looking at is iShares Barclays 20+ Year Treasury for a hedge. We believe that bonds have gotten a nice correction, and this is a good time to look at them right now. Why did bonds drop so strongly over the past couple weeks?
Bonds are dropping on the back of better looking data in the market at the beginning of May and better investor sentiment for stocks. The problem for bonds is that when the market looks so attractive, yields have to increase to attract buyers, but we believe that the correction may be in. The market is very technically overbought and while it can go higher, we believe that smart money will start to move back into TLT and other bond ETFs that are at attractive levels after the early May correction. Recent data has not been good. Initial claims, housing starts, Philly Fed, and other data this week all missed expectations. As risk comes back into the market, risk-off investments become appealing again. TLT is one of them.
While the market is still in a bull run and should be for some time, we are looking at TLT as a place to park some money to offset any near-term issues if data continues to remain weak. Further, TLT can do well for you because the ETF offers a dividend of 2.7% yield that is also attractive. We like adding TLT on this pullback and believe that bonds are not dead forever and will become very appealing especially if QE ends.
Trade: TLT, Long
Buy Point: Over $119
Targets: $124, $130
Finally, we are fairly cautious on Hess. Today, news broke that the ongoing debacle between Hess management and Elliott Management is over as the two sides came to a resolution when HES board offered three spots to Elliott. The three spots are definitely helpful to Elliott's hopes to get HES to break up its business into different types of businesses like other energy companies are doing (ConocoPhillips and Phillips 66 for example). Yet, there are 14 spots on the Hess board. Elliott has three. Are they really going to be able to do much?
The stock got a big push over the past several months from the speculation that Elliott could get something going, and while this decision does help them to get some influence, it's not enough to make any difference. We believe they needed five to six seats to really start to get some movement in that direction. Since Elliott first started pushing for corporate activism (late January), the stock has added about 25% to its value, outpacing the market. That value has definitely priced in that something will happen with compensation plans for Hess management and a potential shakeup. We believe the three seats are not enough for Elliott to have a strong influence on HES value. Therefore, we believe a lot of this inflated value that has come because of Elliott is now not there anymore.
Earnings were good for HES in April and value is there in shares, but we believe this resolution takes a breakup out of the mix, and we believe HES needs a long-term catalyst to get the stock going as it has lagged behind its competitors. The company may sell its downstream business to focus on exploration, but overall, we think the play in HES is over for now and recommend selling shares if you rode the "Elliott wave" up.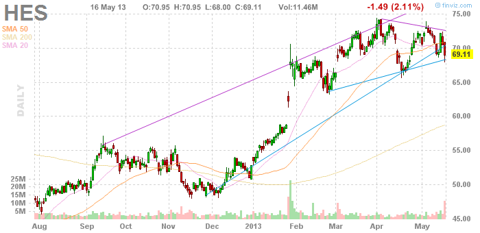 Market Outlook
Tomorrow, the market will be reacting to Michigan Consumer Sentiment and options expiration for the month. Options expiration days tend to be consolidation days without a ton of action in either direction as stocks try to pin specific levels for option purposes. Michigan Sentiment can go a long way to injecting confidence back in buyers if it comes out positive. Overall, it's a light day, and it should not be a big day up or down unless something unexpected breaks in the market.
Disclosure: I have no positions in any stocks mentioned, and no plans to initiate any positions within the next 72 hours.
Business relationship disclosure: The Oxen Group is a team of analysts. This article was written by David Ristau, one of our writers. We did not receive compensation for this article (other than from Seeking Alpha), and we have no business relationship with any company whose stock is mentioned in this article.