In 1986, I visited the Philippine Stock Exchange. There were few, if any, computers on the floor. Black markers registered trading activity on a giant whiteboard. And the feeling that I came away with was that I had caught a glimpse of an incomplete science experiment.
Today, however, a number of frontier economies have upped their level of sophistication. The Philippines recently benefited from credit agency upgrades to its sovereign debt. Direct investment by foreigners has been bountiful. What's more, stock investors have pursued the up-and-comer for greater total return potential. Year over year, ETF enthusiasts have garnered roughly 53% from a dedication to iShares MSCI Philippines (NYSEARCA:EPHE).
That said, EPHE seems to be running on fumes. The Relative Strength Factor score for this exchange-traded vehicle has stayed in the top 5% of all exchange-traded funds for most of 2013, making it vulnerable to a volatile "risk-off" change of heart. Even in the local equities market where one might track the Philippine Stock Exchange Index (PCOMP), the relative strength data have flashed bright yellow warning lights.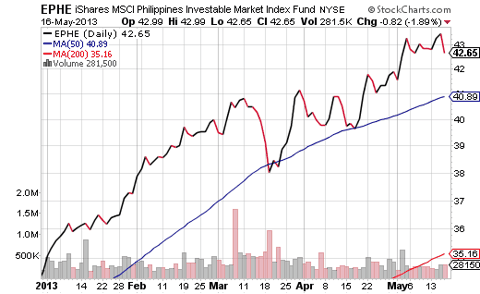 Granted, EPHE is hardly the only overbought ETF on a technical basis, nor is it alone in its questionable fundamentals. Yet it is one of a select group of unleveraged ETFs that have risen more than 25% in the calendar year. That fact alone may make it ripe for profit takers and short sellers.
In truth, downside risks have been largely absent in 2013. The fact that many view Thursday's stock asset stumble as an aberration is reason enough to take a harder look at the year's fastest price appreciators. How vulnerable are they?
With the S&P 500 shedding 0.5% on the contemplation of the Federal Reserve slowing the pace of monetary stimulus, the biggest losers did tend to come from the year's highest fliers. The irrepressible WisdomTree Japan Hedged Equity (NYSEARCA:DXJ) had nearly 46% on the year prior to shedding 1.2% on Thursday. Homebuilders via iShares DJ Home Construction (NYSEARCA:ITB) had been up roughly 23% year to date before suffering a 1.6% decline. EPHE gave up 1.9% in the session.
It's not uncommon for investors to take profits on ETFs that have far exceeded expectations. The bigger question is: How long should you hold on to the extreme winners that have treated you so well? Are you in danger of falling in love, the way some did with dot-com tech companies last decade? If you were one of the early adopters of a high-flying ETF, do you have an approach for making a graceful exit? Or will you cling to a misguided notion of hold-and-hope? Hopefully you have an actual plan for managing downside risk.
Disclosure: Gary Gordon, MS, CFP is the president of Pacific Park Financial, Inc., a Registered Investment Adviser with the SEC. Gary Gordon, Pacific Park Financial, Inc, and/or its clients may hold positions in the ETFs, mutual funds, and/or any investment asset mentioned above. The commentary does not constitute individualized investment advice. The opinions offered herein are not personalized recommendations to buy, sell or hold securities. At times, issuers of exchange-traded products compensate Pacific Park Financial, Inc. or its subsidiaries for advertising at the ETF Expert web site. ETF Expert content is created independently of any advertising relationships.