The infamous subprime meltdown has come and passed, but does that mean that we are in the clear? Maybe, but a look at a Mortgage Rate Reset Timeline graph suggests otherwise: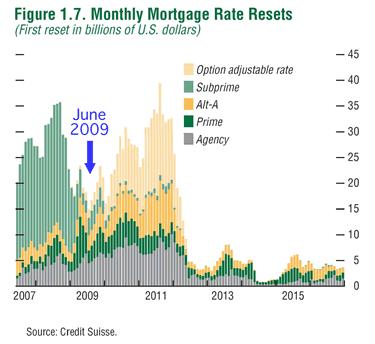 This chart originated from an IMF report pertaining to the risks affecting global economic stability. See report here.
Assuming that Alt-A borrowers have a better chance of handling these resets, it shouldn't be as big of a shock as the subprime meltdown. But the economic crisis has worsened since that event, and borrowers may have an even tougher time repaying their mortgage, no matter what their credit rating is.
Fact is, we are definitely not in the clear yet, and any bump in the road could cause the economy to lose any traction it's gained. This combined with a recent report from the CoStar Group (Commercial Real Estate Industry Says Recovery is Not Around the Corner) could spell trouble for not only the real estate sector, but for the economy as a whole.