Preface: Every six months it's time to review the previous 12 months of Joe Eqcome's closed end fund (CEF) research to determine what's working, what's not, and why?
Research Reviewed: Since October of 2008, there have been 16 articles written by Joe that had associated investment recommendations. (Most, if not all, have been posted on Seeking Alpha.) Thirteen articles focused on equity-oriented CEFs and three focused on debt-oriented CEFs.
The adjusted price changes (adjusted for distributions and splits) of those CEFs were compared to the adjusted price changes of a related ETF benchmark from the date of the articles in which the CEF(s) appeared. SPDR S&P 500 ETF (NYSEARCA:SPY) was employed for equity-oriented investment themes; iShare S&P Natl Muni Index Fund (NYSEARCA:MUB) for munis; Vanguard Total Bond ETF (NYSEARCA:BND) for taxable bonds.
Results: The aggregate average of those CEFs mentioned in those 16 articles exceeded their comparable ETF benchmark by 15.1% for similar periods. On average, those CEFs mention in the 13 articles that focused on equity-oriented investments exceeded the SPY by 17.2%.
Also compared were the recommendations in the 13 equity-oriented themed articles with the Claymore CEF Index. (The debt-oriented CEFs were excluded as the Claymore CEF Index essentially excludes munis). On average, Eqcome recommendations were 8.4% greater than Claymore CEF Index price changes; the median return was 3.0% greater. The average bid/ask price spread for the recommended CEFs was 0.5%. (A summary is below with a detailed analysis at the end of the article.)
click to enlarge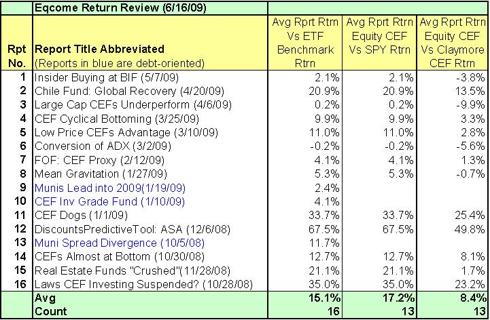 Click to enlarge
Basis for Performance: While it's easier, more profitable and more likely to be lucky than good in the investment business, we're all aware that Lady Luck tires easily from carrying one on her shoulders for too long.
"The Harder I Work, the Luckier I Get." So, query: is there a fundamental reason the stocks in these articles produced better results than average? It may be attributable to the investment process employed. That process includes: developing logical investment scenarios, empirically testing key assumptions, buying a group of stocks within that scenario for diversification, and identifying a "trigger" event that will cause the thesis to be realized.
For example, some of the investment themes that worked included: "CEF Dogs", "Laws of CEF Investing Suspended", and "Global Recovery". What is consistent about these winning scenarios was they all represented "washed out sectors" rebounding. Intuitively, it makes sense that such strategies would work during a recovery phase of a market cycle. Momentum investing would likely be a more important strategy in the latter part of the cycle.
One scenario where such a "washed out" strategy proved adequate but not spectacular was the "Closed End Real Estate Funds "Crushed" YTD 2008" written on November 28, 2008. Investors may want to consider revisiting this investment scenario.
Below is a quick review of the "good", the "clunkers", the "interesting" and the "jury's out" articles posted.
The Good: The Chile Fund: A Play on a Nascent Global Economic Recovery (4/20/09) outperformed both benchmarks as a result of an anticipated global economic recovery and a concomitant rise in copper prices. Closed End Funds' Dismal 2008 Performance: Better Outlook for 2009 (1/1/09) focused on the worst performing stocks for most of 2008 (CEF Dogs); those stocks rebounded in 2009. Closed End Funds Discounts as a Predictive Investment Tool: ASA (12/6/08); this was based on the relationship between the discount and projected price performance. (The fact that it was a commodity CEF during a period of the re-inflation trade didn't hurt.)
The Clunkers: Large Cap CEFs Materially Underperform Large Cap Index; But Wait! (4/6/09) was a miss. It was a comparison of large cap CEFs with a large cap ETF. The thesis was large cap CEFs should rebound given their deep discounts. It didn't happen. This may be a function that large cap stocks are usually laggards in a stock market recovery or that it was an ill conceived premise.
The Interesting: in the article, The Case of Tender, Liquidation or Conversion of ADX (3/2/09), the case was made that while the management of ADX has done a reasonably good job of stock performance, the chronic discount may only be eliminated by tender, liquidation or conversion. ADX in fact did perform in-line with the large cap S&P 500 (SPY), but it underperformed the Claymore CEF Index. It's currently trading at a 16.8% discount. I reiterate my case.
The Jury's Out: In the article, The Current Case of Insider Buying at BIF: A Case of Manipulation or Hallucination? (5/7/09), the case is made that significant insider buying, a solid portfolio, a closing of its significant discount from its premium last year would at some point cause the stock to surge. The event for that to take place is the reinstatement of the dividend that was suspended last year. With BIF's performance modestly outperforming the S&P 500 and lagging the Claymore Index, it's too early to call. The recommendation has only been outstanding for little over a month. I continue to like this trade
Caveats: Of course there is no guarantee that past performance will result in positive future performance. If fact, you can probably count on it.
Disclosure: For healthy skeptics, all the reports are available on Joe's website for review. Joe owns a portfolio of CEFs which includes many of the stocks highlighted in the table below. While such stocks may benefit from Joe's research, it is non-material. All the research is made available free on his website for those interested. Joe has no meaningful economic interest in promoting the research other than supporting the independent, retail CEF investor who, he believes, has no independent advocacy.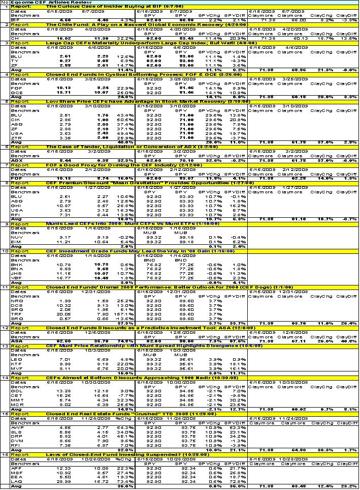 Click to enlarge