If investors were only reading fundamental economic news, they'd be running for the hills. But that's not the way this market rolls, for the worse the data, the better or bullish are markets. Of course, this is about the durability of QE from the Fed and other central banks. You might just as well put away the "taper caper" for now since the Fed isn't going to reduce asset purchases when economic data is this consistently dreadful. (Oh wait, I wrote this too soon. Fed Governor John Williams spoke, saying the Fed "may reduce QE this summer but that slowing QE wouldn't be tightening. Up is down, down is up. D'OH!!)
Thursday stocks shook off the crummy data early as the litany of economic reports, well, sucked. Market veterans take note; the chart below courtesy of Zero Hedge speaks volumes about the disconnect between economic data and market action: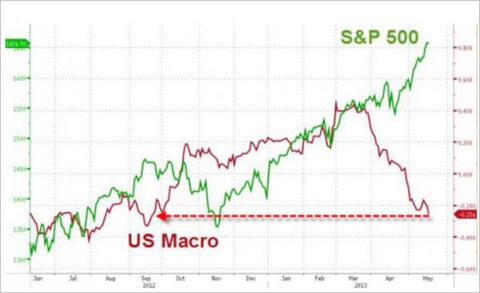 Jobless Claims soared to 360K vs. 330K expected, and prior revised higher to 338K. Housing Starts dropped over 16% to 853K vs. 969K expected, and prior 1.036M. Meanwhile, Permits, which may never become "starts," rose to 1.01M vs. 945K expected, and prior 902K. The CPI showed continued deflation, -0.4% vs. -0.3% expected, and prior -0.2%, while the so-called "core" rate was modest at -0.1% vs. 0.2% expected, and prior 0.1%. Finally, the important Philly Fed Survey plunged to -5.2 vs. 2.2 expected, and prior 1.3. These reports followed on the heels of recessionary data from the eurozone Wednesday.
Earnings reports were mixed. Walmart (NYSE:WMT) was weak, Macy's (NYSE:M) beat and Kohls (NYSE:KSS) confused. Cisco (NASDAQ:CSCO) soundly beat earnings, allowing the networking sector (NYSEARCA:IGN) to rally sharply. Software (NYSEARCA:IGV), with the help of MSFT, a hedge fund favorite, gained. Watch today's quick video analyses of IGV here.
As noted, early in the day markets were barely higher but as the closing bell neared, selling hit the tape. It is "Options Expiration Friday" and some of this stuff can tentatively begin Thursday.
Equity markets sunk at the bell and leading sectors included too few to mention. Modest profit-taking hit throughout all market sectors. Bonds (NYSEARCA:TLT) rallied after seeing rotation-based selling throughout the week. The dollar (NYSEARCA:UUP) was flat overall, and gold's (NYSEARCA:GLD) persistent selling moderated only slightly.
Volume was still light, and breadth per the WSJ was negative.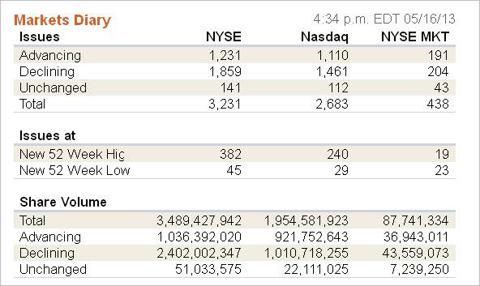 NYMO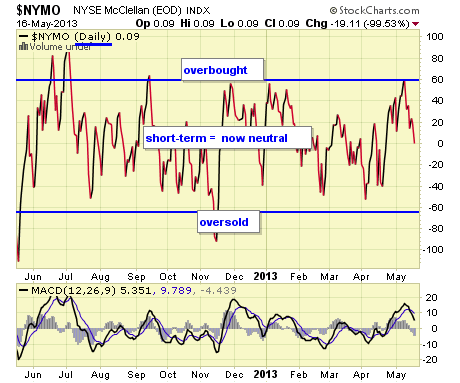 The NYMO is a market breadth indicator that is based on the difference between the number of advancing and declining issues on the NYSE. When readings are +60/-60, markets are extended short term.
NYSI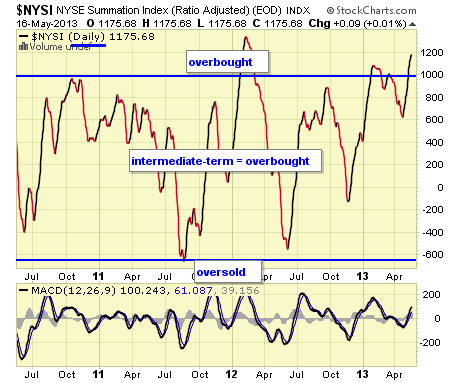 The McClellan Summation Index is a long-term version of the McClellan Oscillator. It is a market breadth indicator, and interpretation is similar to that of the McClellan Oscillator, except that it is more suited to major trends. I believe readings of +1000/-1000 reveal markets as much extended.
$VIX
The VIX is a widely used measure of market risk, and is often referred to as the "investor fear gauge." Our own interpretation is highlighted in the chart above. The VIX measures the level of put option activity over a 30-day period. Greater buying of put options (protection) causes the index to rise.
SPY 5 MINUTE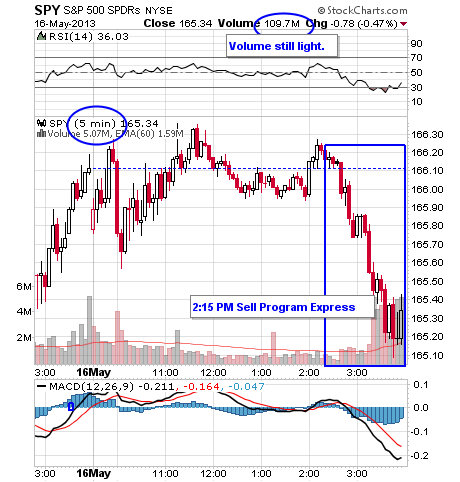 .SPX WEEKLY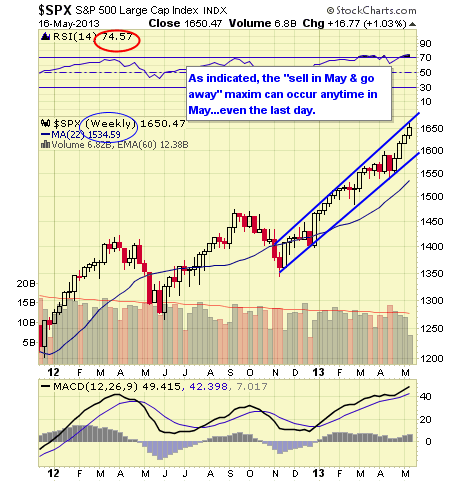 INDU WEEKLY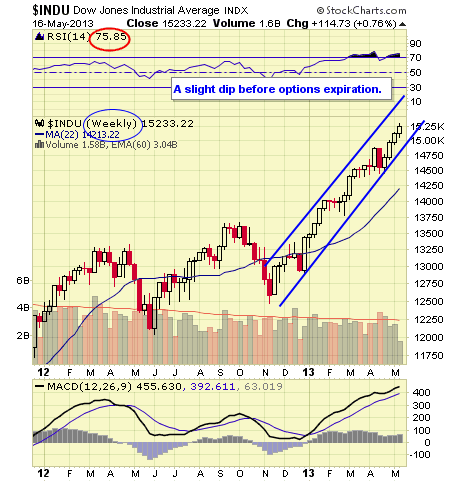 RUT WEEKLY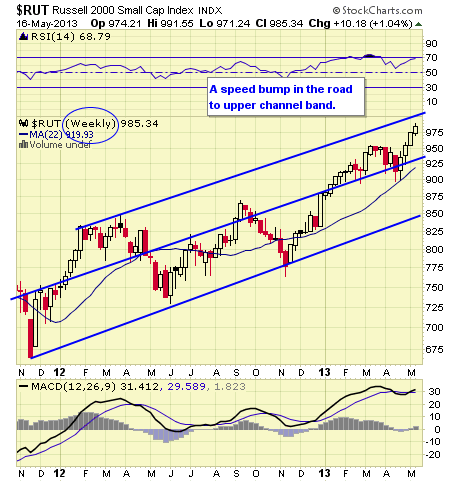 QQQ WEEKLY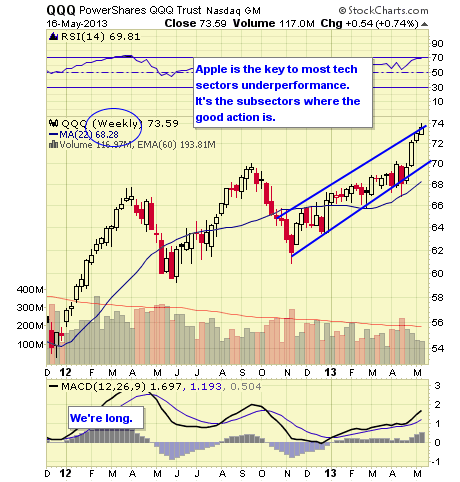 FDN WEEKLY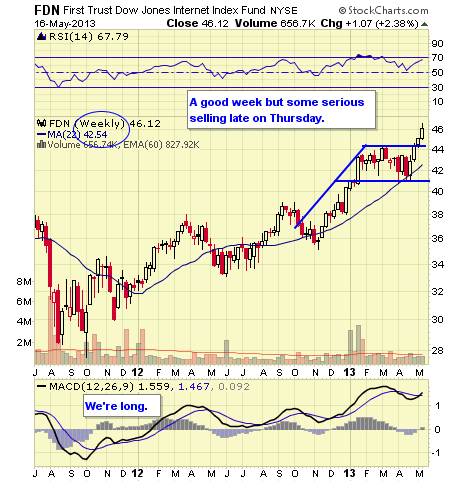 IGN WEEKLY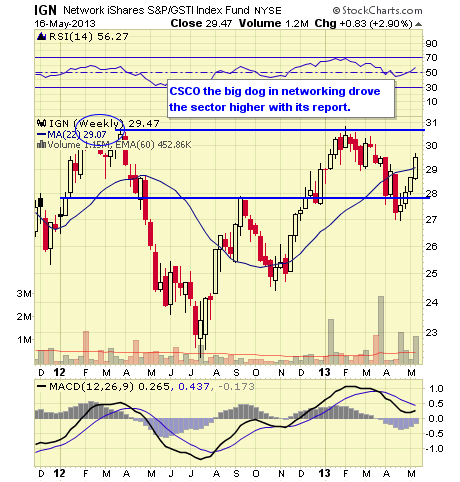 SOXX WEEKLY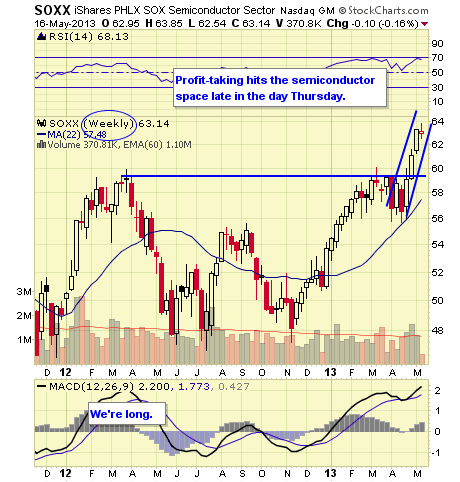 XLF WEEKLY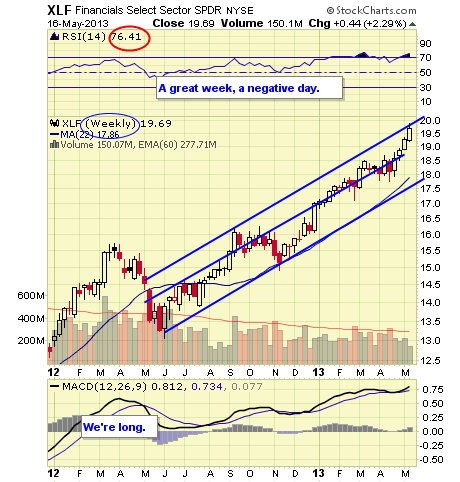 XRT WEEKLY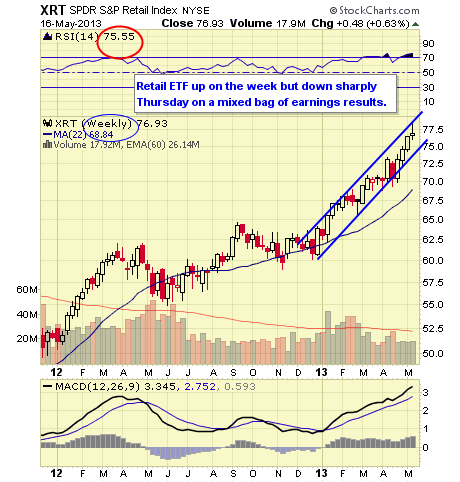 XLI WEEKLY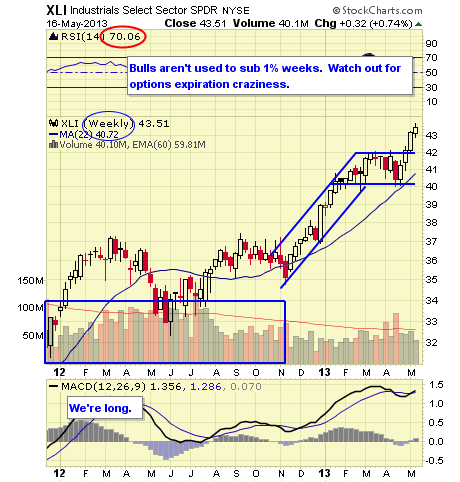 ITB WEEKLY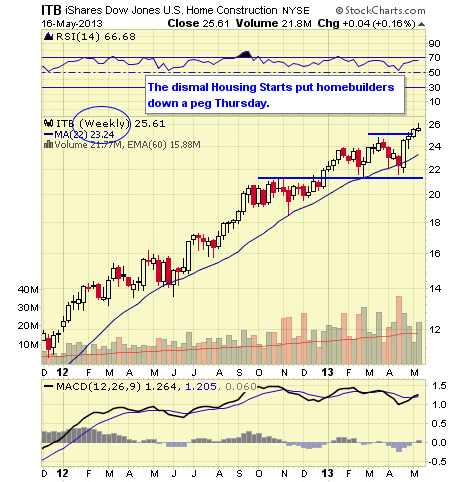 IYT WEEKLY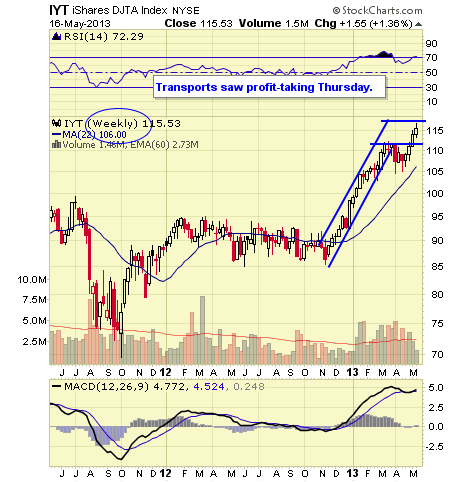 IEF WEEKLY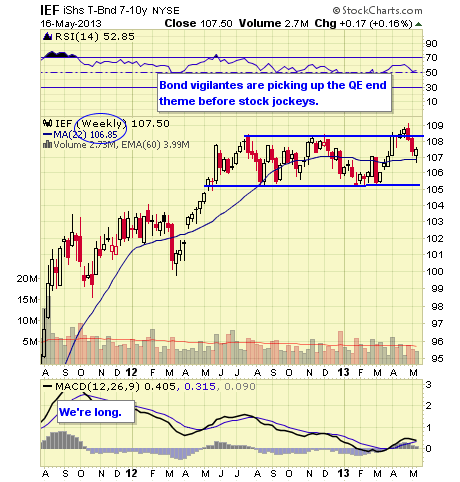 TLT WEEKLY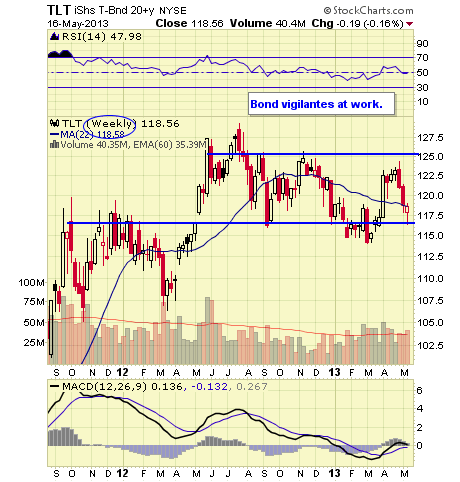 UUP WEEKLY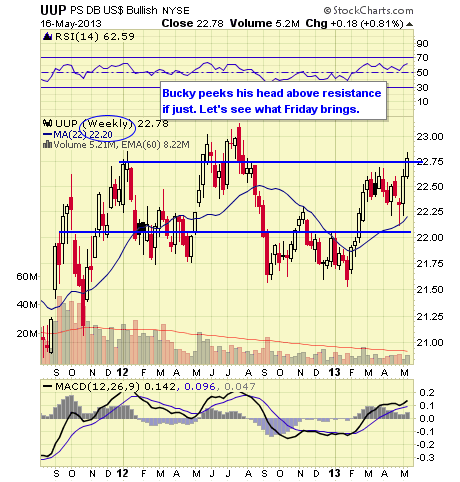 FXE WEEKLY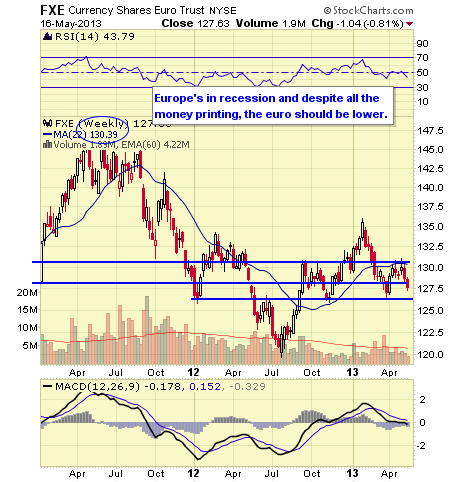 GLD WEEKLY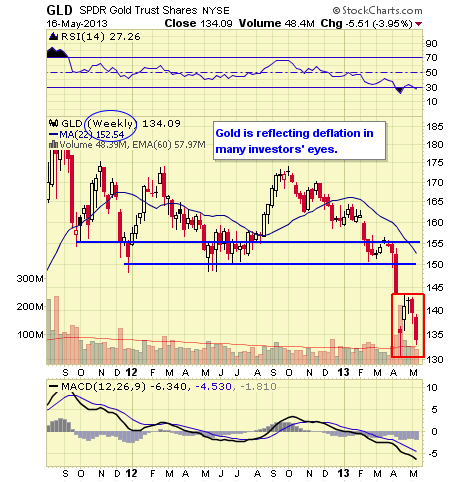 GDX WEEKLY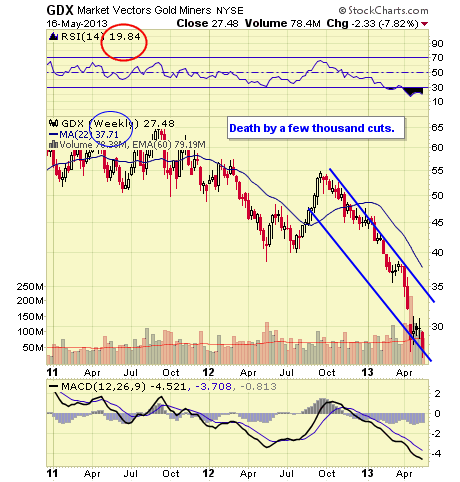 SLV WEEKLY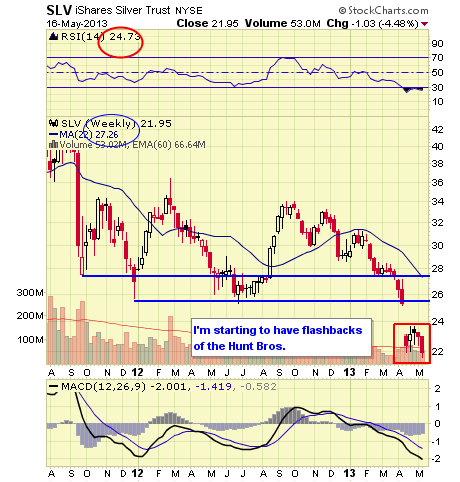 DBB WEEKLY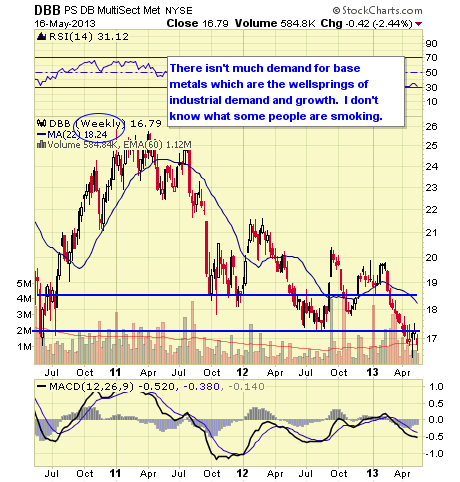 DBA WEEKLY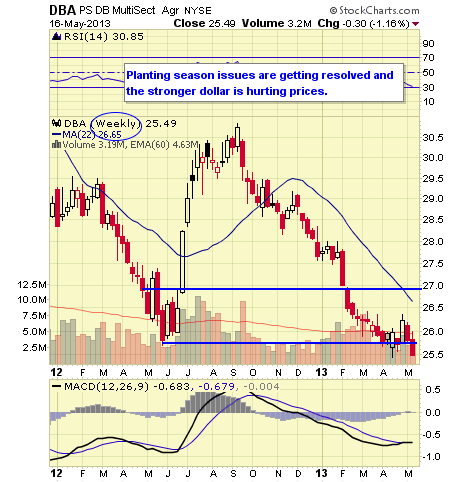 USO WEEKLY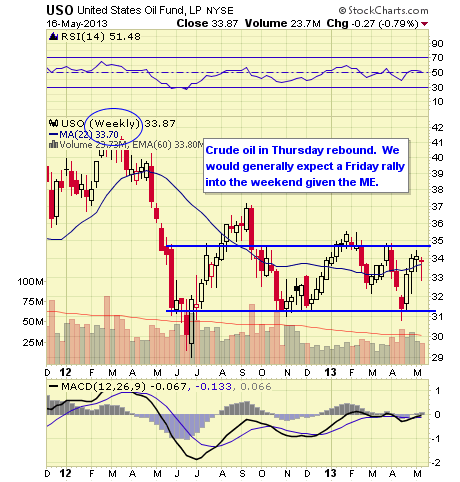 XLE WEEKLY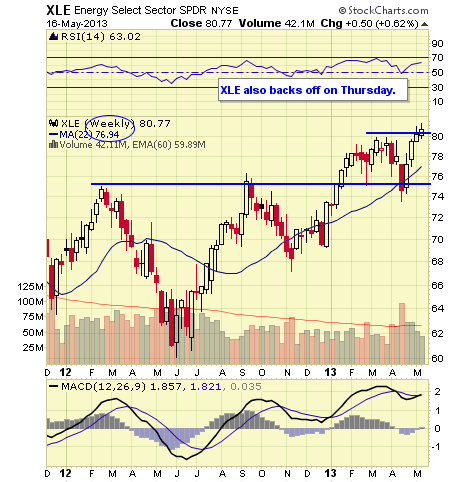 EFA WEEKLY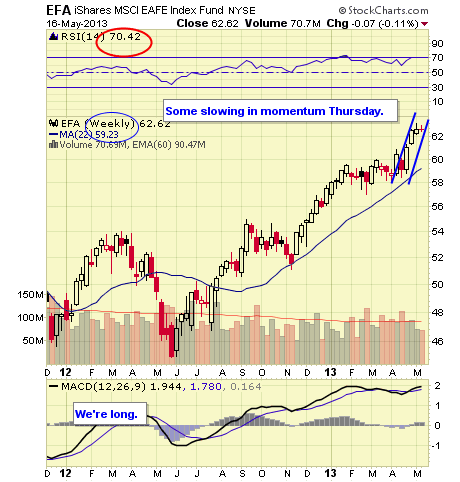 IEV WEEKLY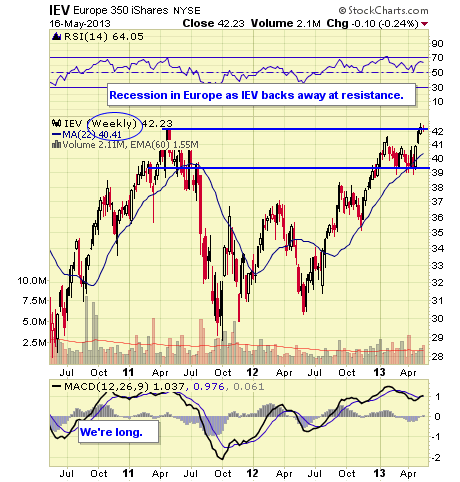 EEM WEEKLY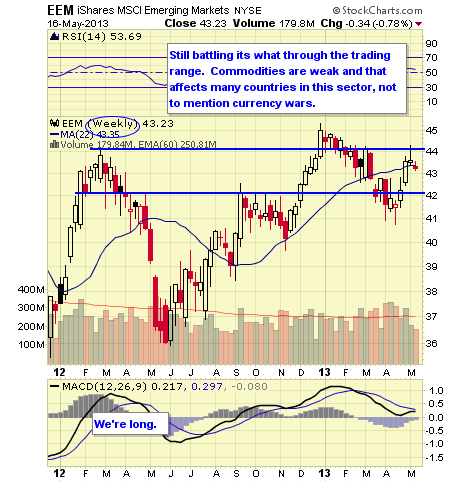 EPI WEEKLY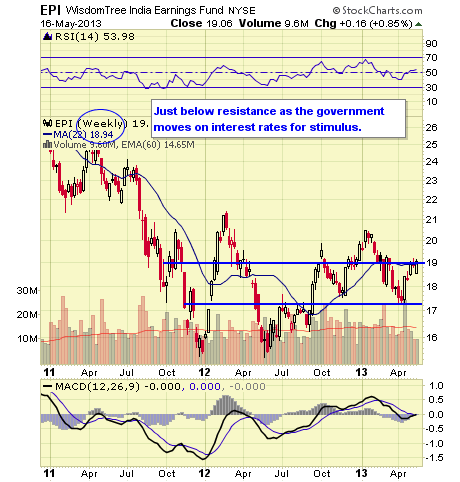 EPHE WEEKLY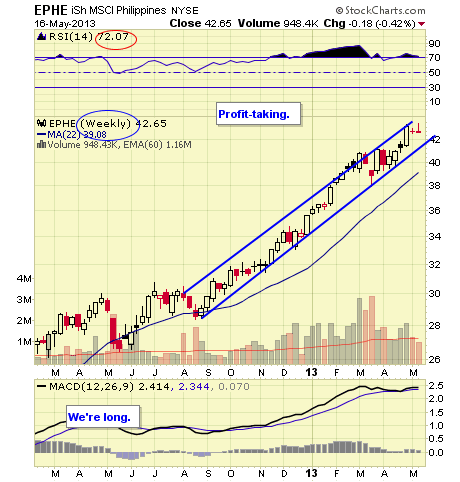 EWJ WEEKLY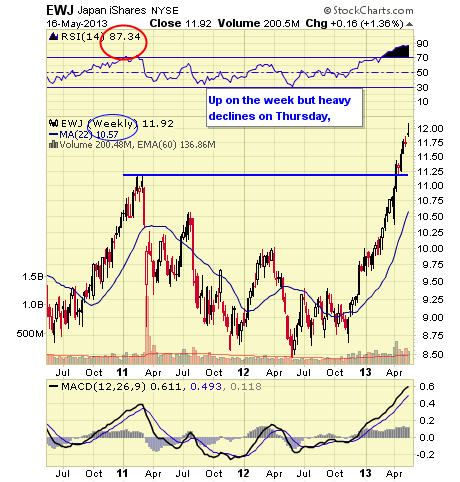 EWG WEEKLY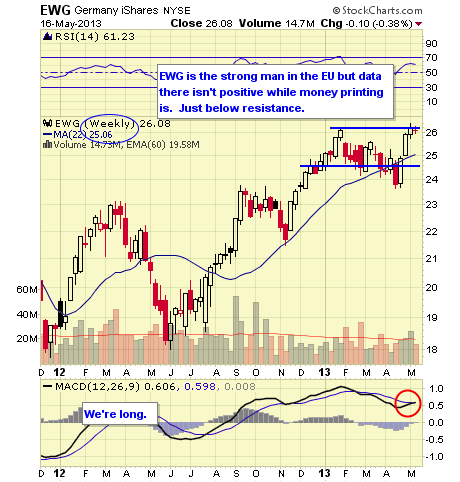 EWU WEEKLY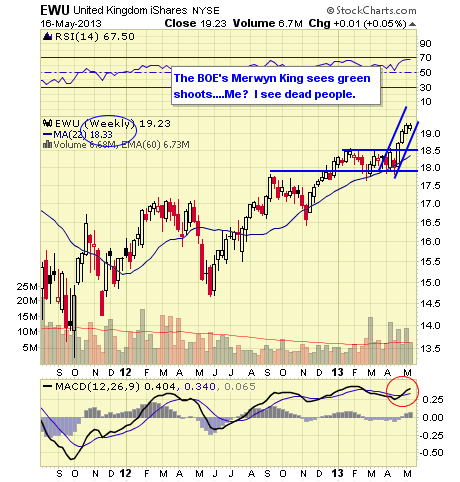 RSX WEEKLY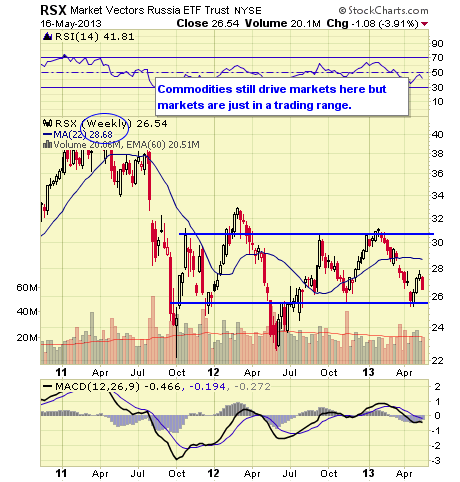 EWZ WEEKLY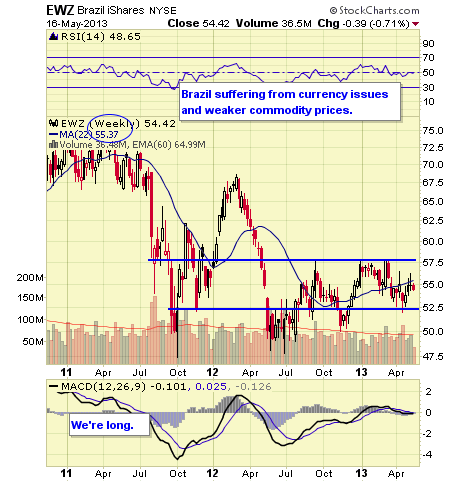 GXC WEEKLY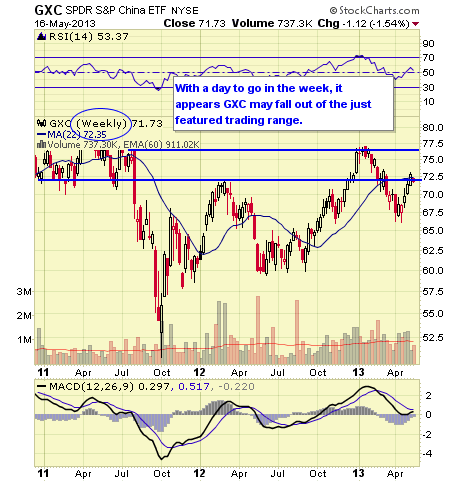 Friday is options expiration, and that might create some volatility.
Consumer Sentiment and Leading Indicators are also on tap.
By the way, for all you young folks, the image above is of the original "D'OH" guy (James Finlayson) from Laurel and Hardy days.
Let's see what happens.
Disclosure: I am long QQQ, FDN, SOXX, XLF, EWG, EPHE, EEM, EFA, IEF, XLF. I wrote this article myself, and it expresses my own opinions. I am not receiving compensation for it. I have no business relationship with any company whose stock is mentioned in this article.