I have discussed the concerns related to current S&P valuations in several of my recent articles. In this article, I discuss two important reasons to believe that current market level and valuation is largely a function of liquidity and speculation. By saying this, I am not suggesting that fundamentals are very weak. The U.S. corporate sector has gradually recovered after the crisis and has been performing well. All I am trying to point out is that equity markets have run up too fast, driven by liquidity and increased speculation.
The U.S. adjusted monetary base is a good indicator of the policy stance of policymakers. A rising monetary base indicates expansionary monetary policies. It would, therefore, be interesting to see how the equity markets have behaved amidst a rising monetary base. The chart below gives the U.S. adjusted monetary base and the S&P 500 index from September 2008. I have chosen this date because the real crisis started with the collapse of Lehmann Brothers, which resulted in an economic free fall from October 2008 to March 2009.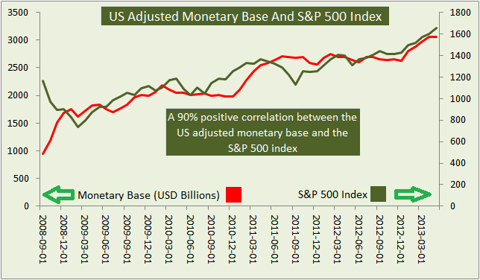 As the chart shows, the S&P 500 index has been moving in sync with the U.S. adjusted monetary base. This is a clear indication that excess liquidity has driven markets to higher levels. Readers might argue that a similar trend was not prevalent during 2000-2008 when the monetary base was stable. I would like to remind readers that the U.S. market rally after the TMT bubble went bust was driven by a globally synchronized economic boom. This resulted in the markets trending higher during the period from 2000-2008.
Post-2008, the real economic recovery has been very fragile and the money velocity chart below underscores my point. Also, the real unemployment scenario is worse than projected by the headline unemployment numbers. I discussed this in one of my recent articles. I would again like to emphasize here that the corporate sector has done well after the crisis, and the S&P 500 index is not solely a function of liquidity and speculation. However, the most recent rally has not been in sync with economic growth prospects.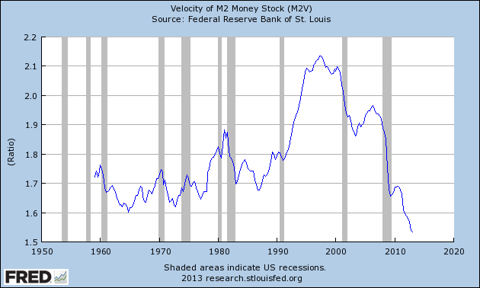 Coming to the point of speculation, the chart below gives the margin debt and the S&P 500 index levels from September 2008. Similar to the monetary base chart, the margin debt chart also suggests a strong positive correlation between the index and the margin funds used to buy stocks. An increase in margin debt does indicate an increase in optimism and speculation in the markets. The margin debt is currently near its 13-year high, and it does signal a time to remain cautious rather than consider any fresh exposure to the markets.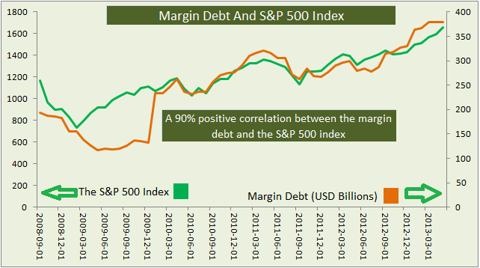 Considering the two important charts, it is clear that the market rally has been driven by liquidity and speculation. Going forward, markets will continue to trend higher as expansionary monetary policies continue. However, at this point in time, a steep correction is likely, as valuations look stretched. The S&P 500 index is trading at a PEG of 1.4, which does suggest overvaluation. It is, therefore, very likely that investors will move to a relatively undervalued asset class. Also, weakening economic fundamentals can result in a sharp correction. I had discussed the global economic fundamentals in one of my recent articles.
I do remain bullish on the markets for the long term, and a correction over the next 3-6 months will be a good time to consider exposure to some quality stocks. The following stocks and ETF will look interesting on any meaningful correction:
SPDR S&P 500 ETF (NYSEARCA:SPY): It has been proven that beating the index is not an easy task. Therefore, the strategy should be simple -- beat the index or invest in the index. From this perspective, SPY looks interesting. The ETF provides investment results that, before expenses, generally correspond to the price and yield performance of the S&P 500 Index.
Johnson & Johnson (NYSE:JNJ): is a good long-term investment option. I like this highly diversified healthcare company with product as well as regional diversification. Further, the sector JNJ caters to is not very prone to economic shocks. JNJ has been a good dividend payer in the past, with a dividend yield of 3.1%. In my opinion, the stock is excellent for a long-term portfolio. It also commands a higher rating than the U.S. sovereign rating.
Google Inc (NASDAQ:GOOG): The search engine giant is a good stock to buy on any correction. As it has been in the past, innovation will drive growth for GOOG more than its industry peers. The release of Google Glass will be just another breakthrough product from Google. It might still be too early to assess the impact of Google Glass on the company's revenue. However, the market might be significant, according to IMS research. GOOG is currently trading at a relatively attractive 5-year expected PEG ratio of 1.27. Any stock specific correction will be a great buy opportunity, in my opinion.
Disclosure: I have no positions in any stocks mentioned, and no plans to initiate any positions within the next 72 hours. I wrote this article myself, and it expresses my own opinions. I am not receiving compensation for it (other than from Seeking Alpha). I have no business relationship with any company whose stock is mentioned in this article.