Recent Quarter Q1 2013
Wal-Mart (NYSE:WMT) reported a profit of $1.14 diluted EPS for the first quarter of 2013, a 4.6% increase to same quarter last year. Its forecasted Q2 EPS is between $1.22 and $1.27 compared to $1.18 in Q2 2012. This is below the $1.29 EPS profit expected by analysts for the second quarter. At its current price, Wal-Mart has a dividend yield of 2.4% and returned $3.8 billion to shareholders in the form of dividends and share repurchases in the first quarter alone. Net sales were $113.4 billion, a relatively flat 1% over last year's Q1 sales. The numbers are relatively weak and shows that the biggest U.S. retailer may have many more headwinds moving forward. The results also show s that the payroll tax increase in the beginning of 2013 has possibly hit less affluent consumers, as higher end retailers have been posting strong numbers.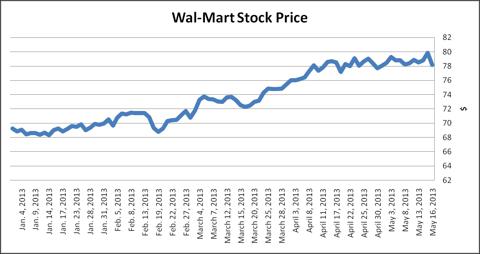 Source: Morningstar Direct
Factors that impacted the results negatively were:
Delay in income tax refund checks
Tougher weather conditions
Payroll tax increase
Declining income of its core consumers
Less than expected grocery inflation
Recent Safety Issues
Wal-Mart recently stated that it does not plan to sign the fire and building safety agreement backed by some of Europe's biggest apparel brands. It has said that its own safety inspection plans will get much faster results. Wednesday, May 15 was the deadline for retailers to join the consortium, which is led by labor groups such as Europe's IndustriALL.
Wal-Mart has begun stepping up its Bangladesh factory inspections. Wal-Mart is planning to check its 279 factories that supply its locations in the next six months. Its recent checks have already uncovered two separate locations with safety issues, and it has asked the Bangladesh government to suspend production at those locations.
Conclusion
Although we feel the recent safety issues are a minor concern, it is just another distraction that may add to its issues moving forward. Its price return YTD has only trailed the S&P 500 slightly and still pays a healthy dividend that has seen steady dividend growth. The main sticking point is its Q2 2013 guidance, which is expected to be challenging. This is partially offset by Wal-Mart's strong and disciplined expense management, which has helped it keep its margins in line.
Disclosure: I am long WMT. I wrote this article myself, and it expresses my own opinions. I am not receiving compensation for it (other than from Seeking Alpha). I have no business relationship with any company whose stock is mentioned in this article.
Additional disclosure: This article was written by an analyst at Saibus Research. Saibus Research has not received compensation directly or indirectly for expressing the recommendation in this article. We have no business relationship with any company whose stock is mentioned in this article. Under no circumstances must this report be considered an offer to buy, sell, subscribe for or trade securities or other instruments.