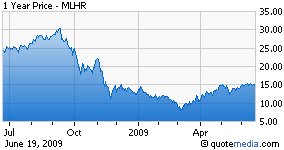 Herman Miller (NASDAQ:MLHR) last month announced more details in its plans to reduce costs in its effort to ride out this economic downturn. The details include the closure of one of its manufacturing facilities in Michigan and redistribution of equipment and production capacity to other facilities in the area. The company reports that this move will cost the company a one-time charge between $9 to $12 million dollars. The expected savings are projected to be $5 to $7million annually. The closure is targeted for spring of 2010. This will eat into the company's earnings for the next two quarters. The benefits of consolidation moves like this take time to realize, so don't expect to see the savings immediately. The company will also be reducing their dividend payout in order to save $14mm annually.
These actions don't seem surprising given the economic conditions and may seem like reactionary measures, but the company looks to be preparing for a long term ground and pound fight in the office furniture industry.
The Head Fake?
The strengthening earnings numbers of the last quarter reported by Lowe's (NYSE:LOW) and Home Depot (NYSE:HD) has given some positive light to the housing industry. The S&P has risen a steady 4% since the companies both reported. However, this is centered on residential homes and is not indicative of the overall real-estate market, specifically commercial real estate. A good measure for the overall real estate market is the Dow Jones REIT Index. This is a good benchmark index as it has broad reach. Tracking this against Herman Miller's revenues from 2004 to 2009 shows some degree of correlation.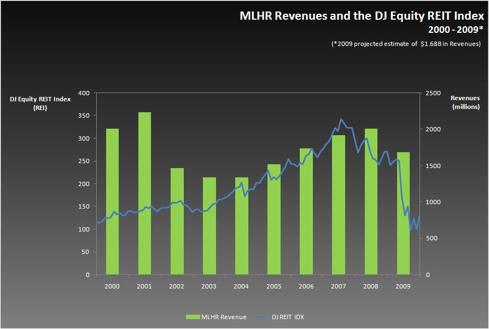 Click to enlarge
I projected Herman Miller's revenues to $1.68B for 2009, and if we place the some weight on the correlation behind the DJ Equity REIT Index and the company's revenues, it looks like there is still some room for company's revenues to fall in 2010. Even if you discount the correlation, there are more developing problems in the commercial real estate market that the office furniture industry should worry about.
A company setting up an office will need access to credit in order to fund capital purchases. As the big banks focus on bringing their institutions back together, there are indications that another storm is brewing in the commercial real estate loan market. The WSJ recently has been focusing more attention on this troubling development. An article published last March reported delinquency rates of securitized loans backed by commercial real estate is at 1.8%. The delinquency rate has doubled since September of 2008. Even for the loans that are still performing (borrowers paying on time), some of these institutions would not qualify for refinancing as the loans come due.
The WSJ reports that approximately 50% of the $524 billion coming due in 2012 will not qualify in a tight credit environment. A tight credit environment may be on the cards with the recent rise in treasury rates over the past month. This is a problem because with rising treasury rates, comes rising interest rates for loans. The WSJ published another front page piece last May on the impact this will have local and regional banks. The WSJ conducted a study of 940 lenders and concluded the potential for commercial loan losses through 2010 could hit close to $100 billion.
In my last posting surrounding Herman Miller, I had factored in a 20% decline in Herman Miller's top line sales for 2009, and took a worst case scenario of another 20% drop in 2010. Given that we have not yet seen a collapse in the commercial real estate market, I believe a 20% year over year decline for two years is the safe stance to take. This puts Herman Miller's fair value between $12 and $15/share. The company needs to take cost cutting measures now, not only because of the potential dangers in the commercial real estate sector, but also because of a debt payment the company has coming due in 2011 of $175 million. That may seem like a long ways away, but when you factor in the outlook of the commercial real estate sector the timing is rather tight. The company does have access to a variable rate revolving line of credit of $250 million to help absorb capital and expense needs. If you look closely at its 3rd quarter report, you'll see the company's cash flow from operations has dropped 47% for the 9 months in Feb/2009 compared to the same period last year.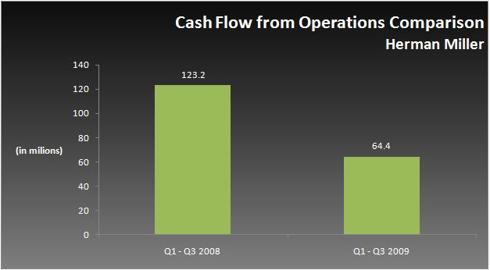 Click to enlarge
The cost reduction plans aren't only meant to regain profitability, but are required steps to prepare the company for debt repayment of $175 million in 2011. With commercial loans souring and no one really being able to predict a floor, it will have a material effect on the office furniture industry going into 2010, and thus Herman Miller's revenues. With the company's cash flow from operations suffering big declines this year, and a bleak outlook in the industry, the company will need to generate incremental cash flow over the next several quarters to put itself into a good position before its long term debt comes due.
The Second-Hand Market
Another issue that is likely to cause troubles for Herman Miller is the market for second hand office furniture. Unfortunately there are no indexes or hard numbers tracking this. The Chicago Tribune published an article last March providing some anecdotal evidence of an ever increasing supply of second hand office furniture. In the article, Mason Awtry of Rightsize Facility Performance, a local Chicago furniture retailer said they had access to 30,000 to 40,000 cubicles across the country last year. By this summer he is predicting he will have access to 250,000 cubicles. The used furniture market was acknowledged by Brian Walker during the last earnings call, but even he admitted that he doesn't know how much of an impact it really is. According to Brian Walker:
We don't track it in any numeric sense... I mean, I think that it certainly does have an impact. I would tell you the impact that tends to be greater after these economic declines. They are on the way back up. And it tends to hurt more where there are buildings that have been left vacant in major markets. Take New York or some of those, where they don't tend to move the furniture out and then people move back into fully furnished offices. That tends to be where it begins to hurt more and it tends to dampen the recovery I think more than haze into this side. Often used furniture when it is actual sold and moved is sold by say a large company and it is purposely then already brokered to another location, which tend to be more smaller customers and folks that were tend to not be as competitive with.
What to watch from here
As the company rounds out the fiscal year end, investors should continue to focus on the commercial real estate market and the underlying loans backing it up. Keeping an eye out on its cash flow from operations should give some indication whether their cost cutting measures will help the company stabilize. If BIFMA's projections hold at a 28% decline for 2009 YOY, I'd expect Herman Miller's stock to stay range bound within $12-$15/share.
Disclosure: Long MLHR