It was not that long ago when the only articles written about BlackBerry (NASDAQ:BBRY) were whether or not the company was going completely kaput, or was going to be gobbled up by another smartphone company.
While it was true that the biggest asset the company had was its balance sheet, (no debt and plenty of cash) little attention was paid to the millions of BlackBerry diehards who insisted on keeping their phones - a rather distinct army of loyalists who loved the Qwerty keyboard as well as the look, feel, and ease of messaging. Not to mention the security features, which was a big plus for business and the Government (Oval Office residents as well).
Now, it appears that BBRY has some serious game plans to make an impact. Especially with 2 very distinct groups of consumers; the BlackBerry loyalists and the emerging markets that will be introduced to a real keyboard on a phone, for a cheap price.
The Latest Developments
With very few sales updates coming from the company itself, researchers have had to look under rocks for clues as to how the new phones are selling. The new Z10 is believed to have stronger than expected sales as noted in an earlier Seeking Alpha article, in the first quarter of about 1 million phones, and we have only heard rumors as to the success of the new Q10 (the one with the real keyboard) thus far. Just about an equal number of articles have been spit out reporting good sales as well as weak sales.
Indeed, there have also been a variety of articles that have even claimed that the return rates have EXCEEDED sales in the US as noted in this article!
Of course, the CEO has flatly denied that claim as noted in this report, with the CEO releasing the following statement:
Sales of the BlackBerry Z10 are meeting expectations and the data we have collected from our retail and carrier partners demonstrates that customers are satisfied with their devices. Return rate statistics show that we are at or below our forecasts and right in line with the industry. To suggest otherwise is either a gross misreading of the data or a willful manipulation. Such a conclusion is absolutely without basis and BlackBerry will not leave it unchallenged.
An official complaint has been submitted directly with the SEC, by BlackBerry:
BlackBerry isn't taking these "false and misleading" statements made by these analysts lightly, and today is filing an official complaint with the Security and Exchange Commission (SEC) and the Ontario Securities Commission.

"Everyone is entitled to their opinion about the merits of the many competing products in the smartphone industry, but when false statements of material fact are deliberately purveyed for the purpose of influencing the markets a red line has been crossed," exclaimed BlackBerry Chief Legal Officer Steve Zipperstein.
Since much of this back and forth is unclear for now, we should focus on what we actually do know. We know that the company has launched a plethora of new products and announced a bunch more on top of those. It would be much easier to just break them down into concise bullet points.
Growing popularity of BlackBerry smartphones across emerging nations like India and Latin American regions has induced the company to expand its BB10-based handset portfolio targeting different age and income groups. Both its earlier brands Z10 & Q10 were costing nearly $200. So, it is anticipated that the new device will cost much less than its previous models, thereby countering competition from other low-cost Android devices.
Investors have no way of telling how successful these products will be, but remember, BBRY is starting at ZERO sales, so by using existing technology to incorporate into the same phones but with less bells and whistles, there should be lower overall production costs by using the same basic platform as the Q10, but with the ability to pump out loads of cheap phones without increasing those costs. This launch is perhaps the most compelling because even Apple (NASDAQ:AAPL) has not truly tapped the cheap end of the market, and BlackBerry does not have the same brand image to protect. It just might make this product launch exciting to watch at least from a BBRY shareholders' point of view.
By utilizing the enormous cash reserves that the company has, starting from "ground ZERO" is simply a matter of deploying available capital:
BlackBerry finished its third quarter with nearly $3 billion in cash on hand and CEO Thorsten Heins told the Australian Financial Review newspaper last week that the company will report a "pretty good" cash position in the quarterly release.
The next move was for BBRY to enable the BlackBerry Messenger to become a free app for iOS and Android devices. While this appears to be one more move to keep BBRY fans, who have already switched to other devices, involved with BBRY in some form, as noted in this article, perhaps BlackBerry has other plans as well:
In the coming months, a new app will deliver BES services to iOS and Android devices in more BlackBerry like fashion. What that looks and feels like has not yet been confirmed, but it shows BlackBerry's willingness to explore use of BB products and services outside of its own devices. It doesn't hurt BlackBerry that they can pocket $59 per user annually for BES services on devices they don't even make.
Might the company stop making devices at some point and become a service company? Why not, the recent introductions and new game plan certainly gives the company time to move in various directions. I was particularly drawn to this article from yesterday which proclaims that BlackBerry will be "relentless" in its quest to regain a major foothold in the entire business segment.
Talking about what's next for BlackBerry Orr said: "We're just going to keep going. We're going to be relentless, listen to our customers, engage with them and build the true reality of our mobile computing platform."........This sentiment echoed what BlackBerry CEO Thorsten Heins said during his keynote presentation at BlackBerry Live in Orlando, explaining that the firm is "committed to making BB 10 the platform which will take the mobile industry to the next level."
When a company is already talking about what's next, it sounds to me like BlackBerry means business. Serious business.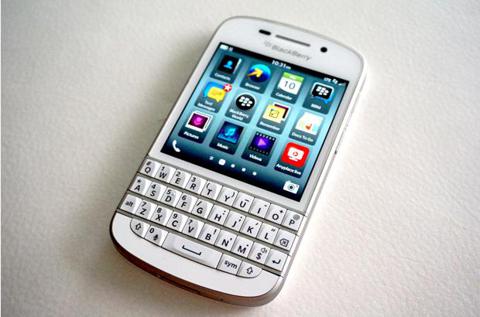 My Opinion
I believe that there is plenty of leg room for BBRY stock to grow. Any one of the new endeavors could move the stock significantly higher, and in a relatively short period of time.
With the recent price pullback, which I believe was profit taking by the "sell on the news" crowd, the share price has an excellent entry price today of $15.00/share.
Disclaimer: The opinions of the author in this article are not a recommendation to either buy or sell any security. Please do your own research prior to making any investment decisions.
Disclosure: I am long BBRY, AAPL. I wrote this article myself, and it expresses my own opinions. I am not receiving compensation for it (other than from Seeking Alpha). I have no business relationship with any company whose stock is mentioned in this article.