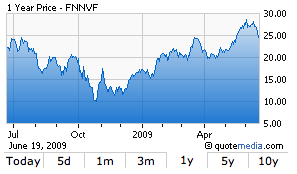 Resource royalty company Franco-Nevada Corp. (FNNVF.PK) has closed a C$370.3-million public offering of units, but with no specifics on what the company plans to do with the cash, UBS has downgraded their view on the firm.
The company has said proceeds from the offering, which consists of 11.5 million units (one common share and one half warrant) sold at C$32.20, would be used for acquisitions, working capital, and general purposes.
"We believe investors will continue to focus on what Franco-Nevada will do with their cash and C$150-million credit facility," UBS analyst Brian MacArthur said in a note Friday.
Noting that there are no direct comparables to the company due to its mix of royalty and size, Mr. MacArthur valued Franco-Nevada using a basic "sum-of-the-parts" process applying multiples to oil and gas and precious metals assets. He has revised earnings per share estimates for 2009, 2010 and 2011 to 24 cents, 31 cents and 36 cents respectively, from 26 cents, 27 cents and 35 cents.
"Given the implied return, we are downgrading the shares from Buy to Neutral," he said. Mr. MacArthur also upped the 12-month target to C$30 from C$29.