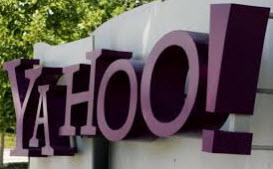 The Gist
Yahoo (YHOO) has been on a tear over the past year, up over 72% over the past 52 weeks and 33% year to date. Marissa Mayer, well respected for her online product-design expertise, took over as CEO of Yahoo in July of 2012. She was one of Google's (GOOG) earliest and most successful employees. Since taking over the reins at Yahoo, Mayer has revamped key products, such as Yahoo's Web email and its Flickr photo sharing service. Furthermore, the company has acquired several small start-ups. Yahoo shares are up 70% since the start of Mayer's tenure. Analysts posit the rally has more to do with stock buybacks and the exponential growth in value of Alibaba, one of Yahoo's Asian assets. See chart below provided by Finviz.com.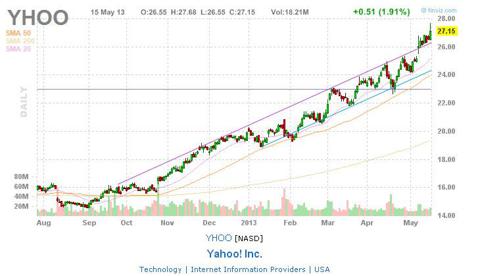 The stock has been in a well-defined steady uptrend since September of 2012 and just reached a new 52-week high Wednesday the 15th of $27.19, up nearly 2% for the day. Even so, I remain bullish on the stock.
In the following sections, I will perform a review of the fundamental and technical state of Yahoo followed by an analysis of the underlying catalysts for the stock to determine what upside potential may exist.
Fundamental Reasons to Buy
There are several fundamental positives for Yahoo currently. Firstly, EPS is up by over 300% this year and is up over 50% quarter over quarter. EPS growth derived from organic sources is one of the most critical factors I consider prior to opening a position in a stock. Additionally, the stock has a PEG ratio of .55. Anything less than one is considered to be undervalued. The company is turning a solid profit with a net profit margin of 67.93%. This means 67 cents out of every dollar they take in goes straight to the bottom line. This is very impressive. The stock's forward P/E ratio is in line at 17.41. Finally, ROE is strong at 30%. These are solid fundamental statistics.
Technical Reasons To Buy
Technically, the stock is in a solid uptrend. Currently, the stock just broke out above long-term resistance and achieved a new 52-week high. One potential negative, the RSI is currently 72, indicating the stock is currently overbought.
Catalysts For Upside
Yahoo has several positive catalysts ahead.
New Content Deals
Yahoo recently announced an SNL deal along with many new content agreements. COO Henrique De Castro describes Yahoo's ad pitch during upfront season as,
"Content at scale on the web, delivered in a personalized way."
Updated Apps
Another positive is Yahoo's new iPhone Weather app has topped iOS weather app charts. Dan Frommer recently stated,
"I've seen more normal people talking about it in a good way than any app in a long time."
Furthermore, an Android version of Yahoo's revamped flagship app is now out. These are all very positive developments for Yahoo going forward.
Yahoo Targeting Younger Demographic
CFO Ken Goldman said at the JPMorgan Global Technology, Media and Telecom conference in Boston on Tuesday,
"Yahoo plans to ramp up advertising and marketing efforts as it seeks to break its reliance on an 'aging demographic' and become more relevant among young adults. Part of it is going to be just visibility again in making ourselves cool, which we got away from for a couple of years."
He went on to say Yahoo's brand will be more visible on outdoor billboards and at sporting events. The company is pursuing the 18-to-34 demographic.
I see these developments as huge positives for the stock. These new opportunities may be what provides the next leg up for the stock.
What Do The Analysts Think?
Yahoo was recently reiterated a Conviction Buy by Goldman Sachs as the company doubles its estimate of Alibaba's valuation to $70 billion. Goldman raised its price target to $30 from $27. Cantor Fitzgerald ups its price target to $30 from $26. Below is a table of the latest statistics regarding analysts' estimates provided by Yahoo Finance.

Downside Risks
The market has been on an absolute tear recently. All kinds of records are being broken. If a correction materializes, most likely all stocks will take a hit regardless of future prospects.
The Bottom Line
I believe Yahoo has strong fundamentals, is technically sound and has several catalysts for future growth. With the 18 to 34 demographic in its sites, the stock has much more room to run. Nonetheless, at present the stock appears somewhat overbought. I would want until the RSI dropped below 70 prior to starting a position. If you do decide to start a position I would scale in to the position over time to reduce risk. Yahoo is on the right track and I posit Mayer and company will be successful in propelling the stock higher in the coming years.
Disclosure: I have no positions in any stocks mentioned, but may initiate a long position in YHOO over the next 72 hours. I wrote this article myself, and it expresses my own opinions. I am not receiving compensation for it (other than from Seeking Alpha). I have no business relationship with any company whose stock is mentioned in this article.