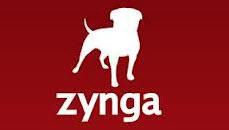 The Gist
Zynga, Inc. (NASDAQ:ZNGA) has been on a tear over the past six months, up over 65% and 45% year to date. The stock bounced off a low of $2.09 and has been in a solid uptrend ever since. See chart below provided by Finviz.com.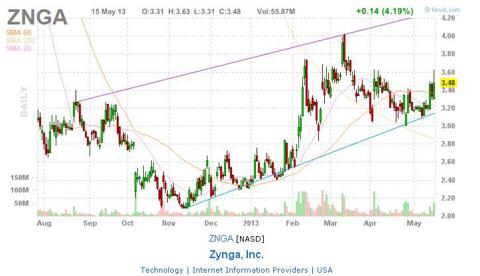 Click to enlarge
Several catalysts have emerged that could drive the stock much higher. In the following sections, I will perform a review of the fundamental and technical state of Zynga followed by an analysis of the underlying catalysts for the stock to determine what upside potential may exist.
Fundamental Reasons to Buy
There are several fundamental positives for Zynga currently. Firstly, EPS is up by over 50% this year and is up over 100% quarter over quarter. Moreover, EPS is expected to grow by 100% next year as well. EPS growth derived from organic sources is one of the most critical factors I consider prior to opening a position in a stock. Additionally, the stock has a price to book ratio of 1.10. To get in on a potentially high growth technology stock trading for book value is rare. The company has $1.60 in cash per share. Insider ownership is up over 140% over the past six months. These are solid fundamental statistics.
Technical Reasons To Buy
Technically, the stock is in a solid uptrend. Technically, the stock seems to have found a bottom at the $2.00 mark. The trend is positive and the stock recently popped above the 50-day sma. The coveted golden cross was recently achieved as well. Nevertheless, the stock does now appear to be overbought with an RSI of 57.
Catalysts For Upside
Poised For Organic Growth
Zynga had its first real-money gambling titles go live in the U.K. two months ahead of schedule recently. Zynga is accepting payments in U.S. dollars, Canadian dollars, euros, yen and of course pounds. This could set the stage for future international expansion. These recent developments regarding online poker bodes well for the stock.
New Games Faring Well
Zynga is up sharply this week with a gain of over 6%. Enthusiasm about the performance of new mobile titles Draw Something 2 and Running with Friends could be the catalyst. AppData's stats indicate both games continue to fare well in App Store charts.
Zynga No Longer Dependent On Facebook
Zynga recently struck a deal to publish Game of Thrones Ascent. This would be a social game based on HBO's hit series that has been developed by startup Disruptor Beam. Zynga has slowly but steadily been growing its independence from Facebook (NASDAQ:FB). The company is adding games and developers to its publishing network. These developments coupled with the Zynga.com site and Zynga with Friends social network are good signs the company is no longer dependent on Facebook.
What Do The Analysts Think?
The mean price target by 17 brokers for Zynga is $3.88 with a high target of $11. Below is a table of the latest statistics regarding analysts' estimates provided by Yahoo Finance.

Click to enlarge
Downside Risks
The market has been on an absolute tear recently. All kinds of records are being broken. If a correction materializes, most likely all stocks will take a hit regardless of future prospects.
The competition is steep. Electronic Arts Inc. (NASDAQ:EA) and many other online poker and gaming sites are all contending for a piece of the online gaming pie.
The Bottom Line
I believe Zynga has strong fundamentals, is technically sound and has several catalysts for future growth. With the launch of new games and the growing independence from Facebook, the stock has much more room to run. Even though the stock has had quite a pop as of late, the stock does not appear to be overbought. Nonetheless, if you do decide to start a position, scale in to the position over time to reduce risk. Zynga is on the right track and I posit the company will be successful with its recent endeavors propelling the stock higher in the coming years. The risk/reward ratio favors the longs at this point.
Disclosure: I have no positions in any stocks mentioned, but may initiate a long position in ZNGA over the next 72 hours. I wrote this article myself, and it expresses my own opinions. I am not receiving compensation for it (other than from Seeking Alpha). I have no business relationship with any company whose stock is mentioned in this article.