"Step One: Restructure to reduce operating cost and improve efficiency. Two, execute our 2013 product road map to accelerate our business and return for profitability. And three, ultimately transform AMD to take advantage of high growth opportunities..." -- Rory Read, taken from the Seeking Alpha earnings transcript.
With Advanced Micro Devices' (NYSE:AMD) stock on a recent rally, largely due to a design win in Sony's (NYSE:SNE) PS4, and an unofficial win in Microsoft's (NASDAQ:MSFT) next generation Xbox, it is a good time to visit potential negative catalysts that could cause a downturn in AMD's uptrend, as well as delving into AMD's progress of returning to profitability in the second half of the year.
Potential Negative Catalysts
Microsoft will be unveiling the new Xbox on May 21st, 10am PDT. I recommend not missing the event if you have a long position in AMD. The event will be broadcast on Spike TV and Xbox Live. If it turns out the Xbox does not use a solution from AMD, I expect to see a sharp correction in AMD's stock price, though I do not feel this will be the case. "A large part of the momentum this year will come from our game console wins" and "...Microsoft announced last year that the Xbox 360 is now used more for watching videos and listening to music than it is for playing games," both taken from Rory Read during the same earnings call linked to above, which seem to imply the Xbox console win. An earlier article on Bloomberg also supports this rumor. Stock holders are expecting the announcement to confirm this, so news to the contrary could cause a sell-off.
Prior to the next earnings report, we should have reliable, independent benchmarks as well as consumer reviews available for products using both Intel's (NASDAQ:INTC) Haswell architecture and AMD's Richland APUs to see which CPU appears to have the higher performance edge and adoption rate. AMD being outclassed may not necessarily be cause for alarm if the APUs are competing with Intel offerings at different price points. However, if the chip is surprisingly underwhelming, this will most likely not bode well for shareholders. In 2011 when Bulldozer was released, it was not well received by the community. AMD cannot afford a product flop right now (aside from the tera kind, see if you get the worst joke ever), and I'm sure Mr. Read knows that. Based on AMD's design wins and aggressive strategy, I do not expect this to be the case. In an article on lilputing.com, author Brad Linder notes that Vizio's AMD powered tablet has surfaced again, but this time on the FCC website, so we may finally see an offering from AMD. Note the tablet is based on the Hondo APU, which is one generation behind the Kabini and Temash APUs, but it could give insight into how well tablet users receive AMD powered devices. More importantly, this insight may come before the next earnings report.
I'm sure AMD's recent rally has attracted Wall St. attention. The following chart is taken from Yahoo Finance:
| | | | | |
| --- | --- | --- | --- | --- |
| | Current Month | Last Month | Two Months Ago | Three Months Ago |
| Strong Buy | 2 | 2 | 2 | 2 |
| Buy | 3 | 2 | 2 | 2 |
| Hold | 20 | 21 | 21 | 21 |
| Underperform | 4 | 5 | 5 | 6 |
| Sell | 0 | 0 | 0 | 0 |
Notice how static AMD's stock coverage has been relative to the stock's rally? As the overall market trends higher and investors are looking for places to put money to work, I expect to see revised guidance from analysts, which could sway the price.
Is AMD on Track to Profitability?
In a previous article, I explained my view on AMD's console wins.
Taken from AMD's website: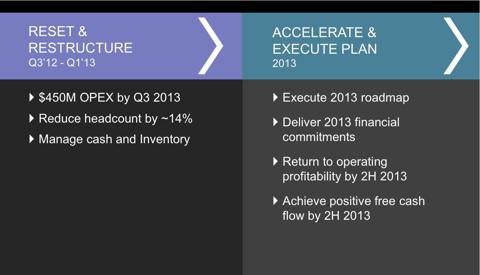 AMD aims to reduce operating expense to $450M by Q3 2013. AMD reduced non-GAAP OPEX from $506M in Q4 2012 to $491M in Q1 2013, and is aiming for $480M by Q2 of this year, and therefore appears to be on target for its guidance.
Mr. Read also said during the Q1 earnings announcement that restructuring is largely complete. AMD completed paying off GloFo for waiving AMD's requirement to manufacture certain products at their foundry. There are however still 2 outstanding payments to Global Foundries: a $40M payment in Q2 2013, and $200M payment Q1 2014, but it appears the restructuring is largely complete, with the exception of these 2 payments.
AMD's ability to manage cash is tied largely in part to achieving positive cash flow by 2H 2013. Mr. Read said during the earnings call AMD has started "volume shipments of kabini" products, as well as mentioning high volume entry level design wins, citing increased battery life and performance, I believe referring to more Temash and Kabini APU designs. The reception of the first wave of AMD tablets should give a little insight into how effective this process will be. But the tone of the earnings call was to expect positive cash flow in 2H 2013, so I would not expect to see a turnaround by July 18th at the next conference call. If AMD does continue on its current negative trend, it could start approaching minimal operating cash range of $700M. In an article on allthingsd.com, analyst Vijay Rakesh of Sterne believes the Sunnyvale campus could be leveraged in the same manner as the Austin campus for $150M, and valued AMD's IP at $2.2B.
Conclusion
Taken from Notebookreview.com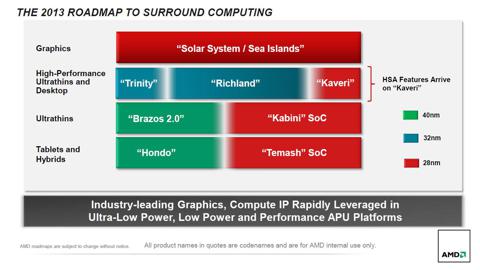 (I've included this slide for anyone who may be confused about AMD's product lineup.)
I feel AMD is taking the right steps in its 3 step process to profitability, and I would like to highlight some of the technology that I feel is spearheading their efforts to profitability. At the time of writing, AMD had the most powerful mobile and discrete GPUs. Hondo and Temash powered tablets will be releasing soon. Amazon.com has an Acer touch screen laptop with an AMD Temash APU available for pre-order. AMD is launching the G-Series-X SoCs, which will target devices ranging from casino games to TV sets, in an effort to hit its target of 40-50% of revenue from embedded systems. In an article on engadget, author Sharif Sakr explains these G-series SoCs will also be available in an "A" flavor, meaning AMD is paving the way for a joint chip based on an ARM CPU, with Radeon graphics, allowing for SoCs at less than 3 watts.
At this point, failing to meet the milestones AMD has set forth on its road to profitability has the potential to be a huge setback. But AMD has the product portfolio to be competitive long term if it can survive short term. My personal opinion is that the guidance and tone of the next earnings call will be more important than the numbers, provided AMD meets current expectations.
Disclosure: I am long AMD, INTC. I wrote this article myself, and it expresses my own opinions. I am not receiving compensation for it (other than from Seeking Alpha). I have no business relationship with any company whose stock is mentioned in this article.