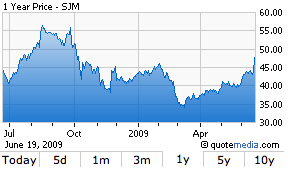 On Thursday, J.M Smucker (NYSE:SJM) announced their fourth quarter and full year results.
Here, we will present to readers a summary of their earnings report and then offer our own opinion on the company.
J.M Smucker Company
Their fourth quarter net sales increased by 81% largely due to Folgers. Their fourth quarter net income increased by 154% compared to last year's fourth quarter, April 2008.
Executive summary:
Their retail coffee category increased after more than a year of "flat to declining" volume.
Folgers increased its market share as it grew more than double the category rate.
The Smucker business also grew in sales volume.
Net sales:
Net sales were up 81% in the fourth quarter of 2009, compared to 2008, primarily due to Folgers.
Their Pillsbury® baking mixes and frostings, Hungry Jack® potatoes, pancakes, and syrups,
and Eagle Brand® sweetened condensed milk experienced volume gains in the fourth quarter.
Their oils category experienced volume declines due to competition. (They will have to work to change this because according to the company a "private label" is gaining their sales.)
Margins:
Their gross profit increased $217.0 million in the fourth quarter of 2009 compared to 2008 with
Folgers contributing over 90 percent of the increase.
The acquisition of Folgers clearly raises the companies' gross margin levels.
Their Selling and corporate administrative expenses decreased as a percentage of net sales. (This is good because although their expenses did increase by 53% in the fourth quarter of 2009 compared to 2008, the news does not come as such a surprise because they recently acquired a new company. Investors should look and see that the company does decrease its' expenses back to reasonable levels in the coming quarters.)
The company did have operating expenses in the fourth quarter due to losses on the disposition of property, plant, and equipment. (They may have to invest in new property, plant and equipment.)
Segment Performance:
All their segment markets increased their net sales.
All their segment markets also increased their profit, except their U.S retail oils and baking marking which experienced a 17% decrease due to marketing expenses, primarily in support of their Crisco® olive oil brand.

Other financial result:
In the fourth quarter they gained $96.8 million in cash and cash equivalents.
They now have $456.7 million in cash and cash equivalents on hand at April 30, 2009.
Their Free cash flow was $131.8 million for the fourth quarter of 2009 compared to a negative $24.6 million in the same period in 2008.

Outlook:
J.M Smucker believes that their net sales for fiscal 2010 will increase by $4.5 billion, or 20% over fiscal 2009.
They also believe that owning Folgers for a full year, compared to 6 months, will add $800 to $850 million in net sales.
The Economic Post
The Economic Post agrees that the acquisition of Folgers has added to the company's bottom line and will continue to do so in the near foreseeable future, but it feels some caution must be taken when debating whether to invest in this company.
The company has added about $1.6 billion to its Goodwill assets and has added about $2.5 billion to its Intangible assets. This is concerning because goodwill and intangible assets are valued according to what a company seems fair, because these assets cannot be given a definite market value.
If we eliminate their Goodwill and Intangible assets, we are left with $2,301,794 in Total Assets compared to $8,192,161 in Total Liabilities and Shareholders' equity. That means that their Total Liabilities and Shareholder's equity is 4 times the size of their Total Assets, that can be properly valued.
The company's Quick Acid Ratio is also below what should be advisable. It is at around a .6810 ratio.
This ratio tests if a company has enough short-term assets (not including inventory) to cover its immediate liabilities. It is a bad sign if the ratio is below 1.
Overall, the company has the capacity to earn excellent profits with its latest acquisition, Folgers. Nevertheless, the company's balance sheet shows that the health of the company is not well.
We believe investors should wait till the next quarter to see if their balance sheets have improved.