Since my initial article about Sony (NYSE:SNE) in May '12, its common stock has returned about 60% compared to a gain of 26% for the S&P 500 (see graph). Despite these excellent numbers, investors in Sony should be wary and consider the underlying reasons for this rally, which may be short-lived. The main reason is that Sony continues to change its strategy every decade and, currently, the company is disposing of assets following a few years of building partnerships with other companies. Second, it had an unimpressive fiscal year that ended on March 31, 2013. Third, the company issued a convertible financing that is likely to cause significant dilution. And, finally, news that an influential hedge fund acquired a significant stake in Sony is not likely to change Sony's fundamentals or situation.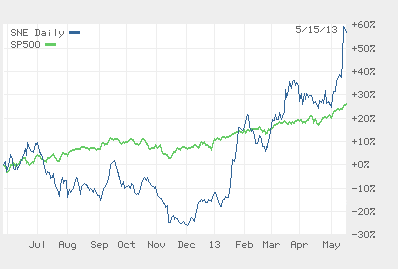 Sony's changing strategy
The 1980s and 1990s were the golden years for Sony. During that period, the company dominated the consumer electronics business and was the top company for TV sets and music players. Sony's decline in the 21st century is often given as an example what companies should not do. The early 2000s were the years of partnerships for Sony. During those years, Sony befriended such international companies as IBM (NYSE:IBM), Samsung, Microsoft (NASDAQ:MSFT), Sun Micro-systems, Philips (NYSE:PHG), Texas Instruments (NYSE:TI), General Motors (NYSE:GM), Sandisk (SNDK), Ericsson (NASDAQ:ERIC), Yahoo! (NASDAQ:YHOO), Visteon (NYSE:VC), Universal Display (NASDAQ:PANL), Computer Associates (NASDAQ:CA), Nokia (NYSE:NOK), and Intel (NASDAQ:INTC). The list of Japanese companies that partnered or collaborated with Sony during this period is also impressive.
In 2008, things started to change perhaps first with the sale of The Sony Center am Potsdamer Platz, an urban entertainment complex in Berlin, Germany with over 130 thousand square meters, to a group including Morgan Stanley (NYSE:MS). In the next several years Sony disposed of other major real estate properties in Japan and New York City. Around 2009, its strategy shifted as Sony probably realized that collaborations can get a business only so far and disposed of a number of non-core businesses including Sony's measuring systems business, its retail operations, the surface-mount business (into a new company), its commercial digital photo business, and all of the chemical products businesses. At the same time, Sony bought back its partners' shares in its joint ventures with Toshiba, Epson, and Ericsson. It remains to be seen if Sony's recent reorganizations will payout for stakeholders in the company.
Recent performance
Following a few years without making any profit, Sony finally generated a profit of $458 million during the year ended March 31, 2013 on sales of $72.4 billion. The performance by segment during this period is as follow:
Imaging products & solutions - $7.8 billion in sales (down 4.1% year-over-year (YOY)) and $15 million operating income (down 92.3% YOY)

Game - $7.5 billion in sales (down 12.2% YOY) and $18 million operating income (down 94.1%)

Mobile products & communications - $13.4 billion in sales (up 18% YOY on a pro forma basis as the Ericsson part in this business was acquired the year before) and an operating loss of $1 billion, entirely due to a re-measurement gain in connection with buying out Ericsson the previous year.

Home entertainment & sound - $10.6 billion in sales (down 22.5% YOY) and an operating loss of $897 million, which was more than half the operating loss in the previous year.

Devices - $9 billion in revenues (down 17.3% YOY) and $467 million operating profit from an operating loss the year before.

Pictures - $7.8 billion in revenues (up 11.4% YOY) and $509 million in operating profit (up 40.1% YOY).

Music - sales of $4.7 billion (unchanged) and $396 million of operating profit (up 1% YOY)

Financial services - sales of $10.7 billion (up 15.6% YOY) and $1.6 billion in operating income (up 10.9% YOY)
While profitability is significantly better in the past fiscal year, Sony's cash inflow from operating activities decreased by 7.3% to $5.1 billion. Alarmingly, the company raised about $2 billion of zero-coupon convertible bonds that can be converted in five years into Sony shares at a price of 957 yens per share. Sony's stock price recently traded at around 2,000 yens per share. Assuming the stock price stays near that level in the next five years, investors in the convertible bonds could double their investment in five years. Sony finished the year with $8.8 billion in cash on its balance sheet and it seems like this expensive and potentially dilutive convertible offering could and should have been avoided.
Operationally, in the U.S. in the past few months Sony Pictures TV announced the Fall '13 launch of getTV, which will reach 44% of U.S. TV households and will digitally broadcast Hollywood movies from Sony's library. Also, it launched the first of its new concept in-Mall stores or pop-up ministores that will carry a limited number of inventory items. Internationally, Sony announced the launch of a water resistant tablet and Sony Pictures Television secured the rights to sell Netflix's (NASDAQ:NFLX) political drama House of Cards internationally and acquired a 50% stake in a popular telenovela channel in Indonesia. While important, these are not major achievements that are likely to change Sony's fortunes.
What put Sony in the headlines in the past few months was the interest in the company by a hedge fund. Third Point, owned by Daniel Loeb, is known for acquiring stakes in companies and requesting major changes to boost share value and board seats. Loeb is well known for his interference with Yahoo! After revealing that Yahoo!'s CEO at the time, Scott Thompson, did not have a computer science degree he successfully placed himself and two of his nominees on Yahoo! Board of directors. However, it is not likely that he would be successful in gaining a seat on Sony's board as Sony is much more influential in Japan than Yahoo! is in the U.S. Most likely, the involvement of a hedge fund manager with Sony will have a short-term effect on Sony's stock price.
Conclusion
Sony's investment picture is not very clear. The company has made a number of restructurings which have brought profitability back. However, it still lacks a leadership position in any of the areas it operates in. In addition, the issuance of a $2 billion convertible bond when Sony's shares were clearly undervalued is a very questionable move. It seems like Sony is vulnerable of losing more market share in its electronics businesses (including games, mobile, and consumer electronics) while running its music and movie business without gaining any leverage from these highly coveted assets. At this time investors could be better served if they follow Sony from a distance.
Disclosure: I have no positions in any stocks mentioned, and no plans to initiate any positions within the next 72 hours. I wrote this article myself, and it expresses my own opinions. I am not receiving compensation for it (other than from Seeking Alpha). I have no business relationship with any company whose stock is mentioned in this article.