I've talked long about how China overproduction of steel was bound to provoke a problem worldwide. Such a problem is now clearly ongoing. Just a couple of days ago ArcelorMittal (NYSE:MT) was asking European authorities to crack down on Chinese steel dumping, and at the same time moving to close some production capacity in Europe.
Why is ArcelorMittal so worried? The reason is simple: steel prices have been on a massive downtrend in Europe. Using LME's Steel contract as a proxy, this is what has been happening (Source: LME):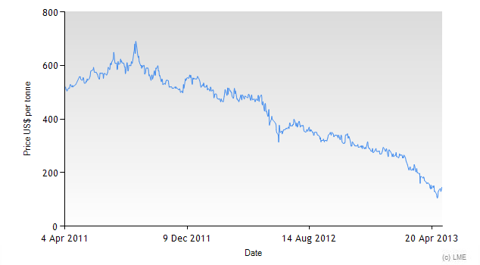 This presents a tremendous drop of around 75% from the 2011 top, which wasn't too euphoric either, as we can see in a longer-term chart: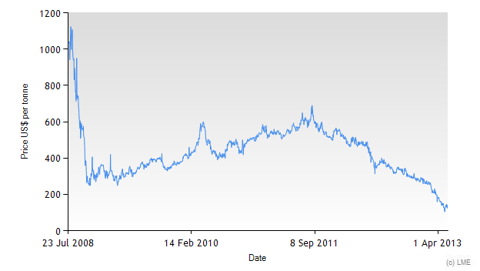 At this level, most steel capacity will turn unprofitable. This is what's to be expected taking into account the source of the problem: worldwide overcapacity, brought about by China's huge expansion in productive capacity to meet its own huge demand from its investment-led economy.
As China transitions to a more consumer-led economy, steel intensity stabilizes or even gets somewhat lower (has happened in the developed countries). With this happening against the huge (and growing) installed capacity, something has got to give. Capacity needs to be removed.
Capacity is removed by price. Prices go low enough to remove the least-efficient capacity, no matter where it sits in the world. It's a classic cycle that we've seen play out numerous times, for instance in the dry bulk industry.
Further threat
A further problem, which I have talked about previously, is that China still has significant room to expand its reliance on scrap. As that happens, again traditional capacity gets strained. This also removes the need for some iron ore from the market.
Conclusion
Steel prices have been on a tear downwards, down to levels where it will be un-economic to produce steel. Such is to be expected as the way to remove worldwide capacity, will be for producers to go out of business.
While this phenomenon is most evident in Europe right now, due to its own economic travails, soon enough its effects should be felt by U.S. producers as well, including U.S. Steel (NYSE:X), Nucor (NYSE:NUE) and others. I will cover the solvency risk of U.S. steel in a future article.
Disclosure: I have no positions in any stocks mentioned, and no plans to initiate any positions within the next 72 hours. I wrote this article myself, and it expresses my own opinions. I am not receiving compensation for it (other than from Seeking Alpha). I have no business relationship with any company whose stock is mentioned in this article.