Target Corporation (NYSE:TGT) has several prospects for growth and also some areas of concern. The company is poised to show an improving balance sheet and perhaps to further reward its shareholders through dividends and buybacks. Competition from Walmart (NYSE:WMT), Costco (NASDAQ:COST), and others, as well as issues involving ecommerce and expansion into Canada, are also important. Target is scheduled to report First Quarter earnings on Wednesday, May 22nd, before the market opens. While long term potential certainly exists, the probability of immediate upside, particularly at a share price over $70, is questionable.
Here is a chart showing how TGT has distanced itself from its direct competitors this year (on 5/15/13, after close and before WMT earnings). The S&P 500 itself (NYSEARCA:SPY), of which Target is a member, has not gained as much. Costco, despite higher online sales per web site visitor than Walmart or Target, has lagged.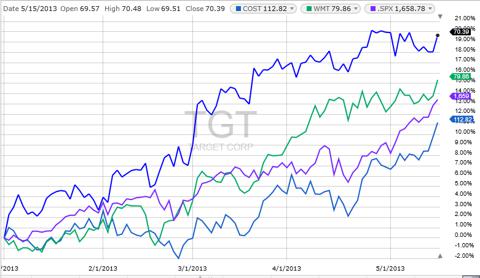 Click to enlarge
Target has sold its credit card operations to TD Bank Group (NYSE:TD). Per the 10-K, the company's financial situation is improving.
On March 13, 2013, we completed the sale to TD for cash consideration of $5.7 billion, equal to the gross...value of the outstanding receivables at the time of closing. Concurrent with the sale of the portfolio for $5.7 billion, we repaid the nonrecourse debt collateralized by credit card receivables…at par of $1.5 billion, resulting in net cash proceeds of $4.2 billion. As of March 20, 2013, we also have open tender offers to use up to an aggregate of $1.2 billion of cash proceeds from the sale to repurchase outstanding debt…In the first quarter of 2013, we will recognize a gain on sale of $391 million related to consideration received in excess of the recorded amount of the receivables. Consideration received includes cash of $5.7 billion and a beneficial interest asset of $225 million…We will perform account servicing and primary marketing functions [and] earn a substantial portion of the profits generated by the Target Credit Card and Target Visa portfolios.
Having the credit card transaction in mind, JPMorgan rates the stock "Overweight" with a price target of $74, as of April 16, 2013 when it traded at $68. The firm has lowered its 2014 EPS estimate from $5.64 to $5.58. (Its 2014 EV/EBIDTA multiple is 7.4x, higher than the historic average of 7x). The credit card sale is a 2013 event. For 2013, it is increasing the P/E multiple from 12.1 to 12.3. The bank's investment thesis:
We are maintaining our Overweight rating as we believe the stock is positioned for outperformance in 2013 based on accelerating earnings growth over the next two years against reasonable valuation with specific catalysts. We cite the following reasons: (1) accelerating sales, earnings, cash flow, and buyback growth in 2013-2014 related to Canada/leverage; (2) a derivative housing play with nearly 20% of sales in this category; and (3) valuation levels that support reasonable downside protection and an attractive risk-reward.
JPMorgan provides Free Cash Flow ("FCF") figures through 2014, with an increase estimated for this year. $6,349M is projected for the Fourth Quarter, nearly twice the amount for all of 2012:
| | | | |
| --- | --- | --- | --- |
| | 2012 | 2013E | 2014E |
| FCF | 3,611 | 7,297 | 3,183 |
| FCF/Share | 3.94 | 11.58 | 5.46 |
| FCF Yield | 5.7% | 16.9% | 8% |
Prospects for repurchasing stock are pertinent. Target's own share buyback data follows:
During the first quarter of 2012, we completed a $10 billion share repurchase program authorized by our Board of Directors in November 2007, and began repurchasing shares under a new $5 billion program authorized by our Board of Directors in January 2012. During 2012, we repurchased 32.2 million shares of our common stock for a total investment of $1,900 million ($58.96 per share). During 2011, we repurchased 37.2 million shares of our common stock for a total investment of $1,894 million ($50.89 per share).
Target has 645,294,423 shares issued and outstanding as of February 2, 2013. There is a Preferred Stock Authorization for 5,000,000 shares; and no shares were issued or outstanding on February 2, 2013 or January 28, 2012 (Source: 10-K).
The year 2012 marks a 15.9% dividend increase, after paying out $750 million in 2011 (To $1.38 per share from $1.15 annually). The company has paid $0.36 for the past four quarters, after increasing the payout $0.06 for August 2012. The current yield is just over 2%. Another increase can not be ruled out, even though the company's cash position has recently halved, from $1,469M in October 2012, to $784M as of February, 2013 (Source: Yahoo! Finance). There should be some newfound flexibility due to the credit card sale, though a dramatic increase in shareholder rewards does not seem likely, unless there is borrowing.
Many persons who have shopped at a Target are familiar with the company's REDcard, and also PFresh offerings. Increasing use of REDCards would mean incremental sales for Target. However, REDCards, and also PFresh, present downside risks that can adversely affect the top line and long-term earnings potential according to JPMorgan.
Target is commencing Canadian operations in 2013, with 124 stores to be open this year. While JPMorgan includes this international expansion in its Overweight thesis, it is also revising down some figures due to "Pressure from Canada."
UBS has a Neutral rating on the stock, with a price target of $75 based on a Discounted Cash Flow valuation, as of an April 18th update. The Swiss firm estimates $87B in domestic sales during 2017, which is 7% below guidance. However, it believes Target is "On track for $8.00 EPS in 2017." Canadian, City Target, and ecommerce operations are cogently assessed in UBS's note.
Summary
EPS estimates are -1% below consensus this year and -6% below next year.
If the bad weather carries on, expect markdowns to pick up which may result incremental sales. But, the effect would be lower profit for the season (and then an easy margin comparison next year).
Grocery continues to grow faster than the overall company. This keeps its traffic growing, while other retailers are affected by trip consolidation.
Target may need to do a remodel of its home and hardlines departments to stimulate sales growth in these areas.
Points out that it is more expensive to regain customers than to lose them in the first place. Within a 2.6% 2013CY comparable sales growth estimate, 4% comparable sales growth in Q4 is assumed. But a -20bps underlying gross margin pressure on top of last year's -66bps decline.
City Target
Believes Target is doing the right thing to test this format before rapidly rolling it out.
Walmart
Views decentralized structures such as Walmart's as much more agile in responding to local demands, which ultimately drives more loyalty. If the assortment is not right locally, Target could offer the "infinite shelf" of ecommerce to supplement its in store product mix. But, Target is not where it needs to be on that front either. An irrelevant local product mix along with a lacking omni-channel strategy could cause Target to miss out on sales from various demographics and depress same store sales.
Omni-Channel
Amazon (NASDAQ:AMZN) provides access to a broad range of products with ease, including core Target categories. Target will need to convince the consumer that Target offers an assortment specifically for the Target customer and it's not worth a trip sorting through Amazon's broader merchandise. This likely requires increased marketing spend.
Target needs to loosen its centralized model to allow for the added complexity of shipping single packages associated with ecommerce. Picking from the store's shelves for home delivery also adds extra challenges (and really is not a scalable business as retailers are finding out in the UK.).
Kantar Retail cites that ecommerce sales are less than ~2% of its US figure.
Online traffic is 1/4 of Amazon's traffic. There is a suggested 4% conversion rate of shopping to purchase on Target.com. Costco's online conversion is estimated at 14% and Walmart's is 9%. Target would need to double its traffic and conversion for ecommerce to reach an estimated 17% sales growth rate over the next five years, and achieve 1% market share.
Canada
The challenge to adjust becomes increasingly difficult and costly as more Canadian stores are added to the network.
The balance of differentiated vs value is not the same in Canada as the US. Target will need to learn and adapt its assortment quickly as it rolls out the stores.
Believes the rapid rollout will cause enough complications that profits are depressed for longer than their goal (EBITDA margin 200bps above US in 2017), though UBS does model $6.0B in sales. Believes it will take 1-2 years extra to hit its profit goals, with profits not ramping up as fast as consensus expects in the near term.
UBS does not focus on any improvements to Target's balance sheet, or express concern about any lost value, due to the credit card sale. Further, the firm does not refer to prospects for future increases in the dividend or to buyback activity. In fact, caution is justified for a number of reasons.
Target, as a discounter, may benefit from consumers with lower income amidst macro issues such as unemployment and a payroll tax increase. Though its 2013 share appreciation may testify to such a situation, as of April 16th, it has issued a warning of slowing sales and earnings. Further, at a stock price of $70.39, it is already up 18.96% in 2013, and 26.99% over a year. Management is not under unusual pressure to appease shareholders. Meanwhile, the median price target shown on Yahoo! Finance is $74. Aside from any announcement of a capital return on Wednesday, I see little reason for the stock to bolt higher. In fact, shareholders may wish to take profits.
There is an opportunity to trade options. Implied volatility ("IV") is currently low. If it picks up, I would look to sell a contract(s) that includes the Report, anticipating the share price to stay below $75 in the near-term. A chart showing IV at just over 18% follows: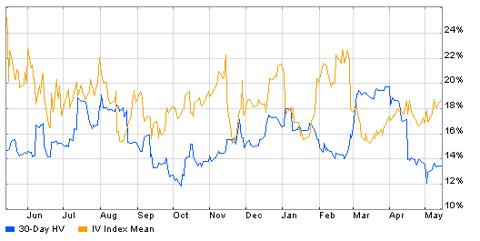 Click to enlarge
A non-directional strategy, buying a May $70 straddle might make sense. Rather than wait for results to be announced, the call and put options at the same strike price would be sold at the end of the day on Tuesday: hopefully gains more than offset lost time value. It can make for a profitable trade, tending not to produce any windfalls-or harsh losses. Alternatively, if the options' prices increase, then selling them on Monday is worth looking into. A butterfly, iron condor, or double diagonal could make sense, though each ties up margin for weeks and months.
Long term, Target might be fine. In the near future, profit taking can occur as shareholders lock in gains that have resulted from outperforming the competition. An options trade may offer the opportunity to make some money. Overall, there is lacking indication that the share price can rise above $75 anytime soon.
Disclosure: I have no positions in any stocks mentioned, but may initiate a long position in TGT over the next 72 hours. I wrote this article myself, and it expresses my own opinions. I am not receiving compensation for it (other than from Seeking Alpha). I have no business relationship with any company whose stock is mentioned in this article.
Additional disclosure: Any position would be an options trade that may enjoy gains due to an increase, decrease, or no change in the share price.