Earlier this week, I was reading fellow Seeking Alpha writer Dane Bowler's Two Part articles on Optimizing Triple Net Lease Investments. In Bowler's first article he was recommending a strategy of selling shares in Realty Income (NYSE:O) and in the second article he was suggesting to replace the O shares with Gladstone Commercial (NASDAQ:GOOD) shares.
First off, I believe that Bowler wrote a fairly convincing article on the "extreme" valuation of O. From a pure value investor's viewpoint, I consider O to be trading in the moderately expensive range (shares closed at $54.10 with a P/FFFO of 22.8x). However, as I argued in a recent article, value in relation to price, not price alone, must determine your investment decisions. As I explained:
But, for an income investor, there is value. In fact, I would argue that Realty Income is fairly valued, especially when comparing the risk-adjusted dividend yield with other REITs and even non-REITs. You know the old saying, "beauty is viewed in the eyes of the beholder." If you are an income investor and you are looking for income over the long haul, there is no better company than The Monthly Dividend Company®. Where else can you find a 4.5% dividend plus 4.5% growth?
As a value investor, Bowler makes all of the right arguments to sell O, as he explained:
principal risk exceeds the upside at the current market price.
It's true, value investors, by contrast, have a primary goal of preserving their capital; however, where I disagree with Bowler is his statement that
there are better sources of monthly dividends, including GOOD which we are suggesting as the O replacement.
It's Critical to Build-out a Deep Bench
As in any football team, a REIT investor should also build out a dividend portfolio with a diverse line up companies. Earlier this week, while I was attending The Money Show in Las Vegas and someone asked me the following question:
How many REITs should I own in a portfolio?
I answered by saying around "7 to 10 but not all in the same sector." As intelligent REIT investors know, it's critical to spread out investments over multiple companies, geographies, and sectors to mitigate risk. As much as I love Realty Income, even "the monthly dividend company" isn't bullet proof and I certainly cannot predict the future, so diversification provides a true safety net.
In addition, Realty Income is not the only Triple-Net REIT to consider as there are many other excellent alternatives including National Retail Properties (NYSE:NNN), W.P. Carey (NYSE:WPC), American Realty Capital Properties (ARCP), EPR Properties (NYSE:EPR), Spirit Realty Capital (NYSE:SRC), and Agree Realty (NYSE:ADC). Also, some of the bigger box peers include Lexington Realty Trust (NYSE:LXP), One Liberty Properties (NYSE:OLP), and Gramercy Property Trust (NYSE:GPT).
Driven by long-term lease fundamentals, the Triple Net REITs have delivered very sustainable dividend performance. That makes them very stable and reliable income alternatives. History has shown, the Triple Net sector does not generally produce extraordinary growth (some would argue boring even) but the durable income component is the key strength of the stand-alone space.
That's why I like to have a Pro Bowl center on my team. Triple Net REITs have not historically delivered the strong growth as you would find in more cyclical sectors like apartments, lodging, or office. As an income investor, I am looking for stable and growing income and it's important that my offense line consists of the superior REIT stocks with the best possible dividend safety. For me, that is the primary function for Triple Net REITs - delivering repeatable sources of dividends - not as much running from touchdowns.
Good Looks More Like a Water Boy
In Dane Bowler's recent article on Gladstone Commercial, he describes the Triple Net REIT as
the best dividend play in the triple net sector.
Bowler went on to describe GOOD's portfolio
very creditworthy.
In review of GOOD's 2012 Annual Report, I note the following recent acquisitions: University of Phoenix (Columbus, GA), Independent Project Analysis, Inc., (Ashburn, VA), and others. I'm not sure how "creditworthy" is defined since, as Bowlers states, "many of them are unrated and only known to be creditworthy by GOOD's independent team."
I could not pull up a D&B on University of Phoenix but according to Wikipedia:
In October 2012, (University of Phoenix) announced plans to close 115 campuses due to a drastic drop in its profits.
My biggest fear is that GOOD and many other REITs with low quality assets will see significantly more risk as interest rates begin to rise. These companies (tenants) with higher leverage will see significantly higher debt costs; consequently, rents will be under considerably more pressure. I would not recommend investing in REITs with a high concentration of unrated tenants today. That holds true for a similar Triple Net REIT, Spirit Realty Capital . See my article on SRC here.
Another significant risk for GOOD is the external management platform. Similarly, I explained this in a recent article on ARCP:
Once ARCP internalizes its management, I will have more confidence in the most important thing: aligned shareholder interests.
GOOD explains its risks relative to its externally managed affiliation in the company's 2012 Annual Report:
Our Advisor manages our business and locates, evaluates, recommends, and negotiates the acquisition of our real estate investments. As the same time, our advisory agreement permits our Advisor to conduct other commercial activities and provide management and advisory services to other entities, including but not limited to Gladstone Capital Corporation. Gladstone Investment Corporation, and Gladstone Land Corporation…As a result, we may from time to time have conflicts of interest with our Advisor in its management of our business…which may arise primarily from the involvement of our Advisor…
That tells that if I'm an investor in GOOD, I'm paying my management team to work part time. That also tells me that the reason GOOD is such a bargain (with a P/FFFO of 13.4x) is because it invests in low quality assets, using high leverage, with a part time management team.
Now as Bowler points out, GOOD has a "superior dividend" yield of 7.65%. Is it worth 300 bps to be compensated for that risk? Remembering that I can get my quarterback, running back, wide receivers, and tight end (all growth components) with other property sectors.
O is my team captain. I will anchor my dividend portfolio with a durable dividend REIT. I know the shares aren't cheap; however, I also know that the dividend is safe and it will carry me through good times and bad. It's an all-weather performer and unlike GOOD, I can sleep well at night knowing that O's management is 100% focused on "monthly dividends," not having to explain inherent conflicts of interest.
How Should I Round Out The team?
First off, I would leave GOOD on the sidelines. There is simply too much risk and in my opinion, the dividend does not compensate for the excessive risk. Here is how I would structure the all-star dividend team.
My Wide Receiver: Digital Realty (NYSE:DLR) - DLR is a "blue chip" REIT that pays a healthy 4.91% dividend yield. This data center REIT has proven that it can score and I really like the "margin of safety" today. The BBB (S&P rated) REIT is trading below its intrinsic value as shares closed last at $63.52. As I wrote in a recent article, DLR is down around 5% due to a hedge fund short and I expect to see the shares trading back to more normal pricing levels (target of $70) this summer. See DLR article here.
My Running Back: Ventas (NYSE:VTR) - VTR is also a "blue chip" REIT that has a powerfully solid balance sheet (S&P rating of BBB). Regardless of most any defense threat (i.e. rising rates, consumer trends, etc…), VTR has proven that it can move the ball down the field. Shares are trading in the moderately expensive range (P/FFO is 19.9); however, I believe the dividend yield (of 3.3%) is risk-aligned. Shares closed at $81.25. See VTR article here.
My Tight End: Kimco (NYSE:KIM) - KIM has one of the most versatile balance sheets around. With a healthy mix of equity, debt, preferred stock, and JV partnerships, KIM has become a powerful "blue chip" REIT that is one of only twelve REITs with a BBB+ (S&P) rated balance sheet or higher. KIM has a market cap of $9.9 billion and shares are trading at $24.15. The dividend yield is safe at 3.48%. See KIM article here.
The Left Tackle: Taubman Centers (NYSE:TCO) - TCO is one of the safest mall REITs today. Shares are trading at $87.29 with a P/FFFO of 24.0. Although arguably expensive based on the merits of current earnings, TCO has a solid pipeline of development in the US and Asia. Taubman has NEVER cuts its dividend and the $5.57 billion (market cap) REIT pays a sound dividend yield of 2.29%. See TCO article here.
The Right Tackle: Tanger Factory Outlets (NYSE:SKT) - SKT is an incredibly important player for the "blue chip" squad. With a track record of paying and increasing dividends for 20 years in a row, SKT will soon be added to the Dividend Aristocrat Hall of Fame. As the only "pure play" outlet sector REIT, SKT - with a market cap of $3.6 billion - has also established itself as a strong (BBB rated) REIT that can defend against elements of risk. As evidenced by the 99% occupancy ratio, SKT has built wide moat around leasing to many of the "best in class" retailers in the US. The current dividend yield is 2.37% and shares closed at $37.90. See SKT article here.
The Punter: Healthcare Trust of America (NYSE:HTA) - Like a punter, HTA has one specific function - leasing medical office buildings (or MOBs). Maybe not as glamorous of a position as Ventas; however, HTA has a proven track record for putting points on the board. HTA shares are trading at $12.90 and the current dividend yield is 4.46%. The balance sheet is also optimized for safety as S&P has rated HTA's balance sheet as BBB-. See HTA article here.
The Quarterback: Retail Opportunity Investment Trust (NASDAQ:ROIC) - The quarterback is a player that can score. In other words, I picked ROIC because I believe that I need a REIT that will provide me with safe dividends as well as strong growth - both organically and inorganically. ROIC pays a sound dividend of 3.86% and I believe there is tremendous growth ahead in share of the stock (closed at $15.53). With a market cap of around $1.02 billion, ROIC has a P/FFO of 19.3x.
The Center: Realty Income - As mentioned at the outset, Realty Income is not always the top scoring REIT. In fact, the "monthly dividend company" is known for its dividend strength and its unquestionable ability to deliver snaps year end and year out. As a dividend investor, I need a reliable Triple Net REIT that is consistent whereby temporary price fluctuations don't become the dominant focus. As an anchor player in my REIT player, I expect O to never budge and I will let the other REITs be the more visible total return leaders.
In my opinion, there are too many unanswered questions with GOOD and I don't feel like the externally-managed REIT is ready to suit up and play in the big leagues. If I need a value play, I would prefer to utilize a REIT with safer fundamentals in a more desirable growth sector. The value proposition for keeping O can be summed up in one of my recent articles:
I agree that Realty Income is a moderately expensive REIT to own today; however, I also believe that if one is purchasing the shares today, he or she would not be foolish at all. In fact, I believe that an intelligent income investor could benefit by diversifying into a bond-replacement alternative (like Realty Income) that should provide very attractive risk-adjusted dividends. Simply said, the biggest question for an income investor is what do you do with your money right now? That's why I think O is still a Sleep Well at Night REIT.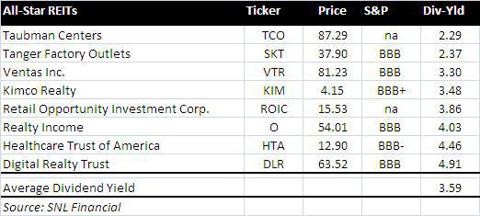 Click to enlarge
Disclosure: I have no positions in any stocks mentioned, and no plans to initiate any positions within the next 72 hours. I wrote this article myself, and it expresses my own opinions. I am not receiving compensation for it (other than from Seeking Alpha). I have no business relationship with any company whose stock is mentioned in this article.