Dividends are not always an objective for emerging market investors. Capital appreciation would be just fine - if only it would come. For investors still perplexed about broader emerging market underperformance, a look at distribution trends at some of the largest equity ETFs explains a lot.
Emerging market underperformance
Broad emerging market equities started underperforming US equities in August 2011 and the trend has accelerated recently.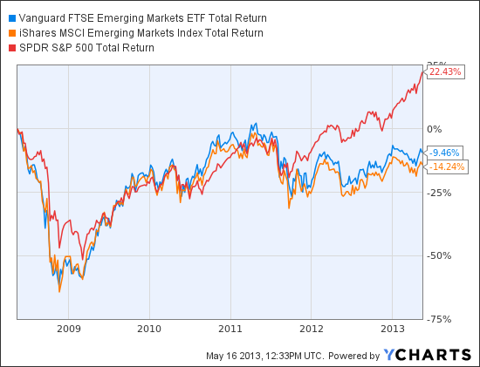 August 2011 also marked the end of the global commodity price boom. Chinese stimulus was maxed-out and many commodity producers matured as new resources came on-stream. A slower global growth phase kicked in leaving many big emerging markets in the dust.
Laser focus on returns
Since then, shareholders of companies able to deliver returns in the form of income growth and buybacks (also analyzed below) have been rewarded.
US companies, in particular, have done well; investing cautiously, cutting costs and distributing returns to shareholders. A look at distributions from the largest US-listed ETF, SPDR S&P 500 (NYSEARCA:SPY) shows a strong payout trend.
SPDR S&P 500 - Delivering income growth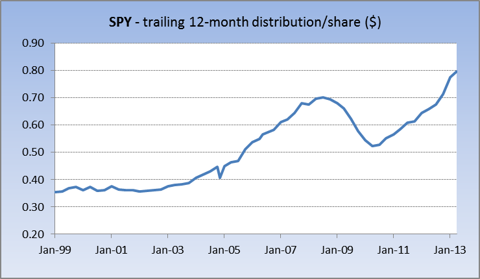 Source: statestreetspdrs.com
The story in emerging markets has been different. A look at distributions from three large global emerging market (NYSEARCA:GEM) ETFs; Vanguard FTSE Emerging Markets (NYSEARCA:VWO), iShares MSCI Emerging Markets (NYSEARCA:EEM) and Schwab FTSE Emerging Markets (NYSEARCA:SCHE) shows lackluster payout trends and even distribution declines last year.
Benchmark GEM ETFs - where's my growth?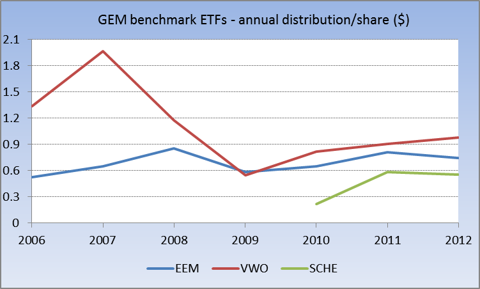 Source: investor.vanguard.com, us.ishares.com, schwabetfs.com,
For clarification, ETFs pass through dividends paid by their portfolio holdings to shareholders as 'distributions'. The benchmark GEM funds typically make semi-annual or annual payouts. SPY makes payouts on a quarterly basis. In essence, distributions represent the 'yield' for the asset class.
ETFs registered under the Regulated Investment Companies (RIC) act like VWO and EEM can also generate income from stock lending activities that can be distributed to shareholders, but the contribution is small representing around 3% of total fund income last year. SPY is registered as UIT so does not do stock lending.
EM dividend funds show declining income
A look at payouts from emerging market dividend funds WisdomTree Emerging Markets Equity Income (NYSEARCA:DEM) and Emerging Markets SmallCap Dividend (NYSEARCA:DGS) reinforces the trend seen in the benchmark GEM ETFs.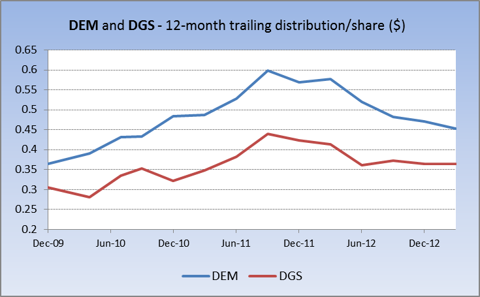 Source: wisdomtree.com
Both DEM and DGS have seen absolute payouts to shareholders decline since mid-2011, exactly the time EM started underperforming US equities.
DEM and DGS use a proprietary index methodology as an alternative to cap-weighted methodologies used by the benchmark GEM funds. WisdomTree incorporates absolute dividend payouts, payout growth and fundamental valuation metrics in its indexing methodology. The funds pay distributions quarterly and have a relatively long track record helping our analysis.
Yields are not compelling
Despite price under-performance, current trailing 12-month dividend yields for the GEM funds are hardly compelling because of the weak dividend payout trends.

Investors may hear strategists arguing that emerging markets are 'cheap', but in terms of payback to shareholders via dividends, they are not.
Share buybacks show a stark contrast
An analysis of share buyback trends shows further cause for concern.
US companies buy back a lot of stock. Factset recently reported that 70% of S&P 500 companies bought back stock in Q4 2012. According to S&P Dow Jones Indices (which just launched its own S&P 500 Buyback Index), a total $399bn worth of stock was bought back by S&P 500 companies in 2012.
One can debate the merits and rationale of buybacks but it's hard to argue buybacks are harmful to share price performance. A look at PowerShares Buyback Achievers (NASDAQ:PKW), which holds a portfolio of companies actively buying back shares, highlights this having outperformed SPY solidly since 2009.
PKW vs. SPY - 5yr total return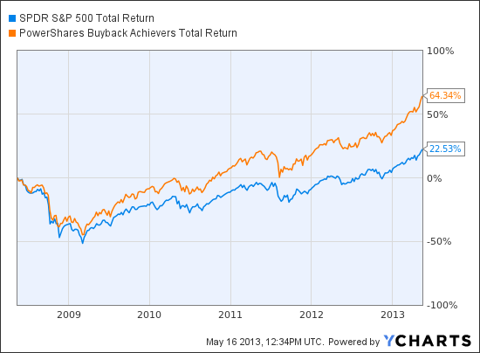 Buybacks in EM are uncommon
In theory investors should not expect companies in 'growing' markets to buy back shares since capital could be better reinvested in businesses that are growing and growing returns. That is reasonable logic especially in light of the higher capital costs faced by emerging market companies.
As economies and sectors mature, companies may consider returning capital in the form of a buyback. Recently America Movil (NYSE:AMX), controlled by Carlos Slim, extended its buyback plan by over $3bn. There have been other buybacks in EM but they are the exception not the rule.
It is also important to consider the relatively high level of strategic shareholder influence on corporate governance in many emerging market companies. Buybacks can, in some instances, be detrimental to minority investors when manipulated by strategic interests.
Equitization is the big headwind for EM
A bigger trend occurring in emerging markets is equitization - or more equity outstanding. It is natural for the asset class to grow through privatizations, strategic sales, IPOs and capital raisings. This, however, puts pressure on limited funding sources.
One way to estimate equitization is to divide index market cap with the index level. This approximates the number of shares in the index. When market cap rises relative to the index, there is equitization; when it is falling there is de-equitization via M&A or buybacks for example.
The chart below shows market value of the MSCI EM index divided by the index level (red line). The rising line means emerging markets are equitizing. The blue line represents developed markets and shows stable market value relative to the index level.
Emerging Market Equitization vs. Developed Markets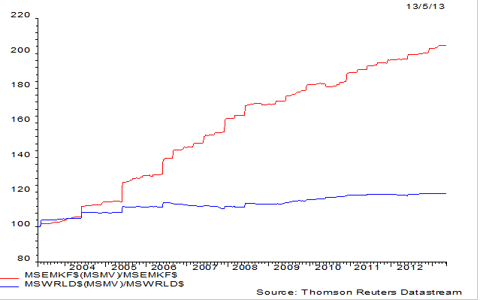 Source: Thomson Reuters Datastream
A more beautiful illustration of the de-equitization trend in the US markets can be found in the following link.
A structural headwind
Equitization is a structural headwind for EM index strategies since current index components will compete for funds with new issuance. This growth of shares outstanding is dilutive for investors in the asset class and can only be overcome with new inflows. Broader global investor appetite for equities would help but many emerging markets lack established domestic investor bases and depend on foreign portfolio flows for capital.
A lagging indicator
Admittedly an analysis of trailing dividend yields is a lagging indicator. Dividends that investors receive this year will come from profits generated in 2012.
But current reality is no different
There is not a great deal of evidence showing that broader emerging markets are seeing a robust pick-up in earnings. Some large sub-sectors like Chinese financials have seen earnings growth but other large sub-sectors, particularly in the resource space, remain under pressure. Manufacturing economies like Taiwan and Korea will depend on global growth, but a weaker Japanese Yen will not help from a competitive standpoint.
According to a recent report, a majority of emerging market companies missed their 4Q12 expectations and projected EPS growth for the asset class is hardly remarkable. Theoretically, emerging markets should be in a sweet spot with record low inflation and interest rates and some markets are doing well like Turkey, Southeast Asia and Mexico.
Unfortunately the broad emerging market equity class looks broken. Allocate carefully.
Disclosure: I have no positions in any stocks mentioned, and no plans to initiate any positions within the next 72 hours. I wrote this article myself, and it expresses my own opinions. I am not receiving compensation for it (other than from Seeking Alpha). I have no business relationship with any company whose stock is mentioned in this article.