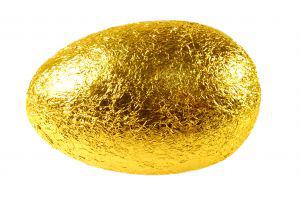 We had great news today (Thursday), but the response was tepid. Rather than being disappointed or dismissing the news, here is why we should be excited at both the developments and the investment potential it opens up.
Thursday (5/16), The Wall Street Journal wrote, "Cancer Drugs' New Weapon." Based on "immunotherapy," each of the R&D departments at Bristol-Myers (NYSE:BMY), Merck (NYSE:MRK) and Roche (OTCQX:RHHBF) are creating new cancer-fighting drugs. What makes the news exciting is that the drugs turn on the body's natural immune system to combat the cancer cells. Until now, the cancer cells have been able to hide, masking their presence in the body. Moreover, gone are the serious side effects from chemotherapy and radiation therapy. The main side effect is inflammation, which researchers say are either resolved or treated without serious consequence.
Studies are showing good effectiveness and companies are expanding test groups to include various forms of cancer. The article highlights the robustness and importance of the studies.
Based on the new results Roche is planning to launch a late-stage trial of its PD-L1 inhibitor in lung-cancer patients, while Bristol-Myers is moving its combination regimen into late-phase studies as well.

Merck's PD-1 blocker, being tested in melanoma patients, was recently given "breakthrough" designation by the Food and Drug Administration, which could speed its path through the regulatory process.
Important to investors, the cancer treatment market is potentially huge. The article mentions one estimate of the immunotherapy drug market hitting the $20 billion per year level, comparable to statin drugs for cholesterol at their peak level.
So, the stocks have taken off, right? Well, no. The article didn't even get front-page exposure, but was relegated to page 2 in the "Marketplace" section. Why the seeming lack of excitement? The likely cause is the drug industry's decade-long fight against loss of patents and generic drug makers' incursion into their business. Such long-term trends have a way of shaping investors' views, making important news questionable and potential results doubtful. (The reverse happened when the fight began. Following years of major drug companies producing steady and outstanding growth, investors were slow to change their view of the industry's new challenging conditions and reduced prospects.)
However, this attitude should delight us. Lack of excitement means better pricing. Therefore, risks are less and potential returns are greater. Contrarian investing (i.e., acting when others are uninterested or skeptical) is often a winning approach.
Setting the stage
Below is the relative performance of Bristol-Myers and Merck (U.S. companies listed on the NYSE) compared to Teva Pharmaceuticals (NYSE:TEVA), a major generic drug manufacturer (an Israel-based firm listed on the NYSE). I have left off Roche, a Swiss firm, because it is traded on the pink sheets in the U.S.
Note the 10-year outperformance by Teva as Bristol-Myers and Merck languished. Then, starting a couple of years ago, the relative performance began to shift. Not coincidentally, Merck announced an enhanced corporate strategy in February 2011. As I described it then (Merck: Time to Buy a Rewarding, Long-Term Investment?),
Merck announced it would stick to its long-term business focus. CEO Kenneth Frazier said, "Investing in our growth is in the best long-term interest of the company." Also, "We are committed to innovation as a strategy, and we believe that over the long-term, it will pay off."

He really surprised Wall Street by saying that Merck would no longer be making long-term, multi-year earnings projections. In other words, Merck's leadership is pursuing a corporate strategy that it believes will succeed in the future - but that the measure of success (earnings) cannot be known in advance. Pretty heady stuff, but appropriate for an industry undergoing challenges.
So, how should we invest?
Without a clear leader, investing in all three companies is the best approach. There should be room for all three in such a large market, and there is no telling which, if any, one company will outshine the others.
Note: I have chosen to invest only in Bristol-Myers and Merck. Roche is a fine Swiss company, but trades on the pink sheets in the U.S. My personal rule is to invest only in securities listed on a major U.S. exchange.
What about risk?
Risk seems muted for three reasons. First, the dividend yield provides good support (Bristol-Myers = 3.4% and Merck = 3.7%). Second, and more important, apparent investor apathy means the stock prices have little speculative fever over this exciting development. Today's stock price drops provide some proof of that. Third, it's been 15 years since the stocks last traded at new all-time highs. They are close to doing so again, and that would highlight the companies' progress and bring back growth stock investor interest.
The bottom line
Sticking to their guns (i.e., their R&D prowess), Bristol-Myers, Merck and Roche appear to have hit upon an extremely promising and desirable cancer drug treatment. Effectiveness and lack of serious side effects make these drugs potentially a fast track market, with medical professionals and patients (and insurers) quick to embrace them.
Now, to put this development into layman's words, it looks like these drugs could meet the perpetually hoped-for goal of "a cure for cancer." In other markets, at other times, this news would have been shouted from the rooftops and investors would be clamoring to add the stocks to their portfolios, regardless of the price. Instead, we have limp reporting and stock price weakness.
Personally, I live for these days. I've seen many instances of investors jumping into a hot pot and getting burnt, or being afraid to come in out of the cold, missing big gains. The new cancer drugs' investor reception indicates we're in the latter situation, making for potentially good gains with reduced risk.
Addendum: What about Pfizer?
Right when things were about to turn around for the major drug companies, Pfizer (NYSE:PFE) threw in the towel and adopted a Wall Street-friendly approach: Cutting expenses (especially in drug research) to increase earnings which could then be used to buy back stock to increase earnings further. While over the past two years, Pfizer has been a Wall Street darling by substituting financial management for drug company strategy, the long-term, negative fallout is clear in The Wall Street Journal article:
Pfizer Inc. doesn't have any PD-1 or PD-L1 drugs in its pipeline, but Garry Nicholson, president of its oncology unit, said the company is interested in studying them in combination with its own targeted cancer drugs. "There are multiple ways of working out these combinations," he said.
"Interested in studying them" (i.e., looking at what others have done -- and patented) is hardly a substitute for a dedicated R&D effort.
Addendum: What about an ETF?
I considered investing in a major drug ETF like iShares Dow Jones US Pharmaceuticals Index Fund (NYSEARCA:IHE), but decided against it for two reasons.
First is the watered down immunotherapy focus. Here are the fund's top five holdings, which account for about 40% of the fund:
JOHNSON & JOHNSON (NYSE:JNJ) - 10.0%
PFIZER INC - 9.0%
MERCK & CO. INC. - 7.9%
BRISTOL-MYERS SQUIBB CO - 6.6%
ABBOTT LABORATORIES (NYSE:ABT) - 5.8%
I concluded the 14.5% combined position in Bristol-Myers and Merck was too small. And then there's that 9% in Pfizer ...
Second is the 0.45% expense ratio. For a long-term investment, I prefer to get the full dividend flow unless there is some value added by the fund structure or management.
Disclosure: I am long BMY, MRK. I wrote this article myself, and it expresses my own opinions. I am not receiving compensation for it (other than from Seeking Alpha). I have no business relationship with any company whose stock is mentioned in this article.