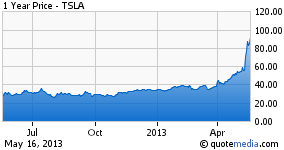 Tesla Motors (NASDAQ:TSLA) plans to raise as much as $830 million through a stock and debt offering that will be utilized to repay $465 million U.S. Department of Energy loans with interest and for general corporate purposes. Tesla plans to offer 2.7 million shares and as much as $525 million in convertible debt due in 2018. Tesla has also given a 30-day option to its underwriters to buy an additional 405,454 common shares and $67.5 million in notes.
According to sources from the WSJ, the common stock will be priced at $92.24 a share without a discount. I have to admit, this is probably one of the very few times I have seen a secondary without a discount. The notes are also expected to have a coupon between 1.5% and 2%. It really doesn't get any better than this.
In addition, Elon Mush will participate in the deal buying about $45 million in stock and will also buy additional securities of the company in a subsequent deal to be announced at a future date. All this is fine and dandy, however, let's see what the company said just one week ago pertaining to the need for additional capital raising:
From Tesla's recent Q1 2013 earnings call transcript:
Adam Jonas - Morgan Stanley

Elon, I know I have asked you versions of those question before and you guys have done a phenomenal job building what appears to be a viable business and a thriving business although still early and at a risky part of the lifecycle of a company. So to kind of, when you look at where your share price is and there's likely to be tomorrow, and you think about the factors that are outside of you control to kind of make sure that all this great work your team has done doesn't go to waste potentially for those factors outside of your control. Can you share your thoughts on potentially stocking in, carrying the balance sheet a bit more with a capital increase that could further improve your chances to keep investing in the business and focusing on the product and not the economic cycle?

Elon Musk - Chairman, CEO, and Product Architect

Sure. Well, we don't have any plans right now to raise funding. Potentially we expect to be - we were positive cash flow in Q1 and we expect to be there relatively sort of neutral on cash flow in Q2. But if it was possible, we could be optimistic about raising a round, but we have spent no time on that at all. So if we were to do a round, it would be for the reasons that you mentioned which is to ensure that if there was some unexpected supply interruption, some sort of risk event, but should potentially protect against a portion of your event that there could be some merit to doing a round.
Please note, Elon Musk's answer to Morgan's Adam Jonas was just over a week ago. How is it that the company has "not given any thought" to the recent fund raising announcement, and just several days later announces it? Also, and as per Musk's comment, is there an "unexpected supply interruption" or some "some sort of risk event" that has transpired within the week that calls for this capital raising?
Current shares outstanding are about 115 million. The 2.7 million additional shares combined with an additional 4 million share of common stock -- assuming the debt gets converted to common at a later date -- will add about 6.7 million shares in total. That's a total dilution of about 6% in total.
Granted that's not a whole lot, but as per my last take on the company, I expect shareholders to be continuously diluted -- one way or another -- as far as the eye can see for the foreseeable future, because the upfront costs related for the massive production of Tesla's cars will require a lot of capital expenditures and working capital. I think this is the first of many announcements in that direction.
Many readers criticized me for this call, because nowhere in the conference call was there any hint for raising additional capital.
Lesson number 1
Management's feedback is fine, but trust the numbers even more.
Lesson number 2
When management says it has no need and no plans for additional capital, and then does a 180 degree about face, that in my book is a red flag.
Disclosure: I have no positions in any stocks mentioned, and no plans to initiate any positions within the next 72 hours. I wrote this article myself, and it expresses my own opinions. I am not receiving compensation for it (other than from Seeking Alpha). I have no business relationship with any company whose stock is mentioned in this article.