The Fed is not going anywhere, at least not right now and certainly not anytime soon. When they finally can and do make a move it will not be a fast move, but a move made slowly so as to wean the market off of its bond buying program while also keeping it from causing systemic shock to the system. When stories such as the Fed moving out of their current role begin to surface, no matter the sources, we think it is time to buy and not sell. It has been a trend which has worked numerous times on the way up and has yet to fail. Remember, do more of that which is working and less of that which is not.
Chart of the Day:
For those wondering about the Fed's balance sheet, yes it has been growing, and its latest trend mirrors the market's movements.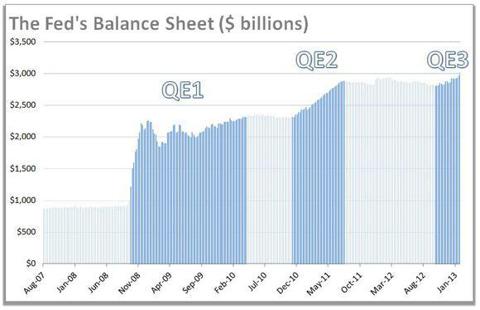 Chart courtesy of dailybail.com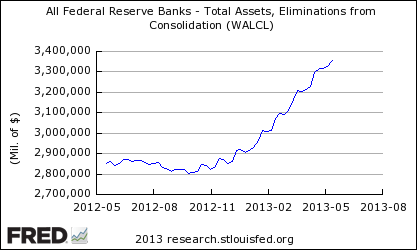 Chart courtesy of FRED via econintersect.com
We have economic news due out today, and it is as follows:
Michigan Sentiment (9:55 a.m. ET): 78.5
Leading Indicators (10:00 a.m. ET): 0.3%
Asian markets finished higher today:
All Ordinaries -- up 0.30%
Shanghai Composite -- up 1.38%
Nikkei 225 -- up 0.67%
NZSE 50 -- down 0.82%
Seoul Composite -- CLOSED
In Europe, markets are higher this morning:
CAC 40 -- up 0.42%
DAX -- up 0.12%
FTSE 100 -- up 0.35%
OSE -- CLOSED
Technology
As we were watching CNBC yesterday we heard a very interesting point made by Bob Pisani from the floor of the New York Stock Exchange regarding Cisco (NASDAQ:CSCO) and their very positive earnings report. During his market rundown Mr. Pisani highlighted how Cisco was the only company in its industry to beat on revenues whereas everyone else was having top line growth issues. The market really liked to news from Cisco and pushed shares up $2.68 (12.64%) to close at $23.89/share on volume of 213.3 million shares. The company is one of the more important technology names out there and thus what they say is of significance. We usually skim through the conference call at a minimum to get an idea of what they see moving down the road, for others interested in performing the same exercise the transcript can be found here.
After the downgrades from William Blair the 3D printing players saw their shares head lower in yesterday's session. The name we picked to play the rally was 3D Systems (NYSE:DDD) which finished the trading session at $45.59/share after falling $2.08 (4.36%) on volume of 6.5 million shares as their shares were downgraded to 'Underperform' from 'Market Perform'. We are not sure that the rally has run its natural course just yet, but we would point out that shares did fail to cross over some of the last levels we highlighted as this news hit. We will go with this being a pullback before another move higher and not a correction for now.
Tech companies are known for having large cash positions on the balance sheet and being reluctant to do anything with that cash. Some of the biggest names in tech have been plagued by that issue as well as some of the smallest. When a company begins to underperform or show results that lag investors' expectations it is easy for a raider to come in and that appears to be what the case is with NetApp (NASDAQ:NTAP) after Bloomberg broke a story that Elliott Management had added to their stake in the company and nominated a slate of their own directors for the company's board while also asking management to return cash to shareholders. Investors liked the news as the shares popped $2.24 (6.18%) to close at $38.46/share on volume of 25.1 million shares.
Trading at a new 52-week high on the activist investor news.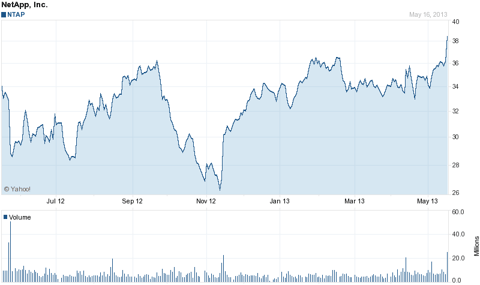 Chart courtesy of Yahoo Finance.
Shippers
Yesterday there was a lot of interest in the dry bulk shippers after Eagle Bulk Shipping (NASDAQ:EGLE) reported a quarterly loss which was smaller than analysts' expectations and revenues which actually grew (see conference call transcript here). The shares rallied $1.92 (53.93%) to finish at $5.48/share on volume of 12.8 million shares and helped pull the rest of the names higher. Also rallying was DryShips (NASDAQ:DRYS) which closed the day at $2.10/share after rising over 12% and trading nearly 25 million shares. We would be hesitant to purchase shares on the back of this one improved quarterly report and would remain on the sideline for now. Eagle and Dryships are not half of the companies they used to be and as such interest us little. The other transport names are far superior and have no where near the risk.
It has been a rough time for investors in the industry, but the tail end does look impressive as does the 2013 price action...especially on Eagle.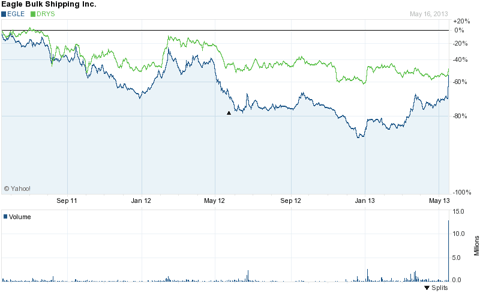 Chart courtesy of Yahoo Finance.
Disclosure: I have no positions in any stocks mentioned, and no plans to initiate any positions within the next 72 hours. I wrote this article myself, and it expresses my own opinions. I am not receiving compensation for it (other than from Seeking Alpha). I have no business relationship with any company whose stock is mentioned in this article.