As in this scene from Blazing Saddles, I'm tired of this market. There's nothing to say that I haven't set multiple times before, but here's a note to make clear that I haven't stopped thinking about things.
I announced at the beginning of the year that the stock market would chop sideways forever and that credit was the asset class to own, and we find ourselves at midyear not quite 2% better on the S&P, but at the end of the fastest credit market snapback in history (click on chart to enlarge).
Markit North American High-Grade Corporate CDX Index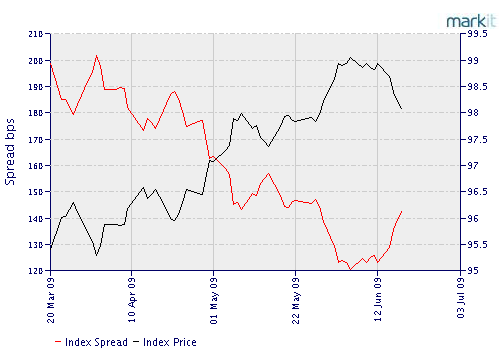 The credit rally is over. The stock market is bounded by the miserable position of US consumers and the likely reversion to a 10% personal savings rate. The commodities rally is bounded by miserable global demand. There simply isn't a lot to do.
In the long term, non-Japan Asia has to outperform, barring a political breakdown in China, which I consider most unlikely. China eventually will develop its own capital markets and currency, a point about which I have been ratiocinating with Francesco Sisci, the distinguished China-watcher who heads La Stampa's Asia team out of Beijing. He cites me in a recent piece on the link between yuan strength and China's development of its internal financial markets.
I can't guess at the timing of the trade; long-term, I would guess that non-Japan Asia and commodity stocks will outperform. I am very slowly lightening up on credit holdings and looking for places to put money to work in these areas, but am doing so very slowly and very cautiously. There's simply no sense of urgency about any decision in this market.