In looking at some key metrics for growth and income of individual countries and then taking a look at the chart of the India Sensex it is pretty clear to me that India is now on the verge of a major move in its markets and its economy. I think every investor needs to have a decent portion of their money invested in India stocks for the foreseeable future.
India has been hyped for a while now as the next great investment opportunity after China, which has been mired in a controversial debate as to whether or not its growth can continue. Stories of ghost towns, rapid inflation, and wage growth that is making its labor more expensive have all contributed to a good deal of skepticism about the investment future of China. Some of these stories are true and some are embellished to aid short sellers in their hopes to drive stocks lower. Longer term, with a GDP per capita of $5,445 as of 2011, there is still a good deal of room for this country to grow. Right now China is going through a transition phase, though, as it focuses its energy on domestic growth supported less and less by exports. This is due in part to the aforementioned rising wages that is causing companies in the US and elsewhere to bring manufacturing in house or to migrate to other countries like Vietnam and Singapore. This transition will take time, though. In the meantime, I believe the baton is being passed on to India for a variety of reasons which I will lay out below. And I believe it is presenting a unique opportunity for investors to capitalize on a potential huge boom in India stocks.
GDP per Capita
There is a fairly strong correlation between the rate of growth of country's GDP per capita and the returns in that country's stock market. Below is a list of a few countries to give you a sense for the correlation. On average, returns in the market are roughly double the long term growth rate of GDP per capita.
This data was taken from the last available GDP per capita from the World Bank, as of 2011. Since that time some of these markets have gone up significantly.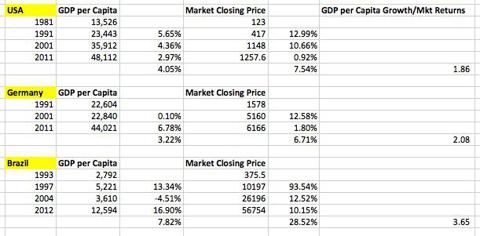 Below is India's GDP per capital and prices of the Sensex.

The Sensex has risen about 30% since this time but so too, presumably, has GDP per capita. From the above chart you can see that GDP per capita is actually accelerating. The period from 2004 to 2011 saw GDP per capita growth of double that from 1997 to 2004. Arguably, the relationship between market growth and GDP per capital should be greater with India because of this fact, yet the correlation is only at 1.14, significantly below the 2 or so experienced in the US, Germany and Brazil. In order to get to comparable correlations, the Sensex would need to go up 50%+ from the 20,000 level it is currently at.
Growth in Internet Usage
It is also well known that there is a significant correlation between increasing broadband internet usage and a country's GDP growth. The International Telecommunication Union put together an excellent article articulating the correlation between broadband internet penetration and economic growth in its article "The Impact of Broadband on the Economy". Here is an excerpt:
"First, broadband exhibits a higher contribution to economic growth in countries that have a higher adoption of the technology (this could be labeled the"critical mass" or "return to scale" theory"). Second, broadband has a stronger productivity impact in sectors with high transaction costs, such as financial services, or high labour intensity, such as tourism and lodging. Third, in less developed regions, as postulated in economic theory, broadband enables the adoption of more efficient business processes and leads to capital-labour substitution and, therefore loss of jobs (this could be labeled the "productivity shock theory"). Fourth, the impact of broadband on small and medium enterprises takes longer to materialize due to the need to restructure the firms' processes and labour organization in order to gain from adopting the technology (this is called "accumulation of intangible capital"). Finally, the economic impact of broadband is higher when promotion of the technology is combined with stimulus of innovative businesses that are tied to new applications. In other words, the impact of broadband is neither automatic nor homogeneous across the economic system. This emphasizes the importance of implementing public policies not only in the areas of telecommunications regulation, but also in education, economic development and planning, science and technology, and others."
This article then goes on to state the maximum level of impact is felt when penetration rates are higher and close to "critical mass":
At low levels of broadband penetration, we believe the impact of broadband on the economy is minimal due to the "critical mass" concept. According to the "return to scale" theory, the impact of telecommunications infrastructure on the economic output is maximized once the infrastructure reaches a critical mass point, generally associated with levels of penetration of developed countries...Unless emerging economies do not strive to dramatically increase their penetration of broadband, the economic impact of the technology will be quite limited.
With all of this in mind, let's look at where India currently is and what it is doing to improve the penetration rates. Below is a chart of the broadband internet users and penetration rates of a variety of countries: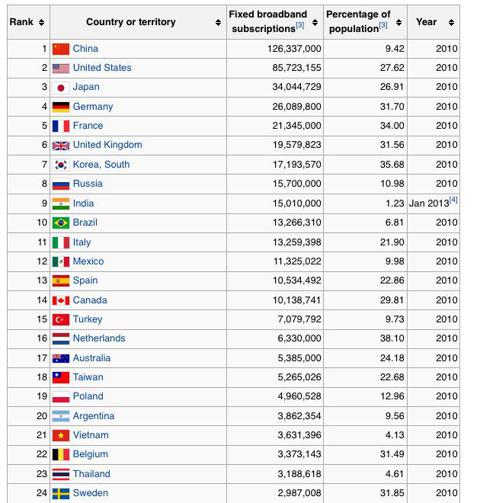 India's penetration rate is an abysmal 1.23% as of January 2013. The other percentages are quite dated so presumably they are even higher now which makes India's rate all the more horrendous. However, this creates tremendous opportunity. If the country is growing per capita GDP at 11%+ now consider what the growth rate would be if broadband penetration was as high as China's which is well over 10% now.
What is India Doing to Improve Broadband Usage?
In late 2010, Telecom Regulatory Authority of India (TRAI) proposed an ambitious plan dubbed the National Broadband Plan (NBP) which was going to target 175 million connections by 2017 and 600 million connections by 2020 (with a minimum 2Mbps speed, up to 100Mbps on demand). As it stands right now they had only 15 million connections in January 2013, a target they hoped to achieve in 2011.
Under the NBP, a Bharat Broadband Network Limited (BBNL), a special purpose vehicle, was set up by the government to facilitate the growth in broadband usage. BBNL hopes to add some momentum to the rollout by starting pilot projects in three separate phases, each targeting separate regions within India. Ultimately the major hindrances right now are the cost of broadband and the cost of PCs. The cost of PCs made locally in India are the lowest in the world yet they are still equivalent to almost a full month's wages for the average family. By comparison, that would mean a cost of around $5,000 in the US. Additionally, broadband charges in India, while close to the lowest in the world, are still a large portion of the average monthly income. The affordability issue will slowly dissipate, though, as income levels rise and as lower cost PCs come to market. Additionally, the India government has begun rolling out free broadband to the public in an effort to boost momentum in penetration rates.
The opportunity for growth in broadband usage is significant. At only 15 million users out of a total population greater than 1.2 billion, India should see many years of significant growth in broadband internet usage.
So what is the play?
The excitement over the announcement of this broadband plan sparked major moves in stocks like Makemytrip.com (NASDAQ:MMYT) , Rediff.com (NASDAQ:REDF), and Sify Technologies (NASDAQ:SIFY) in 2010 and 2011 because they were logically seen as major beneficiaries of this explosion in broadband penetration. Most likely they still will be beneficiaries as usage increases.
However, with the rollout lagging behind schedule, many investors abandoned ship on these stocks. Yet the catalyst still remains out there for all of these companies and the upside potential is enormous even if these companies don't end up being the market leaders.
Consider companies like Yahoo (NASDAQ:YHOO), Sohu.com (NASDAQ:SOHU) and a variety of other second-tier internet companies that sport multi-billion dollar valuations. By comparison, Rediff and Sify have market caps of $90 million and $300 million, respectively. Both are clearly second-tier companies but one stock that is quite interesting is REDF.
REDF, which has over 90 million subscribers to its Rediff email service and ranks as a top 15 internet destination in India according to Alexa.com, has a market cap of $90 million, which makes the current valuation about $1 per user. By comparison, SOHU, another second-tier internet brand in China, has a market cap of $2.2 billion and a user base of around 350 million, valuing the company at around $6 to $7 per user. Netease.com (NASDAQ:NTES), another second-tier brand in China, has a $7.6 billion market cap and boasts 450 million registered email users, valuing the company at round $17 per registered user. REDF isn't profitable and is struggling to show revenue growth amidst a moribund internet industry thanks to low broadband penetration. However, the broadband rollout over time should help and it has recently started showing some positive trends in its eCommerce business. On its most recent quarterly conference call, CEO Ajit Balakrishnan stated:
"Our eCommerce business in the quarter ended December 31, 2012 increased 95% year on year as compared to 61% year on year, we announced in the previous quarter. The total number of merchants on our online marketplace has increased from 510 to 620 to 670 over the past two quarters, while our SKU range has also increased from 138,000 to 172,000, to close at 184,000 SKUs over the same period.

This equates to over 30% growth in both our vendor base and SKUs over the past six months. Additionally, we have successfully grown our eCommerce business while maintaining a positive margin of 20%."
A recently revamped site layout should also help recoup some of its ad revenue that it lost when it mysteriously removed ads from its home page in 2009. All in all REDF is still a risky investment, though.
In addition to the obvious beneficiaries of increased broadband usage, companies in a variety of sectors should benefit from rising income levels, including Cognizant (NASDAQ:CTSH), Wipro (NYSE:WIT), ICICI Bank (NYSE:IBN), Tata Motors (NYSE:TTM), amongst others.
The point that I really want to get across is that investors should be looking very closely at the India story. There are many years of rapid growth ahead for this country. The economic development is still in the very early stages and the Indian stock market has a significant amount of upside potential just to get in line with longer term correlations between GDP per capita and market returns seen in other countries. As this occurs, investors' demand for Indian ADRs will rise substantially as they look to capitalize on the growth in India. Many of the above mentioned stocks will do very well.
Disclosure: I am long REDF. I wrote this article myself, and it expresses my own opinions. I am not receiving compensation for it (other than from Seeking Alpha). I have no business relationship with any company whose stock is mentioned in this article.
Additional disclosure: I also may initiate a long position in some of the mentioned securities in this article.