Since its July 31, 2012 IPO, the dividends paid by Northern Tier Energy L.P. (NYSE:NTI) may have given investors a sense of security that the big dividends are here to stay. Based on the business and payout model of Northern Tier Energy, this scenario is highly unlikely. However, investors who understand how this high-yield MLP works will want to pick up shares on any sell-off by those who bought based on the published dividend yield.
Note: MLP companies such as Northern Tier Energy have units and pay distributions. The words stock, shares and dividends may be used here with the understanding that the rules of MLP units apply including the tax consequences of investing in MLP units.
Business Overview
The primary asset and cash flow generator of Northern Tier Energy is a 90,000 barrel per day refinery located in St. Paul Park, Minnesota. The company also owns or franchises a chain of over 200 gasoline selling convenience stores located in Minnesota and Wisconsin.
For more basic information read: Keep A Close Eye On The Northern Tier Energy Dividend
Revenue and profit drivers are how many barrels per day the refinery is able to process and the "crack spread" which is the difference between what Northern Tier pays for a barrel of oil and the prices of the resulting refined products such as gasoline and diesel fuel. The company's sources for crude oil include Canadian heavy crude, Canadian synthetic crude and North Dakota crude. Northern Tier Energy has some flexibility on the grades of oil it can refine, letting the company source crude based on pricing spreads to maximize the realized crack spread.
The retail operations chip in very little in the way of net income or EBITDA. What the retail stores do provide is a steady buyer for about half of the refinery's gasoline production.
First Quarter Results
Here are the important numbers from the 2013 first quarter compared to the final quarter of 2012. Notice that results stayed relatively level for the half-year period.
Production throughput: 85,365 barrels per day, compared to 90,265 in the previous quarter. Sales volume for Q1 was 84,694 barrels per day compared to 95,722 for Q4.
Gross products margin (NTI's own crack spread) for Q1 was $25.81 per barrel and operating expenses were $4.89 per barrel. For Q4 the margin was $24.49 and operating expenses were $4.43 per barrel. These numbers are on throughput production.
Q1 cash available for distribution was $113.2 million, and a dividend of $1.23 per unit was announced. Distributable cash for Q4 was $116.7 million, and a $1.27 per unit dividend was paid.
Second Quarter Outlook
The Northern Tier refinery was down for a turnaround for the full month of April and only partially back online for the first week of May. As a result, the company is forecasting throughput and sales of about 60,000 barrels per day on average for the quarter. Also, operating expenses will rise to $7.25 per barrel as fixed costs are spread over a smaller production level.
As a result of the turnaround, I expect a significantly lower dividend for the second quarter. A rough estimate is $0.60 per unit.
Investment Analysis
The Northern Tier Energy distribution policy is to pay out all of the available distributable cash each quarter. The amount of distributable cash will primarily depend on the gross product margin or spread the company can earn each quarter. Before I discuss spreads further, I found this useful nugget on a Sunoco web page about crack spreads:
"Crack spreads are imperfect predictors of profitability. Products and crude types are defined too narrowly, transportation rates change, there are additional costs beyond crude oil that are not captured in a crack spread, different regions within a given market may provide a refiner with greater or lesser revenue than that indicated by the markers, and a refinery has the ability to shift production from one product to another."
For a comparison, Northern Tier Energy earned a product margin of $17.71 in the first quarter of 2012. Comparing this number to the almost $26 spread for the same quarter this year shows how much the earnings margin can fluctuate. Investors who expect a $1.20 dividend every quarter will at some point be very disappointed. It is very possible that the occasional quarter will produce almost not distributable cash flow.
With the understanding that the profits of Northern Tier Energy can vary significantly, the company has some strong advantages over other refiners. A major advantage is how close the refinery is to lower cost crude sources and that the company can select from three different sources to maximize profitability. Northern Tier appears to have a $3 to $4 margin advantage due to the transportation and flexibility features. Another benefit will be the expanded capacity resulting from some upgrades during the turn around and to be installed later this year.
At less than $30 per unit, NTI still appears to be a good value. Distributions for the second half of the year could easily total $2.00 or more and then results will depend on crude oil, gasoline and diesel fuel prices. If the share price drops back into the low $20's due to some news in the energy markets or investors get surprised by the lower Q2 dividend, it will be an excellent time to pick up shares.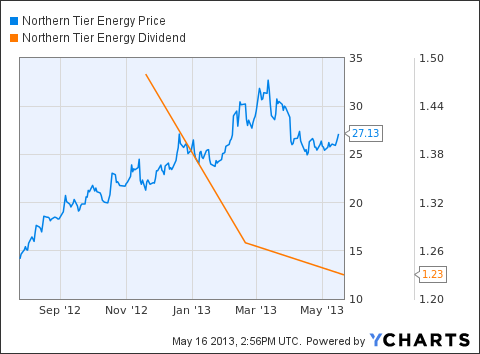 Disclosure: I have no positions in any stocks mentioned, and no plans to initiate any positions within the next 72 hours. I wrote this article myself, and it expresses my own opinions. I am not receiving compensation for it (other than from Seeking Alpha). I have no business relationship with any company whose stock is mentioned in this article.