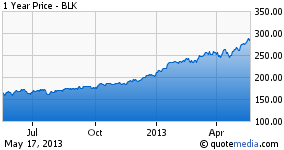 I've written before about how BlackRock (NYSE:BLK) stands as one of the best dividend growth plays in the financial sector. When I first profiled the stock, it was nearing the $200 mark. Today, it's approaching $300. Shareholders over the last year have had very little to complain about as the company financials continue to look solid and the stock has gone almost straight up. But I think it might still have room to run.
By many widely used valuation metrics, BlackRock isn't looking terribly inexpensive right now. Currently, the stock sports a current P/E ratio of 20 and a price to book ratio of 1.95. Both of these values are above the industry average but companies that are growing quickly often times warrant higher multiples. BlackRock certainly qualifies.
To get an idea of how well the company has performed and is continued to expect to perform, consider the following specifics.
Forecast earnings of $15.97 in 2013 and $18.06 in 2014
Compare those figures to 2012 earnings of $13.68 per share. That represents year over year expected growth in earnings of 16.7% in 2013 and 13.1% in 2014. The iShares ETF business was able to deliver solid revenue growth to the balance sheet in 2012 and that growth is expected to continue to buoy the company's bottom line.
Revenue growth expected to continue at 10% annually
Assets under management at BlackRock have grown from about $1.4 trillion just five years ago to just under $4 trillion today. As assets grow (and the corresponding management fees from those assets grow), bottom line revenue should be well supported. Revenue continues to grow at a low double-digit rate year over year and is expected to grow roughly $1 billion per year through the end of 2014 from $9.34 billion in 2012 to $10.32 billion in 2013 and finally to $11.29 billion in 2014.
Earnings per share forecasts continue to rise
Analysts are obviously seeing a lot to like in BlackRock's business because they keep raising their earnings estimates. Looking at consensus estimates, 90 days ago analysts were expecting earnings of $3.72 in the 2nd quarter. 60 days ago, it was up to $3.74. 30 days ago, it again was up to $3.82. Today, that 2nd quarter estimate sits at $3.84. Regularly improving guidance tends to bode very well for the stock price.
A long history of beating earnings estimates
What's even better than when analysts continue to raise earnings estimates? When the company still manages to beat those estimates. BlackRock has managed to meet or exceed quarterly earnings expectations regularly for about the last three years.
Forecast growth of over 13.6% per year for next 5 years
That number compares favorably to 5-year growth estimates for both the S&P 500 (9.5%) and the investment management industry (13.1%). It's not unusual for companies that have exhibited rapid steady growth to begin to cool down as the business matures so this is quite encouraging that analysts are still expecting above average growth in the future.
A healthy dividend yield and dividend growth history
BlackRock stock not only pays out a robust current dividend of 2.4% but the company has demonstrated a commitment to increasing the dividend consistently. BlackRock raised the dividend in the most recent quarter for the 10th time in the last 10 years and is now scheduled to pay out almost $7 per share to shareholders.
Conclusion
If BlackRock can simply meet expectations there's no reason to think this stock can't go a lot higher. If the economy starts to go south again or the market decides that a correction is in order then all bets are off but, again, if expectations are met the stock price could look like a bargain right now.
Here's my bull case.
BlackRock is currently expected to earn $15.97 in 2013. The company has managed to beat earnings estimates by an average of about $0.13 per quarter over the last several quarters. If that continues into 2013, the $15.97 estimate becomes $16.49. If you multiply that number by its current P/E of 20, you've got a year-end stock price of $330.
If you apply that same logic to 2014, the current estimate of $18.06 becomes $19.10. Take that number multiplied by the P/E and you get a stock price of $382. If the P/E expands a bit further, the market cooperates or the company delivers some great earnings, you can see how a $400 stock price becomes feasible.
Using a relatively high P/E multiple coupled with the expectation that the company can continue to beat earnings estimates might be a tad optimistic but remember that this is a near best case scenario. BlackRock has demonstrated an ability to consistently deliver on bottom line expectations so to expect that trend to continue certainly seems reasonable. Plus, that dividend yield helps provide a nice cushion in case anything happens.
If the tailwinds continue to prevail though, it could be one profitable ride for investors.
Disclosure: I have no positions in any stocks mentioned, and no plans to initiate any positions within the next 72 hours. I wrote this article myself, and it expresses my own opinions. I am not receiving compensation for it (other than from Seeking Alpha). I have no business relationship with any company whose stock is mentioned in this article.