By Abdul Saleh
Shares of Atheros Communications (NASDAQ:ATHR) have shot up over 20% since its recent low of $14.96 on May 13 and it has added another 3%+ in trading on Friday. Although far shy of its 52-week high of $33.98 (Aug. 14, 2008), the stock has been buoyed by three sell-side upgrades this month alone with consensus FY2009 proforma estimates relatively unchanged at around $0.55.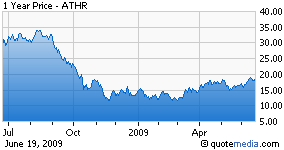 Optimism of future growth for ATHR mainly stems from the prospects of garnering higher market share by the company's transition from a pure-play WLAN company to a more diversified connectivity approach for both the wired and wireless addressable markets. The company's current "platform" strategy may get a boost by Intel's exit from its Centrino brand and forward momentum may also get a boost from 11n and netbook markets.
ATHR's WLAN chipset segment remains relatively weak due to aggressive pricing, which should be offset in the current quarter by strength in the networking segment. It appears that the company may be gaining market share at the expense of gross margin in its core WLAN and Ethernet businesses. However, the company expects gross margin to improve by end of Q2 after it secures its market share gains and moves to a ramp in low-cost version of its mainstream products.
Given the current macroeconomic environment, management remains cautious about its outlook but is encouraged by the recent order trends, design win activity and market share gains. In Q2, the company anticipates strong revenue growth from core PC and networking wireless LAN products, followed by Ethernet and GPS solutions. PC channel is expected to show the largest sequential revenue increase. Revenue from networking channel in Q2 is anticipated to increase while consumer revenue is expected to decline.
It is expected that the company will see a significant ramp in its Ethernet product line and higher adoption of its Align single-stream 802.11n products, driven mostly by strength in demand for low-end notebooks and netbooks.
Based on these factors, management expects revenues to increase by approximately 15% – 20% sequentially. Gross margin is projected around 47% – 48%. The anticipated sequential decline is due primarily to expected changes in wireless LAN product mix and an anticipated sharp increase in Ethernet client revenue. ATHR plans to continue investing in people, product tape outs and necessary infrastructure to support entry and growth in new markets but at a calculated slower pace.