By Jason Napodano, CFA
Santarus' (NASDAQ:SNTS) flagship product, Zegerid, presents a distinctive pharmacological profile compared to other proton pump inhibitors. Head-to-head data clearly shows that Zegerid is a superior option for high-risk patients or patients that experience significant night-time breakthrough gastroesophageal reflux disease (GERD) symptoms.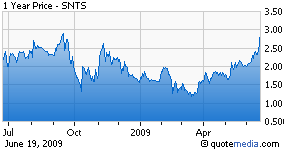 The company has carved out a very nice little niche in the market, and we are pleased to see management working on new ways to expand the franchise, by bringing a new tablet formulation to market, and by launching the product outside the U.S., with Glaxo (NYSE:GSK) and over-the-counter in the U.S. with Schering-Plough (SGP).
We are also impressed with management's ability to in-license new products and expand the development pipeline. Recent deals have included the co-promotion of Glumetza, and extended release metformin product for type-2 diabetes, with DepoMed (NASDAQ:DEPO), and the acquisition of two GI-related products from Cosmo -- Budesonide for ulcerative colitis and Rifamycin for traveler's diarrhea.
All these products should be able to achieve peak sales with little expansion of the existing infrastructure. Thus, these products represent potential strong earnings upside for the company in the future.
But Patent Challenge on Zegerid Looms
Going forward, we believe that the Zegerid patent infringement lawsuit against Par Pharma will remain an overhang on the shares. The company is clearly attempting to reduce its dependence on the Zegerid line of products through the recent deals noted above, but Zegerid was still 80% of the revenues in the first quarter 2009.
A loss of exclusivity on Zegerid will be devastating to the company. The Waxhaw-Hatch exclusivity on the capsule formulation is set to expire in February 2010. As such, depending on how the patent trial goes -- estimated to start in July 2009 -- management may very well look to settle prior to a decision.
In this regard, visibility is low. The outcome of active patent challenges is difficult to predict and we do not expect the shares to have a significant move in either direction until visibility improves. Long-term, we like the position of the company, especially if they can hold onto Zegerid until either Budesonide or Rifamycin (or both) gets on the market.
The stock is attractively valued at only 10.6x our 2010 EPS estimate of $0.25. We see $3 as a near-term fair value.