In hard rock mining the ore is typically pulverized and then treated with chemicals in order to separate the valuable fraction from the uneconomic fraction of the material. Tailings are the leftover materials after separation and oftentimes these tailings contain substances that are potentially harmful for the environment. Disposal of tailings is one of many issues to be taken care of when operating mines. Responsible treatment and storage of tailings has not always been the norm and even today cases of negative environmental impact from tailings discharge are reported.
When it comes to gold mining the amount of tailings produced in comparison to actual gold production is mind boggling. This article gives an excellent overview and estimate on accumulated tailings world-wide. If tailings have not been stored in adequate facilities they are prone to turn into environmental time bombs since they may contain a variety of toxic compounds that are harmful when released into water bodies, or eroded by wind. Many historic mine sites can be considered problematic in this context.
However, there is also an upside to historic gold mining tailings. Typically recovery rates were not as good as they are today and many tailing heaps contain considerable amounts of residual gold. And this is where some gold miners' interests align with the interests of environmentalists. Many problematic tailing heaps could potentially be re-processed with modern technology in order to extract the residual gold; and the new tailings from this re-processing can be disposed of in a responsible manner. In actual fact, there are a number of companies dedicated to this business model. In the present article we would like to give brief introductions to our two favorites.
DRDGOLD (NYSE:DRD) owns a 74% share in Ergo Mining who has access to 750M-900M tonnes of tailings that have accumulated during 100+ years of gold mining in the Witwatersrand in South Africa. DRDGOLD processes 2M tonnes of so-called slimes materials per month. The tailings are taken from surface stock piles, mixed with water and pumped through pipe lines to central processing plants where the gold is extracted and the tailings can be disposed of in a controlled manner. The average head grade is 0.38g/t gold and recovery is 52% resulting in production of 1 ounce of gold for every 157 tonnes of slurry arriving at the plant. DRDGOLD manages to produce at around $1100 per ounce and targets to maintain steady state production of 135,000 - 140,000 ounces per year.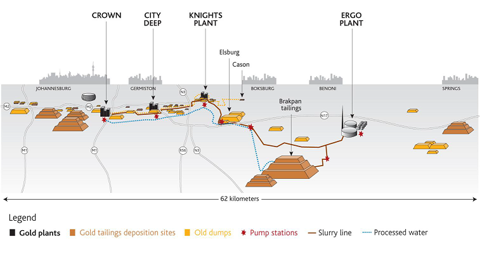 DRDGOLD has a market capitalization of $230M and shares presently trade just above $6, which is not a lot more than the 52-week low of $5.35. At this share price level the dividend yield is a respectable 3%; however, as stated during the Q1/2013 earnings call the targeted dividend yield is 4% to 5% for the financial year. DRDGOLD operates in South-Africa and is therefore exposed to uncertainties associated with mining in this jurisdiction. However, since DRDGOLD is not actually mining their "ore" it can be argued that the company is somewhat sheltered from the typical labor problems that have erupted recently. DRDGOLD is leveraged to the gold price and the share price has managed to outperform the yellow metal during the past 12 months. The chart below compares the share price performance of DRDGOLD with the performance of the SPDR Gold Trust ETF (NYSEARCA:GLD). Investors interested in this company are well advised to hold their horses until a bottom in the metal has been confirmed.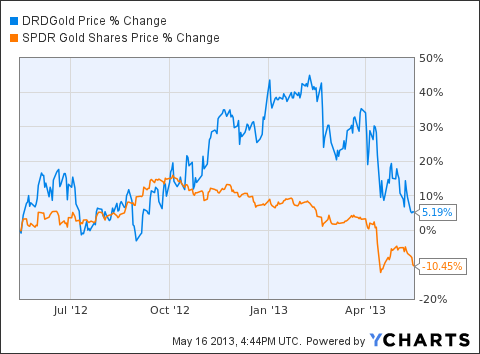 PanTerra Gold (OTC:ERGTF) is a similar setup operating in the Dominican Republic. In their case the tailings are derived from open pit operations at the Pueblo Viejo mine between 1992 and 1999, and are impounded in a purpose-built valley-catchment dam. The ore is refractory and original recoveries were very poor. The tailing dam contains 5.137M tonnes of tailings with a grading of astounding 3.8g/t gold and 38.6g/t silver. In order to process the material PanTerra Gold has adopted the Albion process to treat the tailings, a world-first for gold extraction. The stock has been beaten down due to initial problems in starting up the plant. However, recent news releases appear decidedly upbeat and the company seems to be generating free cash flow now. At $54M the market capitalization is decidedly in the micro-cap category but we do not anticipate the share price to remain so low for much longer provided that proceedings continue to progress according to plan. We would like to encourage interested investors to cast an eye over this particular company.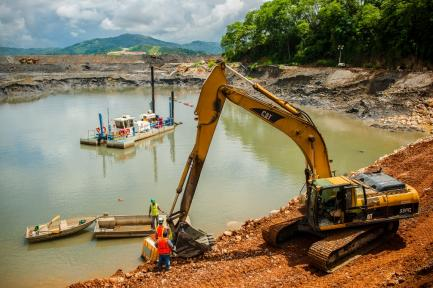 Both companies, DRDGOLD and PanTerra Gold, do not have any expenses or risks associated with running and sustaining mines. Operations are highly mechanized and reserves are clearly defined and visible. Once established sustaining capital is small compared to traditional mining operations. Additionally, there are fewer risks with regards to safety and operations. Both companies operate in countries with a certain level of political risk.
The potential of treating surface tailings has not gone unnoticed by the larger gold mining companies. At least two of them have also put some efforts into re-processing tailings.
Eldorado Gold (NYSE:EGO) are developing the Olympias project in Greece. Stage one of this project entails the reprocessing of 2.4M tonnes of tailings containing 230,000 ounces of gold left behind by previous operators. The Tailings will be transported to the nearby Stratoni Tailings Management Facility after reprocessing which is also operated by Eldorado Gold. Rehabilitation of the Olympias valley will be the added benefit of this effort.
Harmony Gold (NYSE:HMY) has a metallurgical services unit extracting gold from tailings and waste rock profitably at locations in South Africa. The Phoenix surface operation is treating 6M tonnes annually and has a tailings reserve lasting 18 years at this rate. Additionally, there are 7M tonnes of waste rock scattered at operations throughout their Free State operations that are being milled and processed as part of clean-up efforts.
Disclosure: I am long OTC:ERGTF. I wrote this article myself, and it expresses my own opinions. I am not receiving compensation for it (other than from Seeking Alpha). I have no business relationship with any company whose stock is mentioned in this article.