In response to growing dissatisfaction from major networks ABC (NYSE:DIS), CBS (NYSE:CBS), Fox (NASDAQ:NWSA) and NBC (NASDAQ:CMCSA), as well as smaller content providers, Nielsen Holdings NV (NYSE:NLSN) has started to track Internet audiences, which use a variety of devices to consume media.
When considering the unenviable task, almost immediately challenges are encountered, as Facebook Inc. (NASDAQ:FB) and Google (NASDAQ:GOOG) use metrics which don't work for television. That means YouTube and Facebook won't be able to be counted by Nielsen at this time. The new streaming initiative from Amazon.com (NASDAQ:AMZN) is another factor in the mix.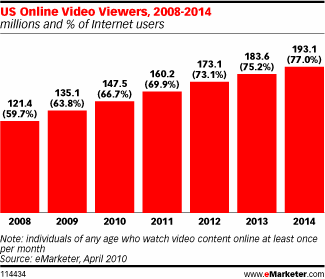 When two of the most-visited web properties can't be measured, it reveals the daunting challenge faced by Nielsen. Add to that the fact children 12 and under aren't supposed to sign up for Facebook, and it leaves out important data for network and cable television serving that market. It really is a mess. It does make one wonder why the networks didn't think of this when putting deals together for Internet streaming.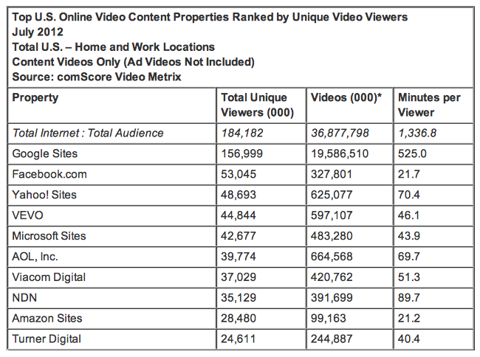 How Much of the Audience is Not Being Counted?
The question of how many viewers are actually being lost by the networks is becoming more and more important, as the latest data show that with the exception of CBS, which has had a slight uptick of 1.5 percent in viewers, in-home TV viewership has been shown to be dropping.
NBC and ABC are both down by over 6 percent, while the number of Fox viewers has plummeted by about 20 percent, according to Nielsen data. The data are as of May 5.
According to WPP Plc's managing partner of the company's media buying arm GroupM, Lyle Schwartz, accurately measuring online viewers would boost TV rating anywhere from 3 percent to 12 percent.
To me, this 3 percent to 12 percent range represents the problem associated with the uncertainty surrounding lack of reliable online viewing numbers. That range is just too wide to understand the extent of the problem. For now, all that is known is that a growing number of people are using alternative screens to consume media.
Those numbers will continue to grow, but until Internet viewing can be accurately tracked, the value of the growth will be limited for media companies.
Advertisers are still holding back on placing ads against online video content, although it has started to grow significantly. For 2013, EMarketer Inc. says that online ad spend will jump by 41 percent to $4.14 billion. That represents close to 6 percent of the regular TV market.
WPP, which is the largest advertising company in the world, said in its annual report that it continues to "overspend on legacy media." The report asserted the Internet now accounts for about 30 percent of media consumption on a daily basis for people. Advertisers use about 20 percent of their budgets on digital markets.
Expectations are when the problems are solved, those numbers will change dramatically.
For the major networks, ad spend is expected to drop by 2 percent in 2013, according to ZenithOptimedia, a research unit of Publicis Groupe SA. On the other hand, aggregate TV advertising, which would include cable, is projected to grow by 2.8 percent to $63.9 billion for the year.
Nielsen's Response
Starting about 18 months ago, Nielsen introduced a new program that measures viewers who are watching shows streamed from the websites of some of the networks.
The ratings agency has recently started following the number of people using mobile apps to watch video. It also announced a few days ago it was beginning to measure ads for ABC shows playing on mobile apps and websites.
Networks participating in the new program measuring video streamed from the websites of the companies are ABC, CBS, The CW, FOX, NBC and Univision, among others.
Several years ago, I used to cover the business side of the entertainment industry. Having not followed it after going on to other things, I was quite surprised to find out the same problems talked about back then on the growing usage of the Internet as a viewing choice, has still yet to be solved.
When taken as a whole, it's not an easy task to accomplish, but to me, some of these things like measuring those viewing shows on the websites of networks should have already been in place.
That is close to being solved, but it could be a couple of years, or even more, before the problem is totally resolved. Tracking an important outlet like YouTube hasn't even been started.
While all this is going on, networks and cable companies don't believe they are being sufficiently rewarded for their efforts in responding to the growing demand for options in consuming the content they offer.
The good news is the "Nielsen Digital Program Ratings" pilot system has been initiated, and the test will be run from May through June. A number of the larger networks are participating in that. Nielsen must feel pretty confident about the new system, because it has announced it will offer a commercial version later in 2013.
That will provide some relief to content providers, but the challenge of the major digital destinations of YouTube, Facebook, and other highly-trafficked destinations remain to be solved. This is why it could be several years before it's all in place.
I say that because even if the systems are ready, the way the industry operates is it sells most of its ad space once a year. So if Nielsen successfully implements a new program, it has a lag of at least one season, and advertisers may want to see a couple of seasons of data before having confidence that what they are seeing is reflective of the reality of the viewing numbers.
Value of a Digital Viewer
One of the elements that is of extreme importance in the digital viewing narrative is the quality of an online viewer.
In the past that was one of the biggest issues; even bigger than measuring the viewers. That's because it was questionable as to whether or not online viewers were worth the effort. Some of that, at the time, was because the market was in its infancy. Much of the problem was the burgeoning piracy issue, which has been slowing down as media provide more viewing options in response to consumer demands.
Another problem that is growing concerning the value of a digital viewer is engagement. This is especially true with mobile devices; smartphones in particular. If someone is watching a show on a smartphone, the question arises as to what the social circumstances are that would require a person to view a show on a phone.
Divided interests are the issue there, and that hasn't been lost on the industry. The smaller and more portable a screen is, the more the value of the person consuming the media is suspect as to the quality of engagement. I'm only talking within the parameters of actually watching a show on a smartphone.
Obviously, other factors like watching a TV show that offers an opportunity to vote for favorites using a mobile device, is highly engaging. Networks have worked on making mobile viewing more engaging by providing options for viewers to check things out while watching the show. Marketers are doing the same with ads.
What remains to be seen is once the data is accurately measured, is whether or not viewers using other screens are considered as valuable as those watching on TV sets at home.
It could result in a metric of a tiered quality of viewers, with different pricing points for each tier.
If that were to happen, I would think it would go from smaller devices to larger devices, with the smaller devices commanding less advertising dollars per viewer.
Measuring Ads
The good news in the emerging media consumption markets are the fact that many consumers view advertising across more than one platform. Called 'frequency targeting' in the industry, it means the more times a consumer sees an ad, the probability of the consumer acquiring a product or service increases.
In the new digital media world, this will make advertising even more effective; the reason why it's imperative to content providers and marketers to get accurate digital data.
From the marketing perspective, it offers enormous potential to company growth for those placing ads against video content, along with an increase in revenue to the many companies producing content. It's a win/win for everyone. That's why Nielsen has been under increasing pressure to figure it all out.
Consequently, it's not just about maintaining the status quo, but an opportunity to create wealth.
The monopoly Nielsen has with the networks has provided it with a lot of time to respond to the changing media consumption habits of consumers. Yet relatively new competitors like Unicorn Media Inc. are emerging, which in the case of Unicorn, has resulted in networks using it to track the exact number of people watching ads on their web properties. The Weather Channel and ABC are two companies using Unicorn. This should give some added impetus for Nielsen to get more of a sense of urgency in tracking digital viewing habits of consumers.
Video Consumption Rebalancing
The next thing to consider as to the change in video viewing habits, is whether or not a new market is really being created, or consumers are simply using alternative screens to consume content.
As with everything in the existing environment, it's not as simple as it may appear.
With network TV - as least in developed nations - it's unlikely that content is being consumed more. Consumers have simply migrated from the TV set in their homes to an alternative screen. It's not much more than that. So this isn't much of a growth area in that regard for traditional media companies, it's more of a maintenance of the metrics of the viewing habits of existing consumers.
This could be very different in emerging markets with a growing middle class, where a mobile device may be the primary way they consume media. There we have the question arise again as to the quality of the value of the viewer to an advertiser.
Implication for Nielsen
This appears to be a terrific opportunity for Nielsen over the next couple of years. It looks like the way this is playing out, it'll work on one aspect of the digital metrics at a time, resulting in periodic announcements of solving a problem and introducing the new service into the marketplace.
That suggests we could see the share price of Nielsen continue to move up over the next two or three years. It must be taken into account when this two-to-three-year time period is asserted, that Nielsen will take that long to test, solve, and implement new systems.
Nielsen has been performing very well over the last year, and barring some unforeseen event, such as a competitor leapfrogging it by being accepted as an alternative by the media companies, Nielsen should enjoy some solid growth for several years.
Six-Month Chart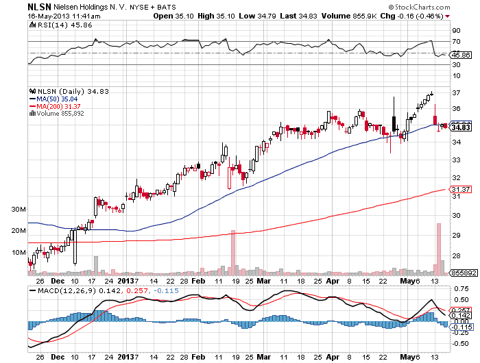 1-Year Chart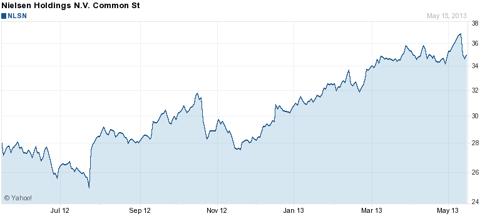 It appears the company will maintain its monopoly position, with a solid moat to protect it against competition. The moat is its embedded system measuring metrics of the TV audience in the home. At this time, networks and cable prefer to have Nielsen conquer the problem and keep the business all under one roof. I don't see that changing unless Nielsen were to totally drop the ball.
This gives Nielsen time, pricing power, and a very predictable long-term future.
The staggered release of new services, along with the accompanying good will for the company because it was able to successfully solve the digital metric issue, makes Nielsen a good growth story.
Nielsen has a forward P/E of 14.58 and a return on equity of 5.65 percent. Profit margin for the company is 5.1 percent.
Implication for Content Providers
Media companies have enjoyed a good year as well, with most of the share prices of the firms moving up nicely over the last year. They are looking for more revenue streams, with subscription services being the latest strategy there.
Accurately tracking web audiences is required, so media companies are rewarded for providing alternative viewing options to its customers. Where the real growth in advertising will be for content providers is in the increase in the viewing of the same ad by consumers, which will result in a boost in consumer response in buying products. This could bring higher advertising premiums for the content providers - both with traditional and digital consumers - whose viewing habits expose them to the same ad more often.
When all of this is in place, then it goes back to business as usual for the media sector, with the focus being on producing the type of content that will attract the quantity and quality of viewers. That is of course still the bottom line for media, but digital metrics must be solved so as clear as a picture of the health of the industry is provided.
Here's a snapshot of the performance of the networks over the last year.
CBS Corporation
Over the last year, the share price of CBS has been in a range of $29.81 to $50.73. It has a market cap of 30.86 billion. The company is up 68 percent over the last 52 weeks.
It has a forward P/E of 14.80 and a return on equity of 17.56 percent. The profit margin of the company is 11.54 percent.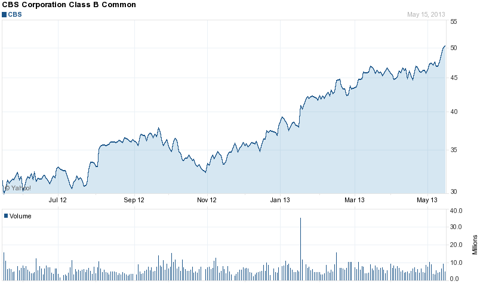 News Corp.
In the last 52 weeks, News Corp. has traded in a range of $18.32 to $34.04. It has a market cap of $78.20 billion. Over the last 52 weeks, the company is up 72 percent.
It has a forward P/E of 17.14 and a return on equity of 19.56 percent. The profit margin of News Corp. is 16.68 percent.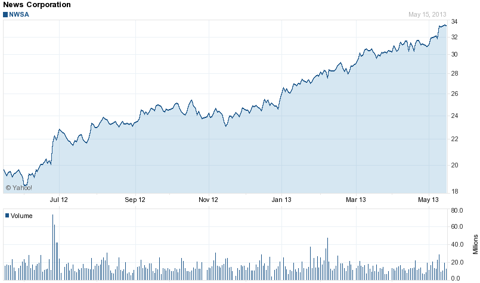 Comcast Corporation
The share price of Comcast has operated in a range of $28.09 through $43.74 over the last year. It has a market cap of $114.30 billion. It is up 54.25 percent during that time.
Comcast has a forward P/E of 15.67 and a return on equity of 14.21 percent. The profit margin of the media giant is 10.18 percent.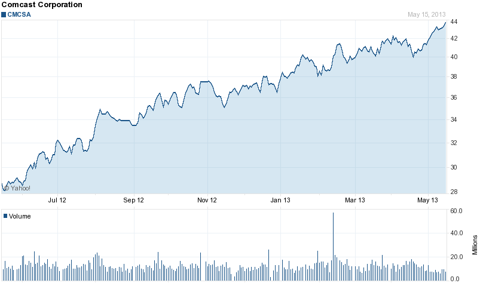 The Walt Disney Company
The share price of Disney has moved in a range of $42.51 to $67.89 over the last 52 weeks. It has a market cap of $120.57 billion.
Disney has a forward P/E of 17.01 and a return on equity of 15.43 percent. The profit margin of the entertainment conglomerate is 13.64 percent.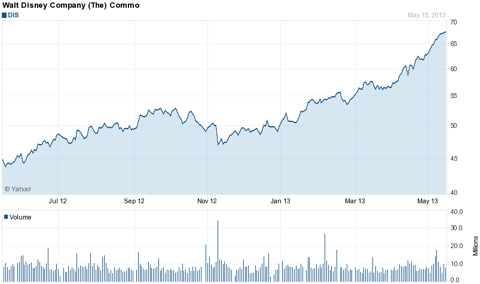 Conclusion
The major networks and cable companies have been in a state of digital disruption for some time. Not only that, but the networks are under increasing pressure from cable channels, which have more specialized programming, with the cable companies themselves being under pressure from the growing demand from consumers for a la carte programming choices.
This also puts enormous pressure on cable providers, which continue to resist a la carte programming options. U.S. Senator John McCain just introduced a bill addressing the issue.
As for the impact of accurate digital metrics, it is being tackled one issue at a time by Nielsen, and is especially positive for the company, because it will provide more revenue from the new systems put in place, and since it'll take at least a couple of years (and probably more) to get things sorted out, this will provide solid growth for some time.
Questions concerning online content providers like YouTube, Hulu, and Amazon.com remain to be answered, as well as how long it'll take to introduce a system that can track them by Nielsen.
For the content providers, the value there will be the ability to measure the number of times consumers view an ad across several platforms. This results in higher product and services purchased by consumers, which will translate into better pricing power for the industry.
When all is said and done, the inclusion of accurate digital metrics won't change the numbers of viewers of TV shows, it'll simply reflect the way people are consuming media across a variety of screens.
The game will still be those that produce the best content, and that won't change at all in the years ahead. After all, people must view content and ads for the benefits of the new metrics to kick in.
As I see it, it's the metrics associated with smartphones and notebooks that will be the most important for the industry, with laptops and desktop metrics being less important as we go forward. This is because the more desirable younger demographic uses those devices more than older viewers.
Other devices like game consoles don't appear as important, as that's connected to in-home media consumption.
The networks and advertisers will benefit from more accurate digital media metrics, but to me the biggest winner by far will be Nielsen.
Disclosure: I have no positions in any stocks mentioned, and no plans to initiate any positions within the next 72 hours. I wrote this article myself, and it expresses my own opinions. I am not receiving compensation for it (other than from Seeking Alpha). I have no business relationship with any company whose stock is mentioned in this article.