Taking a measure of the economy is a matter of reviewing employment, consumer spending and manufacturing – and throw in a few financial measures for spice (such as liquidity and interest rates).
All means of measuring the economy are imperfect to varying degrees. GDP fails to account fully for financial transactions. Employment / unemployment cannot capture data (and must estimate) large segments. Timely issued retail sales only captures the big boys. Manufacturing is a shrinking portion of the economy.
We have a two to three month time lag to be able to analyze good quality quantitative data from enough difference sources and economic groups to be able to paint a reasonably good picture. If a trend seems to appear, we need to wait many more months to confirm the trend.
A simple timely quantitative sensor of economic activity is shipping. All goods must be shipped several times until it reaches your home or business. Shipping is the nearly perfect pulse point for the economy. There is some obvious holes in the data but it contains a good representative sampling. The graphs below are the most recent data for trucking, rail and sea freight. It is fairly obvious that truck and rail counts are down and remain depressed.

Click to enlarge
Sea container counts take a little more analysis as this is the fastest growing segment of shipping – growing over 10% per year between 2000 and 2007 before the world economy hit the fan. Sea containers have replaced a significant portion of break-bulk shipping, and is how high value manufactured goods are shipped (which is what makes it a good pulse point).
Also, sea container volumes are cyclic with low points in 1Q and high points in mid-year. Sea containers measure import and export levels. May 2009 counts show a moderate increase, however they are down YoY. Taken in conjunction with rail and truck – shipping is still trending down.
Using shipping as an economic pulse point, this recession ain't over.
Remember the liquidity crisis last year? Looking at the Fed data, the Fed's balance sheet attributable to resolving the liquidity crisis is declining at a nice clip.

Click to enlarge
Liquidity is slowly becoming a non-issue based on non-audited Federal Reserve data. Liquidity is an important issue for leading economic indexes, and one major reason why leading indexes are pointed up.
But the intervention by both the Fed and the government is unprecedented in this Great Recession. Normal economic forces which act naturally to correct imbalances have been manipulated to unprecedented levels. Will improved liquidity turn out to be an ingredient in ending this Great Recession when many economic imbalances have been manipulated or simply papered over?
A large factor in a consumer driven economy is the residential mortgage volume in the housing market. Every week I report mortgages – both new and refinances. This is the pulse point for the housing market as it forewarns the volume of home sales (both new and existing).
Real recovery is impossible while home values keep declining as Joe feels his net worth disappearing and controls spending. Over this 2Q2009, the amount of mortgage applications have fallen. Without volume, this translates to declining demand and in turn lower prices.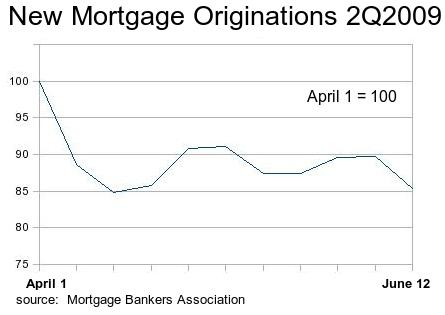 Using residential mortgage originations as an economic pulse point, the consumer ain't coming back in June 2009.
The timely quantitative economic factors that can be analyzed are not pointing to an end of a recession in 2Q2009. Except for equities, there is no bull factor in the economic data. Most believe a recovery will be weak. I worry that the rising twin economy killers of interest rates and commodity prices that will constrain economic improvement, or may send us on another downward ride.
We continue to live in interesting times.
Additional Economic Events from This Past Week
The US current account deficit fell in 1Q2009 to 1999 levels. According to Bank of Tokyo – Mitsubishi UFJ:
The extreme flight to dollar safety and the reversal in petrol prices played a large role in bringing marked improvement to the current account deficit in Q4 2008 and Q1 2009. Overall improvement in 2008 was driven by strong export growth, faltering import growth, as well as net foreign purchases of U.S. Treasuries.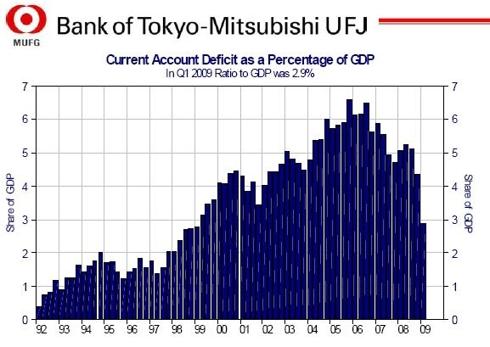 Click to enlarge
The consumer price index (CPI-U) for May 2009 was basically unchanged. There were a lot of small changes, but this index would have fallen in May if not for the transportation portion which increased almost 10% on an annual basis (cost of vehicles and gasoline). The CPI-U has declined 1.3% YoY, but if food and energy is removed the index would have increased almost 2% YoY. There is some discussion about the YoY number decline being the worst since 1950 - but with the energy prices currently increasing, there does not seem to be any long term downward trend.
Two ABC News consumer polls (here and here) reveal consumers are still not buying into the spin. What is not shown on the graphs below is the future expectations of consumers which have degraded somewhat, but are still well above the polls historical average.
My take on this is that when you are deeper in the hole than you have ever been during your lifetime – the future has to be better.

Click to enlarge
Industrial Production dropped 1.1% MoM in May 2009. To put this in perspective to past recessions, we have to go back to 1975 to find a similar monthly drop - even though this is not even close to the worst month of this Great Recession.
As this is objective data, we can correlate this against the subjective ISM surveys (indexes rising) and the Biege Book (things are getting less bad). It appears the ISM survey is inaccurate (a nice way of saying it is a fairy tale). Unless you are a serious Kool-Aid drinker, this Great Recession will definitely not end in the 2Q 2009 based on industrial production.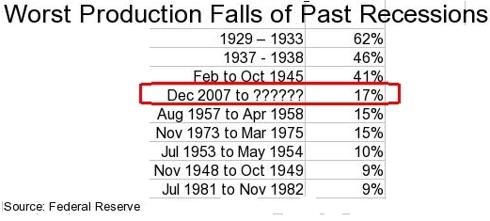 Click to enlarge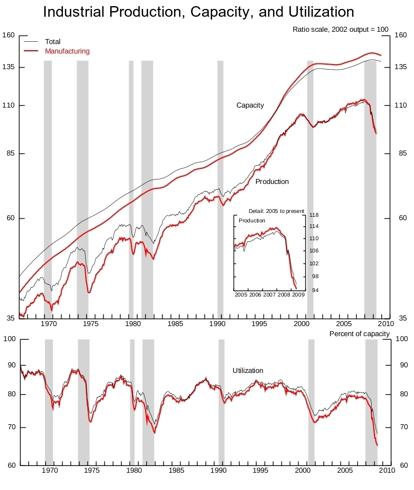 Click to enlarge
Energy components forced slight inflation into the Producer Price Index for May 2009. Overall, except for energy, these indexes are still acting abnormally with a slight deflationary bias. For me, this index is demonstrating that systemic issues have yet to work their way out of the supply chain.

Click to enlarge
The June 2009 Empire State Manufacturing Survey was down moderately for the second month in a row. Looking through the diffusion indexes of the categories which make up the current business conditions, I could not identify any trend (up or down) which is indicative that the respondents are believing they are close to the bottom .
I have added the results of one of the special questions on capital spending which continues to confirm low investments which will put American manufacturing at a disadvantage in the future.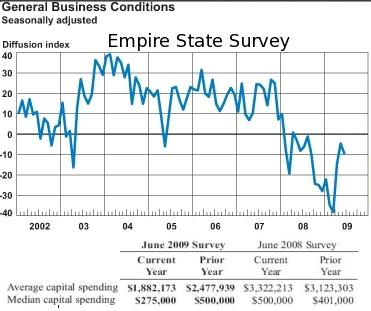 The subjective June 2009 Philadelphia Fed Manufacturing survey is analytical bullshit. I have provided the graphical results of their survey which screams the headline "we have bottomed". However, the backup is whispering we are in a recession – falling order backlog and falling workweeks.

Click to enlarge
Mortgage applications continue to fall. The four week moving average of mortgage loan application volume decreased 13.5% (after dropping the same amount last week) and essentially unchanged compared with the same week one year earlier. The refinance share of mortgage activity decreased to 54% of applications. The average interest rate for 30-year fixed-rate mortgages decreased slightly this week to 5.50%.
The sentiment survey for home builders declined slightly in June 2009. Take most sentiment surveys (including this one) with a grain of salt. NAHB Chief Economist David Crowe gave a profound observation:
As expected, the housing market continues to bump along trying to find a bottom. Meanwhile, builders are taking their cue from consumers, who remain uncertain about the economy and their own situation. Builders are also finding it difficult to complete a sale because customers cannot sell their existing homes.

Click to enlarge
A few punters got excited about the May 2009 new residential construction data as the headline read housing starts increased 17.2% MoM. Take a look at the table below and view the bogus housing start number in April 2009 – May 2009 simply evened out the housing starts. Overall, the only conclusion I draw from new residential construction is that it appears to be in the process of bottoming.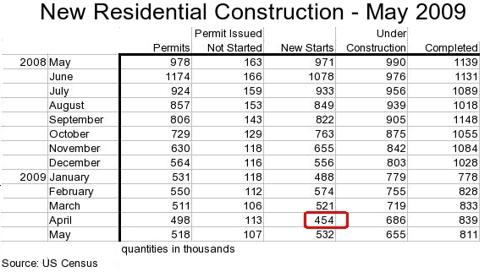 Click to enlarge
The 4 week moving average of initial unemployment claims improved slightly to 615,750. Some punters have pointed to an good sized decrease in continuing unemployment insurance claims as a good sign, but fail to indicate that the 4 week average actually increased (as well as considering that unemployed are dropping off the end of the unemployment insurance eligibility without getting a job).
Overall initial unemployment claims is continuing to trend down.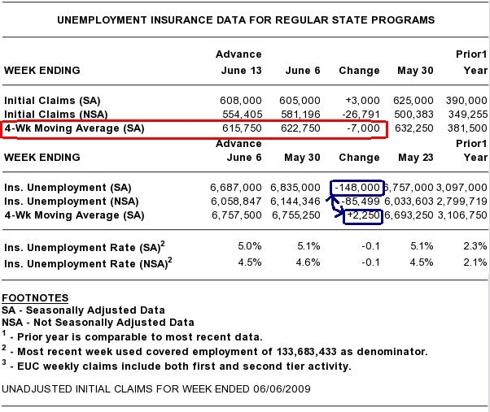 Click to enlarge
Filing for Bankruptcy: Six Flags, Inc. (NYSE:SIX) , Extended Stay (ESA), Building Materials Holding (BMHC), SendTec (OTC:SNDN), Eddie Bauer Holdings (EBHI), MEC Pennsylvania Racing Services (PINK:MECAQ), Metromedia International Group (OTC:MTRM).
Bank failures this week: First National Bank of Anthony - Anthony, KS; Cooperative Bank - Wilmington, NC; Southern Community Bank - Fayetteville, GA.
Economic Forecasts Published This Past Week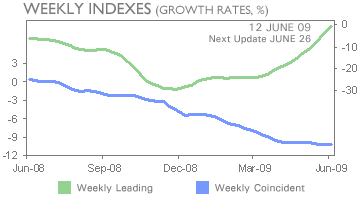 The WLI from ECRI is continuing to show improvement in economic conditions six months from now. In their statement last Friday, they said:
With WLI growth rocketing up almost 30 percentage points in six months, it's virtually pounding the table about the recession ending this summer.
The Conference Board Coincident Economic Index™ (CEI) for the U.S. declined 0.2% in May 2009, following a 0.3% decline in April, and a 0.7% drop in March. The Conference Board Leading Economic Index™ (LEI) for the U.S. increased 1.2 percent in May, following a 1.1% increase in April, and a 0.3% decline in March. The comment by Ken Goldstein, Economist at The Conference Board:
The leading economic index increased for the second consecutive month. The coincident economic index is still declining, but the declines are less intense. The recession is losing steam. Confidence is rebuilding and financial market volatility is abating. Even the housing market appears to be stabilizing. If these trends continue, expect a slow recovery beginning before the end of the year. However, employment will take longer to turn around.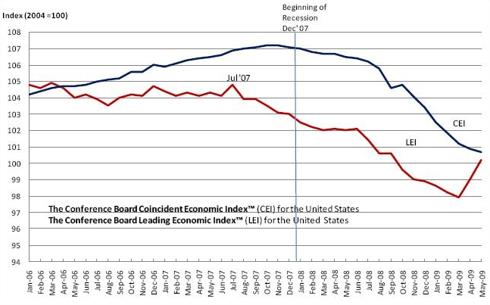 Click to enlarge
Disclosure: long MMFs, PYEMX, EWZ, TBT, PGJ, EWY, DBC, EWA, EWC, EWT, PIN, Physical Gold