Good news for Microsoft (NASDAQ:MSFT) continues to come, strengthening the bull case for the stock. According to the latest IDC report for Q1 2013 Windows Phone surpassed BlackBerry (NASDAQ:BBRY) in sales and climbed to third place in the smartphone market.
Windows Phone shipments more than doubled in relation to Q1 2012 and are more than 16% higher from the last quarter of 2012. It is clear now that Windows Phone is rapidly gaining momentum and continues to gain market share.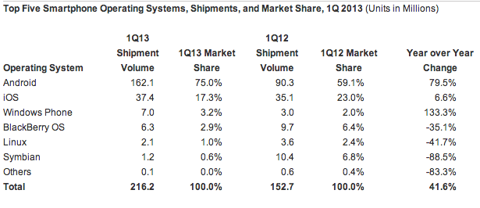 (Source: allthingsd.com)
One of the major factors for building momentum for Windows Phone adoption continues to be Nokia (NYSE:NOK), which has created some excellent products with its Lumia series and continues to market heavily all around the world.
Another piece of good news is coming from the Windows 8 front in the PC and tablet world. Microsoft announced that the preview of the coming update for Windows 8 will be available in late June. It will be called Windows 8.1 and will be available for free to current Windows 8 owners.
This is especially good news because in this update Microsoft addresses the issues that made Windows 8 unpopular to a large number of Windows users slowing down its adoption. According to ZDNet some of these interface changes include an optional Start button and the ability to boot directly to the desktop.
This way more users will be able to use Windows 8 efficiently in non-touchscreen PCs, accelerating the upgrade cycle towards the new Windows version.
Microsoft continues to expand in mobile and with the latest adjustment move that's coming will strengthen its Windows 8 solution, bringing along with Intel's (NASDAQ:INTC) latest chips a much needed renewal in the PC industry.
Given all the above, the revenue boost Microsoft is getting from cloud computing and the new Xbox that's coming, it's easy to see that Microsoft is extremely cheap at just 11.5 times its expected earnings for fiscal 2013 (which ends at June 2013).
Given its average 11% annual growth rate for the last decade and the great prospects ahead Microsoft is worth at least 15 times its forward 2013 earnings or $45 per share, which is 30% higher than its current price.
Disclosure: I am long MSFT, INTC. I wrote this article myself, and it expresses my own opinions. I am not receiving compensation for it (other than from Seeking Alpha). I have no business relationship with any company whose stock is mentioned in this article.