Years ago it was relatively easy to understand Cisco's (NASDAQ:CSCO) core proposition, networking. The company enabled consumers and businesses to connect, communicate and collaborate online. They provided the infrastructure that made the world-wide-web a reliable and reachable user friendly portal for endless on-line discovery.
As time progressed since 1984, the year of Cisco's inception, the scope and functionality of their proposition has solidified itself deeper into cutting-edge geek territory. Despite the vast numbers of consumers embracing the internet, most investors myself included, have a less than comprehensive understanding of the product development advances Cisco is introducing to help grow Web 2.0.
Click to enlarge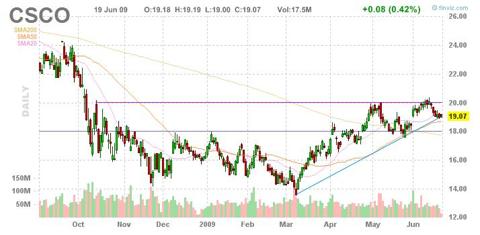 Fortunately, we are no more obliged to become an expert in disparate local area protocols, before we analyse Cisco the company, than we are required to become a chemist before we can value GlaxoSmithKline (NYSE:GSK). Balance sheets, profit & loss statements, cash flow forecasts, the acquisition strategy, market share data and innumerable other sources of information are collectively sufficient to facilitate a conclusion on the stock.
Cisco ticks most of the boxes in quick succession, but certain features of the company's progress are worth highlighting. The first is the incredible and largely successful acquisition policy. I researched Cisco acquisitions since 1993. I stopped counting at 120. They have secured a countless number of ideas, innovations, technologies and products. The intellectual wealth within Cisco's 66,000 employees is an asset a balance sheet can't adequately value. The policy of securing smaller specialist firms has also strengthened Cisco's hand by giving it strong market share across dozens of sub-sectors within the industry providing it with leadership in voice, wireless LAN, digital video, switching (modular and fixed), web conferencing, etc. You don't need to understand the technology within the sub-sectors to know that being dominant in market share is the function of a winning corporate formula.

So, for investors, is the success and strength of the business model priced in? I suggest not. I looked at the coverage of 8 leading analysts and they agree. None had a sell recommendation and the buys and neutrals are split evenly. The stock at circa $19 is more or less the same price as 5 years ago yet earnings per share (eps) 2004/08 has produced an impressive 21% compound rate of growth, source Finviz.
My own calculation, looking at diluted net income per share, produced a 16% compound growth rate over the same period. Even taking into consideration the wider economic challenges and a difficult current year, I smell value. The stock is loitering on a support level and if markets stay firm or rally, I expect CSCO to bounce off that support level and make new progress. Balance sheet cash / short term investments of $33bn as at the end of the most recent quarter further reassures.

Disclosure: The writer has no interest, direct or indirect, to any financial instrument that offers exposure to companies mentioned in this review.